ECU Rallies To Beat Grambling 76-68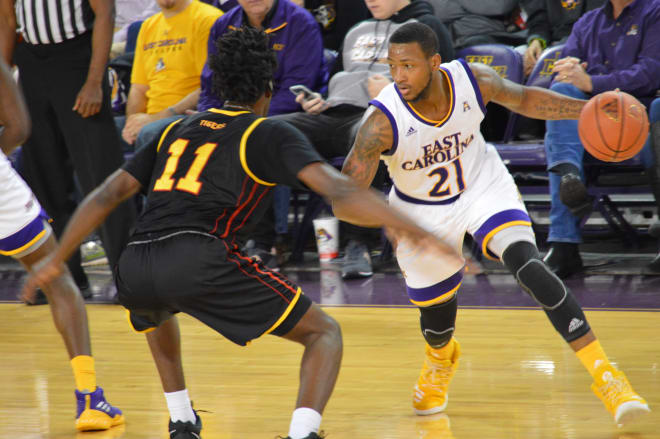 East Carolina came on strong in the second half to erase a ten point deficit and pick up a 76-68 win over Grambling State. B.J. Tyson tossed in twenty points, Isaac Fleming scored 18 and Dimitri Spasojevic scored a career high 16 to lead the Pirates.
Ivy Smith's 20 points and Devante Jackson's game high 21 kept Grambling in a position to win for much of the game. The Tigers fall to 4-8 with the loss while the Pirates move to 6-5 in the pre Christmas portion of the season with the victory.
Interim coach Michael Perry was in a festive mood after his team's sixth win of the season.
"I hope we gave everybody some holiday cheer and something that they could leave out of here with a smile on their face," Perry said, "I saw a lot of people that were smiling and I was glad that our guys had an opportunity to contribute to those smiles."
Tyson was determined to make amends for his team's tough loss to Charlotte Tuesday night and his team came through with a much needed home win.
"Coming off that bad taste in the last game we just wanted to come in, focus and practice. We just didn't hit shots the last game so we felt like we just needed to get in the gym, hit shots and that's what we did tonight, Tyson said.
Spasojevic indicated that the key to ECU's Thursday night win was not only on the offensive end of the floor, but on the defensive end.
"I think everybody's mindset was that we really need this and we can only get it by great defense," Spasojevic said, "Offense is going to come. We're going to score or maybe we're not going to score but we've got to play defense all of the time".
ECU got off to a fast 9-0 start on baskets from Fleming, Spasojevic, a Tyson trey and a pair of free throws from Jabari Craig. But four straight Grambling buckets found the Tigers up 16-11 at the nine minute mark of the first half. Exel Mpoyo, Anthony Gaston and Ivy Smith added to the damage for Grambling to give them as much as a ten point 31-21 lead.
Tyson basically took the game over just before halftime with a three-point jumper, a fast break runner and two free throws for his fifteenth point of the period to trim the Grambling lead to three at intermission.
Spasojevic helped spearhead ECU's second half comeback scoring three times in the lane. Shawn Williams' basket had the Pirates up 59-53 with 6:31 left in the game. Then Tyson and Fleming scored in the paint to give ECU a commanding eight point 66-58 lead with 3:13 to go.
Grambling tried to hang around with an Ivy Smith three point play and a DeVante Jackson basket in the lane that trimmed the ECU lead to four. But Fleming got to the foul line and hit both attempts to keep the Pirates up by six with a minute and a half to play.
Ivy Smith kept Grambling close with a runner in the lane then after a Fleming free throw for ECU at the other end, the Pirates came up with a pair of big defensive stops and held on for the win.
ECU head coach Michael Perry, B.J. Tyson and Dimitri Spasojevic recap the Pirates' win over Grambling State.
PI AUDIO POST GAME: ECU 76 GRAMBLING 68