ECU Rally Leads to 83-81 Win Over Appalachian State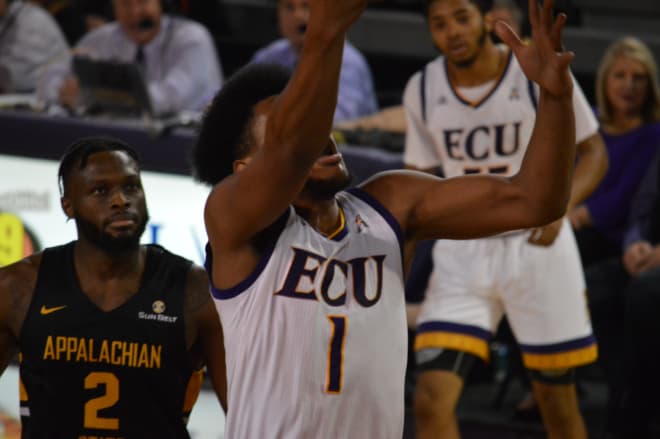 Appalachian State led the game for most of the night, but ECU continued to eat into a thirteen point Mountaineer lead and found a way at the end to pick up an 83-81 victory Friday night in Minges Coliseum.
Seth LeDay's tip in of a missed Jayden Gardner miss in the paint narrowly missed a goal tending call and gave the Pirates their first lead since the 14:46 mark in the first half with just 18 seconds left on the clock. Gardner hit an ECU record 16 free throws on a record 19 attempts on the way to a team high 22 points for ECU.
"It's a serious gut check. Two buckets getters that we struggled at times to stop, but at the right moments we got a stop and this team kept fighting," Gardner told PirateIllustrated.com afterward, "Down thirteen Coach Dooley used his last timeout and he believed in us and we just fought for him, fought for each other and got the W tonight."
LeDay talked in the postgame about the tip-in late in the contest that gave ECU the lead.
"We just got the points and whatever. I know that anytime Jay shoots I'm going to crash the board or anytime I'm driving and shooting it, he's going to crash for me so we just play real well off of each other and I'm just glad we got the win," LeDay said afterward.
"He's very good running to the backboard and following up misses," ECU head coach Joe Dooley said, "He's a very good offensive rebounder like we talked about. He played really well and I thought he did a lot of good things."
LeDay got a late start but poured in 18 points off the bench for the Pirates to go along with 15 from Shawn Williams and 10 points from K.J. Davis before he fouled out in the second half. With the victory, ECU improved to 5-4 while surprisingly good Appalachian State fell to 2-5 with the loss.
"It was a good team win for our guys. We obviously put ourselves in some pretty bad spots being down and didn't have any timeouts and had a lot of time left on the clock and the guys kind of dug in," said Dooley, "Obviously we had some guys make some real big plays including Addison (Hill) with the switch and some defense at the end that we needed and got some stops."
"We gave up way too many layups and easy baskets, but we were able to keep them off the three-point line which was a big point of emphasis," Dooley stated.
The Mountaineers got 25 points from Ronshad Shabazz and 24 from Justin Forest to go along with eight points and eleven boards from Isaac Johnson.
Fifteen first half points from Forest had Appalachian State out front 35-27 with 3:44 to go in the first half. But four late Shawn Williams baskets in the stretch run before halftime aided 56 percent first half ECU shooting to pull the Pirates back to within two at 42-40 at intermission.
Jayden Gardner had 12 first half points and Williams scored 11 in the first twenty minutes for ECU. Justin Forest with 15 and Ronshd Shabazz with 12 led the Mountaineer who hit nearly 52 percent from the floor.
Both teams were rather cold from the arc in the first twenty minutes with ECU going just two for eight and ASU who got ten fast break points going just two for eleven from the arc. It didn't get much better in the second half for either team with ECU making just 4 of 20 and ASU hitting just 3 of 14 from long range.
ASU came out hot in the second half though to open up an thirteen point 61–48 cushion at the twelve minute mark. But ECU nibbled away at the lead and cut the margin to just three with 4:44 to go on a Shawn Williams drive in the paint. Then Gardner's tip of his own missed shot underneath the basket trimmed the lead to one with just over three minutes to go.
After the Mountaineers stretched the lead back to five on a Hunter Seacat bucket, ECU fought back with baskets from Shawn Williams and Seth LeDay. Then a pair of Jayden Gardner free throws with 1:50 to play got ECU back to within a point at 78-77.
Ronshad Shabazz for ASU traded baskets with Isaac Fleming before Gardner found his way to the charity stripe with 1:09 to play where he hit one of two to keep ECU within a point. Then after an ECU defensive stop, Seth LeDay's tap in of a Gardner miss in the paint gave ECU the lead at 82-81 with 18 seconds to play.
ECU got the defensive stop at the other end of the floor and Gardner was fouled recovering a loose ball but connected on just one of two from the line with four seconds remaining. The Pirates then played strong defense down the stretch to close the deal.
PI POSTGAME AUDIO: COACH JOE DOOLEY