ECU Roars Back For Third Straight in a 69-66 Win Over Campbell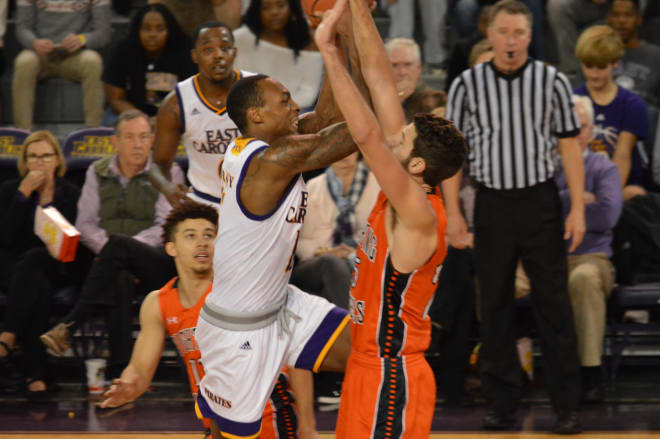 ECU was down by 17 points before putting on a ferocious second half comeback to beat Campbell 69-66 Monday night in Minges Coliseum. It was the Pirates' third straight win as they move to one game over .500 at 5-4 heading into the exam break.
Isaac Fleming showed no ill affects from a lingering chest cold in leading the Pirates in scoring with 19 points. Meanwhile B.J. Tyson added 16 and Kentrell Barkley scored 14 points in the victory. Marcus Burke tossed in a game high 21 points while Shane Whitfield scored 12 and Cory Gensler got in double-figure with 10 points to go along with eleven rebounds for Campbell who falls to 4-5 with the loss.
It was a 9-0 run at the end of the game that did the trick for the Pirates and interim head coach Michael Perry talked about the resilience of his team in grabbing three wins in a five day period.
"Three games in five days back to back to back. It showed a lot of mental and physical toughness and the guys really dug down deep to pull this one out," Perry said, "I was as proud of a team as I've ever been associated with this group tonight, particularly in the second half. It was a tremendous performance in the second half. Obviously in the first half we kind of came unglued with the end of the half. Heads were down a little bit and we had some bad body language out there. We had some adversity. It was our first opportunity to see it. I was interested to see how they were going to respond to it."
Fleming talked about what it means for the Pirates to win their third straight game after the exit of head coach Jeff Lebo.
"It feels great. Amazing. Coming back from being down 17, to come back and fight we just showed everybody that we are a team that competes," Fleming told PirateIllustrated.com, "It feels good."
After the game, ECU interim head coach Mike Perry talked about what it means for his ball club to pick up their third straight victory.
"Having two weeks off, it couldn't be scripted any better. Having this time to kind of reflect and a lot of times it's easier to teach because there are a lot of things that we have to firm up and a lot of things that we have to add in offensively and defensively particularly to our defensive package," Perry told PirateIllustrated.com, "We have a few more things to do. Work on our zone defense. We have to do some more extended pressure down the floor. I want to add some offensive sets to our package as well. This is a time when you want to do that and it's a lot easier to teach when you've got three straight wins under your belt and the kids are a lot more receptive."
The Pirates held as much as a seven-point 15-8 lead in the first seven minutes of the game on baskets from Kentrell Barkley, Shawn Williams and Jabari Craig. Campbell then tied the contest at 19-19 on a Cory Gensler back door cut midway through the period and Demontez Oliver's jumper gave Campbell a three point lead.
Multiple blown Pirate possessions and missed free throws resulted in Campbell opening up a nine-point 39-30 lead with a minute to go in the half. Then Oliver's three-pointer for his eighth point of the half gave the Camels a twelve point 42-30 cushion at intermission.
Marcus Burk led all scorers in the first twenty minutes with 14 points for Campbell. The Camels were playing without Big South leading scorer Chris Clemmons who averages 22.2 points per game. Campbell got nine more shot attempts than the Pirates in the first half, eleven points off of twelve ECU first half turnovers to go along with ten second chance points.
"I just felt like that first half kind of got to us a little bit. You could tell emotionally and with our body language," Tyson said, "So when we got in the film room at halftime Coach Perry was talking to us and letting us know that we just need to get rid of that and come in and play basketball. Then in the second half we came together as a group. When we were down by 15 and were in the huddle, we just let each other know that we've just got to believe in each other and that's what we did and we came out with the win."

Perry outlined the theme of what he told his team in the locker room at intermission.
"At halftime I really challenged them to grow up and lose some of the disfunction. To stop being so sensitive among themselves and come together. I told them I didn't care about the results in the second half, I just wanted to see this team come together. If we come together we're going to be a pretty good basketball team. We may not win tonight but we'll win some games moving forward. But it's about having an opportunity to come together and win tonight and they did so."
Campbell maintained a fourteen point 54-40 lead at the twelve minute mark in the second half largely on missed ECU free throws and Camel baskets from Jordan Whitfield and Marcus Burke.
The Pirates pulled back to within six on a Kentrell Barkley drive and a turnaround jumper in the lane from Isaac Fleming with 4:50 to play, but Camel baskets from Andrew Eudy and Jordan Whitfield kept Campbell out front. Tyson cut the lead to six again with 3:34 remaining.
Jabari Craig's steal and assist to Isaac Fleming trimmed the lead to as little as four and Burk dunked it at the other end for Campbell as the two teams exchanged baskets with 2:30 to play. Then two Tyson free throws and another free-throw from Barkley cut the lead to 66-63 with under two minutes to go.
Craig was fouled after a defensive rebound with just over a minute to play where he canned both to give ECU a one-point 66-65 lead with 1:04 to play. Then a Campbell turnover resulted in an Isaac Fleming runner in the lane on the ECU end of the court to give the Pirates their first lead of the second half at 67-66 with timeout on the floor and 26.1 left on the clock.
Another Campbell turnover at the other end on a backdoor pass that went out of bounds gave the Pirates the basketball with 17.2 remaining. Craig hit one of two from the stripe and Barkley hit another to allow ECU to hold on for a three point 69-66 Pirate victory.
After the game, PirateIllustrated.com was there to bring you the post game words of interim head coach Michael Perry along with guards Isaac Fleming and B.J. Tyson.
MICHAEL PERRY'S POST GAME PRESS CONFERENCE
B.J. TYSON & ISAAC FLEMING RECAP ECU's WIN OVER CAMPBELL
PI PREMIUM PHOTO GALLERY: ECU - CAMPBELL