ECU's Bryant Packard Named to a Pair of All-American Teams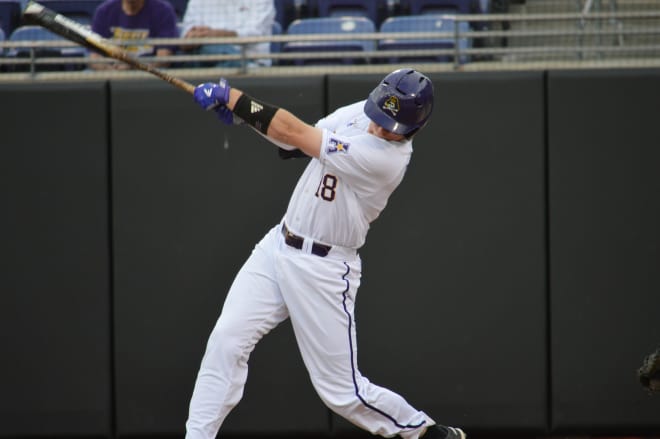 ECU sophomore Bryant Packard found his place on a pair of All-American squads on Thursday.
In doing so, the D.H. Conley product out of Greenville becomes the 30th All-American in Pirate baseball history.
He joins Reid Love (2015), Evan Kruczynski (2016-17) and Travis Watkins (2017) as the fourth All-America selection in the Cliff Godwin era at ECU.
Packard was named first team All-American by Baseball America and found his place on the second team of Collegiate Baseball.
The 2018 AAC player of the year was also a semi-finalist for the Dick Howser Trophy leads the team in nine different offensive catagories from his .403 batting average that ranks seventh in the country to his .680 slugging percentage, .460 on base percentage, 83 hits and 140 total bases.
Along with Packard's school record 30 straight games with a hit, he ranks in the top ten in homers with 14, he has 50 RBI to go along with 15 doubles.
The Pirates tee it up Friday night in the first round of the Greenville NCAA regional against UNC-Wilmington at 7 o'clock.