ECU's Jake Washer Named a Semifinalist for Bench Award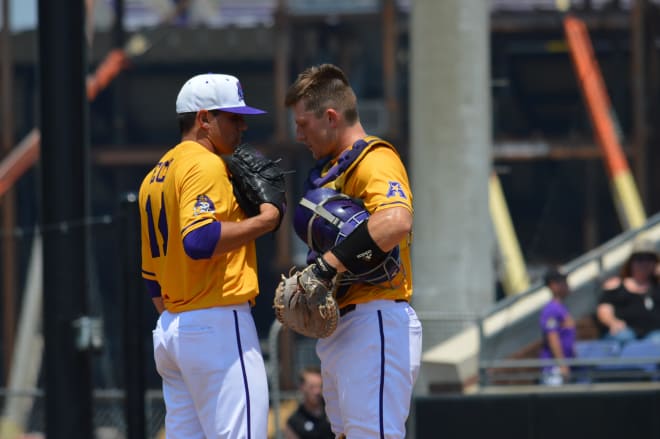 WICHITA, Kansas – ECU redshirt sophomore Jake Washer has been named one of 16 semifinalists for the 2018 Johnny Bench Award presented by BaseballSavings.com.

Washer, the lone representative from the American Athletic Conference, joins former Pirates Jake Smith (2006 winner), Corey Kemp (2007-08) and Travis Watkins (2014, 2016-17) semifinalist to make the list.
The King, N.C. native has started 39 of 44 games behind the plate throwing out 11 of 31 (35.5 percent) of would be base stealers in his first year as the Pirates starting catcher. At the plate, he is batting .297 (47-for-158) with six home runs, 34 RBI, 26 runs scored and has 11 multi-hit and nine multi-RBI games. Washer is the sixth Pirate in program history to be named to the initial watch list following Smith, Kemp, Watkins, Jared Avchen (2010) and Zach Wright (2010-12).
The 2018 Johnny Bench Award presented by BaseballSavings.com semifinalists are (in alphabetical order):
Joey Bart, Georgia Tech Institute of Technology, JR
Carter Bins, California State University, Fresno, SO
Trevor Casanova, California State University, Northridge, JR
Tyler Cropley, University of Iowa, SR
Tim DalPorto, Kent State University, SR
Logan Driscoll, George Mason University, SO
Michael Emodi, Creighton University, JR
Nick Fortes, University of Mississippi, JR
Alex Holderbach, Eastern Kentucky University, JR
Reynaldo Pastrana, Marshall University, JR
Cal Raleigh, Florida State University, JR
Adley Rutschman, Oregon State University, SO
Cesar Salazar, University of Arizona, JR
JJ Schwarz, University of Florida, SR
Jake Washer, East Carolina University, SO
Harris Yett, University of North Carolina at Charlotte, JR
Ballots will be sent to the national voting panel at the end of May for a vote to determine the three finalists. The finalists will be announced June 4, 2018. A final vote among the national committee will occur during the College World Series. All finalists will be brought to Wichita and the winner will be announced at the 21st Annual Greater Wichita Sports Banquet on June 28, 2018.