ECU'S JEFF LEBO RESIGNS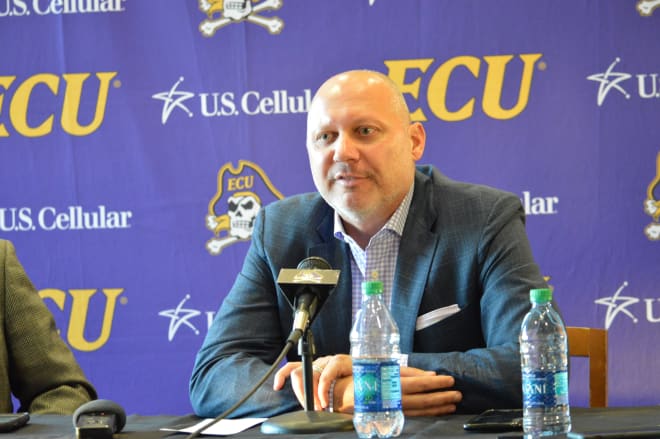 ECU Director of Athletics Jeff Compher called a press conference with a little over an hour's notice Wednesday afternoon to announce the resignation of ECU men's basketball coach Jeff Lebo.
Lebo came to Compher's office with his wife Melissa and said, "I'm going to drop a bomb shell on you, I have decided to step down as head coach effective immediately."
Compher talked about the day's events.
"Earlier I heard from Coach Lebo requesting a meeting with me. I didn't think it was out of the ordinary because often times things come up the day before the game. When he arrived at my office the first thing he said was Melissa is here with me and I knew this was not going to be an ordinary meeting."
"You never know how your day might go in this world of college athletics. I can tell you that this news came as quite a surprise to me," Compher said, "I want to say that I have nothing but respect and admiration for Coach Lebo and the way he has run the mens basketball program at ECU. He is the winningest head coach in ECU history and I wish him and Melissa and their family nothing but he best in the future. He has been an outstanding friend and colleague and I will miss him."
Compher then let everyone know of his decision moving forward to elevate Michael Perry into the head coaching position for the remainder of the season.
"I have spoken to assistant coach Mike Perry and he has agreed to accept the role as interim head coach. Mike led our team last year while Jeff was going through hip surgery and I know that all of Pirate Nation will support him and the team during this change."
Lebo talked about his very unexpected decision that occurred on Wednesday.
"After careful consideration and a lot of thought and talk with my family and my wife, after 36 years of playing and coaching and the sacrifices we have made as a family, it was time for me to make a change and a pivot into a new chapter in my life," Lebo said, "As a coach you pour your heart and your soul into coaching and your players and your programs. Sometimes there comes a time where you want to focus a little more on some areas where you have fallen short in over the past 36 years.
"In talking to my wife and my kids and my family we thought it would be in everybody's best interest for me to step down as coach here at East Carolina."
Perry is in his 11th season as an assistant coach with the Pirates after spending four years as the head coach at Georgia State. Perry was Lefty Driesell's lead assistant for five seasons.
With Perry on the bench, Georgia State won three regular season conference championships and one tournament title. He also coached the team to back-to-back 20-win seasons for the first time in school history, while helping direct a trio of 20-win campaigns. Perry guided the Panthers to a 20-9 record during his first full season as head coach in 2003-04.
Lebo missed the final 14 contests of the 2016-17 season following hip replacement surgery before returning this year for his eighth campaign. He directed the Pirates to 116 wins including two this season, making him the winningest coach during the program's Division I history, which dates back to 1965.
Currently, the Pirates stand at 2-4 on the season after an 87-81 home defeat at the hands of North Carolina A&T.
Lebo, a former guard at North Carolina under Dean Smith who played briefly in the NBA for the San Antonio Spurs, was only the third ECU coach to last at least eight seasons in ECU's 86-year history. He is one of only four coaches in ECU basketball history to have posted multiple winning seasons in its Division I era.
Lebo departs as one of only three coaches in school history to lead the program for more than six seasons joining Howard Porter, who coached the team for 12 seasons (1947-59) and Tom Quinn, who led the Pirates' transition to Division I for eight years (1966-74).
In his third season on the bench ECU put together 23 victories and a CIT championship. ECU posted its only winning C-USA record and top-5 league finish, tying for fourth-place with a 9-7 conference record.
The Pirates host UNC-Wilmington Thursday night at 8 o'clock in Williams Arena @ Minges Coliseum.
LEBO RESIGNATION PRESS CONFERENCE
COACH MICHAEL PERRY, B.J. TYSON & KENTRELL BARKLEY REACTIONS