ECU's Zay Jones Finds a Place on Walter Camp All-America Squad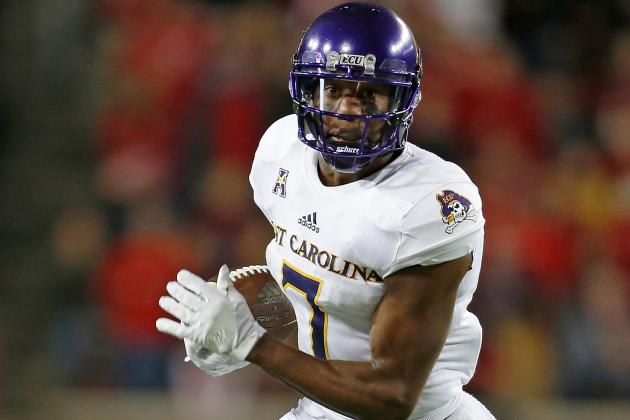 Zay Jones who earlier was named a first-team All-American by both The Sporting News and by Pro Football Focus may have been mysteriously overlooked for the Biletnikoff Award, but still got more good news on Friday when he was named to the first team Walter Camp All-America squad.
Alongside with his father Robert who played for the historic ECU team that ended up ranked 9th in America in 1991, the Jones' are just the second father-son combo to earn Walter Camp All-America honors. They join Georgia's Kevin Butler (placekicker/1985) and Drew Butler (punter/2009).
This is the fourth first-team All-America honor that Jones has earned this season to go along with the College Sports Madness, Pro Football Focus and The Sporting News All America squads.
This season, Jones led the NCAA FBS in four categories: receptions, receiving yards, receptions per game and receiving yards per game. He stands as the all-time leader on the NCAA FBS single-season receptions chart and became the NCAA FBS career receptions leader with 399 and eclipsed former teammate Justin Hardy's mark of 387 set from 2011-14.
This season, Jones caught a personal-best eight touchdown passes and registered nine double-triples (catches-yards), which included a career-high 22 receptions for 190 yards at South Carolina on September 17.
His 22 catches against the Gamecocks are the most by an FBS receiver in a game this season and was just one shy of an all-time NCAA FBS record. Jones also had a FBS-leading 89 receptions that resulted in a first down, the most in a single-season in the FBS since 2004.
On November 7, Jones was formally recognized as a Heisman Trophy candidate by the Heisman Trophy Trust and was selected as a finalist for both the William V. Campbell Trophy and Biletnikoff Award.
A two-year team captain, Jones owns ECU and American Athletic Conference single-season marks for receptions and receiving yards.
Jones is the 19th Pirate in school history committed to play in the Senior Bowl and will follow ECU record-setting performers Shane Carden (2015), Justin Hardy (2015) and Bryce Williams (2016).
2016 Walter Camp All-America Squad
First Team Offense
WR Dede Westbook, Oklahoma 6-0 175 Senior Cameron, TX
WR Zay Jones, East Carolina 6-1 197 Senior Austin, TX
TE Jake Butt, Michigan 6-6 250 Senior Pickerington, OH
OL Cam Robinson, Alabama 6-6 310 Junior Monroe, LA
OL Cody O'Connell, Washington State 6-8 354 Junior Wenatchee, WA
OL Roderick Johnson, Florida State 6-7 311 Junior Florissant, MO
OL Connor Williams, Texas 6-6 288 Soph. Coppell, TX
C Pat Elfein, Ohio State 6-3 300 Senior Pickerington, OH
QB Lamar Jackson, Louisville 6-3 205 Soph. Pompano Beach, FL
RB Donnel Pumphrey, San Diego State 5-9 180 Senior Las Vegas, NV
RB Dalvin Cook, Florida State # 5-11 213 Junior Miami, FL
PK Zane Gonzalez, Arizona State 6-1 190 Senior Deer Park, TX
First Team Defense
DL Myles Garrett, Texas A&M 6-5 270 Junior Arlington, TX
DL Jonathan Allen, Alabama 6-3 291 Senior Leesburg, VA
DL DeMarcus Walker, Florida State 6-4 280 Senior Jacksonville, FL
DL Derek Barnett, Tennessee 6-3 265 Junior Nashville, TN
LB Reuben Foster, Alabama 6-1 228 Senior Auburn, AL
LB Jabrill Peppers, Michigan 6-1 205 Junior East Orange, NJ
LB Zach Cunningham, Vanderbilt 6-4 230 Junior Pinson, AL
DB Jourdan Lewis, Michigan # 5-11 186 Senior Detroit, MI
DB Malik Hooker, Ohio State 6-2 205 Soph. New Castle, PA
DB Adoree' Jackson, USC 5-11 185 Junior Belleville, IL
DB Tre'Davious White, LSU 6-0 197 Senior Shreveport, LA
P Mitch Wishnowsky, Utah 6-2 220 Soph. Gosnells, Australia
KR Quadree Henderson, Pittsburgh 5-8 190 Soph. Wilmington, DE
Second Team Offense
WR Corey Davis, Western Michigan 6-3 213 Senior Wheaton, IL
WR Mike Williams, Clemson 6-3 225 Junior Vance, SC
TE Evan Engram, Ole Miss 6-3 235 Senior Powder Springs, GA
OL Dorian Johnson, Pittsburgh 6-5 315 Senior Belle Vernon, PA
OL Ryan Ramczyk, Washington 6-6 314 Junior Stevens Point, WI
OL Billy Price, Ohio State 6-4 315 Junior Austintown, OH
OL Dan Feeney, Indiana 6-4 305 Senior Orland Park, IL
C Ethan Pocic, LSU 6-7 302 Senior Lemont, IL
QB Deshaun Watson, Clemson 6-3 215 Junior Gainesville, GA
RB D'Onta Foreman, Texas 6-1 249 Junior Texas City, TX
RB Christian McCaffrey, Stanford 6-0 200 Junior Castle Rock, CO
PK Daniel Carlson, Auburn # 6-4 218 Junior Colorado Springs, CO
Second Team Defense
DL Christian Wilkins, Clemson 6-4 310 Soph. Springfield, MA
DL Harold Landry, Boston College 6-3 250 Junior Spring Lake, NC
DL Hunter Dimick, Utah 6-3 272 Senior Syracuse, UT
DL Ejuan Price, Pittsburgh 6-1 255 Senior Rankin, PA
LB Raekwon McMillan, Ohio State 6-2 243 Junior Hinesville, GA
LB Kendall Beckwith, LSU 6-3 247 Senior Clinton, LA
LB Ben Boulware, Clemson 6-0 235 Senior Anderson, SC
DB Rasul Douglas, West Virginia 6-2 203 Senior East Orange, NJ
DB Minkah Fitzpatrick, Alabama 6-1 203 Soph. Old Bridge, NJ
DB Tarvarus McFadden, Florida State 6-2 198 Soph. Fort Lauderdale, FL
DB Desmond King, Iowa 5-11 203 Senior Detroit, MI
P Cameron Johnston, Ohio State 5-11 198 Senior Geelong, Australia
P JK Scott, Alabama 6-6 202 Junior Denver, Colorado
KR Adoree' Jackson, USC 5-11 1185 Junior Belleville, IL