ECU's Zay Jones Moves Closer to the NCAA Receptions Record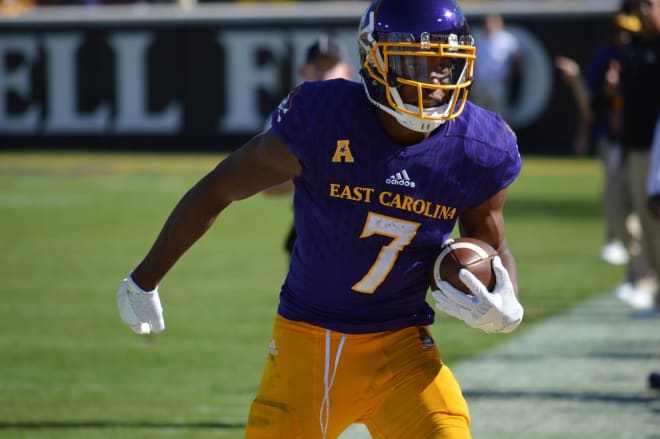 Zay Jones caught 19 passes for 185 yards and a touchdown. He also threw for another score to quarterback Philip Nelson in last Saturday's 41-3 victory in Greenville over Connecticut.
Along with already being named to the Fred Biletnikoff Award list that awards the nation's top receiver, Jones on Monday was named to the William Campbell Trophy watch list that is named for the top scholar football athlete nationally.
"It's a huge honor, very grateful for it. It's a testament to those around me who put me in this position to be here as far as my coaching staff starting with Coach Mo and trickling down to Coach Phil, my wide receivers coach, the academic staff of Brian, Sue and Abby putting me in a great position to excel academically," Jones said to PirateIllustrated.com, "Brian Overton and the other staff allowing me with the community service opportunities here in Greenville."
The Austin, Texas senior who has a 3.56 GPA as a communications major learned from one of the best in Justin Hardy who is the all-time leading pass catcher in college football history. Jones is now number two all time and just needs 8.3 catches per game over the next four contests to become the all-time leader.
"I'm grateful for the people who came before me who set the path. I'm respectful of those great guys who made the way for me and I'm here to set the example and leave this place better than I found it," Jones said.
Earlier this season, Jones set the ECU and American Athletic Conference single game receptions record with 22. He is currently second all time at ECU with 355 catches and 3,627 yards. His 19 catches last week against Connecticut moved Jones closer to making national history. East Carolina would have the top two pass catchers of all time in college football. 42 catches would give Jones the all time single season receptions mark. He is currently tied for 24th in that category.
Zay's dad, Robert Jones, is a former All-American for ECU's best team in 1991 that finished 9th in the nation and won the Peach Bowl in comeback fashion in Atlanta over N.C. State. He talked about both Dad and Mom getting several opportunities to be here to see him play where they have become fixtures on the field on game day as their son winds up his record setting career as a Pirate.
"I'm just cherishing the moments. My time is coming to an end here at East Carolina so it's just getting them back up here for as many games as possible to enjoy it and the great atmosphere in Dowdy-Ficklen and just enjoying these last couple of games I have here as a Pirate."
Jones caught 62 passes as a freshman, 81 as a sophomore and 98 last season. His receptions total stands at 114 so far in his senior year as a Pirate. On Tuesday we caught up with first year East Carolina head coach Scottie Montgomery who talked about Jones' contributions to the team and the Pirate program overall.
"A true role model on and off the field. It gives a lot of guys a chance to see what greatness is. Sometimes you have to just sit back and watch and be able to praise greatness. That's what he is. Our young guys they see it. He always has an affect in this room," ECU head coach Montgomery told PirateIllustrated.com, "Academically, on the field and definitely off the field with over 75 hours of community service. Just starting a trend and also adding to the legacy of the wide receivers that have come through this great university and now pushing other position groups to improve in areas that he is doing really well in."
Jones remains humble when asked of the prospects of one day potentially having his name along side his father's on the ring of honor in Dowdy-Ficklen Stadium.
"It would mean the world to me but it would mean more to win a championship and win a bowl game with my brothers this year," said Jones.
The Pirates this week travel to Tulsa to take on the 6-2 Golden Hurricane. Game time is 8 pm in Chapman Stadium. The game will be televised on ESPNews with Shawn Kenney and former UAB Head Coach and former ECU Assistant Watson Brown calling the action.
Click into the the complete PI interviews with Zay Jones along with ECU head coach Scottie Montgomery. Stay tuned for interviews this week with quarterback Philip Nelson and running back James Summers as Tulsa Week coverage continues here on PirateIllustrated.com