ECU Searching For Answers In Preparation for Road Trip to UCF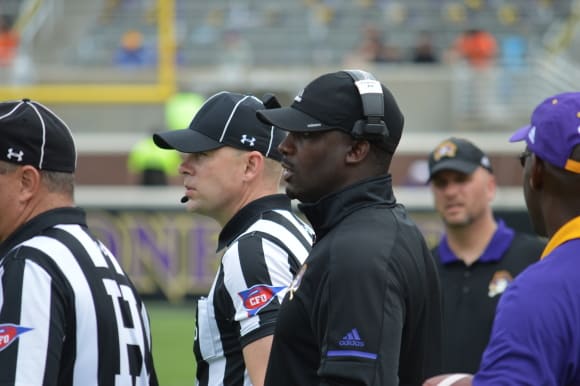 With ECU sitting at 1-5 and 1-2 in AAC play, second year head coach Scottie Montgomery is searching for answers to turn things in a positive direction.
His team takes on nationally ranked UCF this week in Spectrum Stadium in Orlando, one of the hottest teams in the country right now.
The Knights are a team that went winless two years ago and won six games in Scott Frost's first season. UCF comes into this week's game undefeated at 4-0 and 2-0 in the American Athletic Conference.
Beating UCF shapes up as a monumental task for a Pirate team that is battered, bruised and bewildered.
"Coming off a disappointing loss against Temple, a few things that stood out in that game, we didn't have an identity in the run game offensively," Montgomery said, "Defensively I thought we did some things better but we've got to win some of those one on one battles that we've struggled with all year at the corner position and also in our fronts on one on one situations being able to get off blocks."
Montgomery gave props to linebacker Aaron Ramseur who had nine tackles and an interception. The addition of Tank Robinson at safety who Montgomery says really helped the team along with Mike Myers at defensive tackle were also bright spots.
Offensively Montgomery was pleased with the play of Jimmy Williams who made five catches for 110 yards including one of 39 yards. He along with Davon Grayson who graded out the highest on offense in last week's Temple loss were worthy of note.
Coach Mo says the offensive line had too many blown assignments. He says it was mostly simple fundamental things he says that can be corrected.
The Pirates didn't have the benefit of a favorable schedule to begin the season. They have faced three P5 teams and a ranked USF team in the first six games of the season. They also played last year's FCS national champs in James Madison to open the season.
Montgomery says he was very surprised by the overall play of the offensive line too that didn't have a good day protecting the quarterback.
You have to be able to run the football in order to win ballgames and ECU just didn't last Saturday in a 34-10 loss to Temple.
This week, UCF presents speed that Montgomery says can stretch the field vertically in the passing game and horizontally in the run game. They do a good job of identifying one matchup and wearing out that matchup the whole game.
"They're probably playing at as high a level on offense as we've seen anybody play this year, Montgomery said, "They are averaging a ridiculous amount of yards per play and last week they only had fifty plays, but they had so many big plays in the passing game and running game."
"On defense, this is where this team has grown the most. They play with a tremendous amount of passion, a lot of speed."
Shaquem Griffin at outside linebacker is one of the better players in the country. He along with Jamiyus Pittman at defensive end and inside linebacker Pat Jasinski who has 27 tackles this year present issues for the Pirates to solve this week.
There are eleven positions that have a starter listed with an or next to his name for ECU. Most of that is due to injuries and the question marks that exist coming into this week's game with the Knights.
Marcus Holton, Jr. is set to start at cornerback but much of the secondary is banged up and could be a game day decision as to who will start.
Darius Pinnix is slated to start at running back. The Elon, N.C. freshman will be backed up by Florida native Hussein Howe and Clemson transfer Tyshon Dye. Derrell Scott is not listed in the three deep this week.
John Spellacy is expected to return to practice this week but expect Garrett McGhin to start at center for the Pirates.
Damage Bailey is likely out for this week's game at defensive tackle so look for Tyree Owens to step in.
Game time for the UCF game is 7 pm and will be televised on CBS Sports Network. Also, it was announced that next week's ECU - BYU game in Greenville will kickoff at 7:oo and will also be televised on the CBS Sports Network.
PirateIllustrated.com was at the Ward Sports Medicine Complex at ECU to bring you Coach Scottie Montgomery's UCF week press conference in it's entirety.