Garrett McGhin Could Wear Many Hats This Fall On The ECU O-Line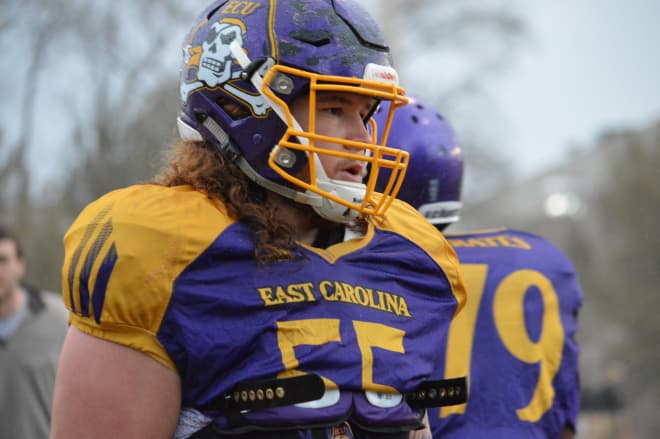 Tallahasse, Florida senior offensive lineman Garrett McGhin has seen it all in his time at East Carolina.
After playing all season as a sophomore at offensive guard, McGhin also found himself learning the center position where he spent half of his time last season.
He could find himself playing at any of the line positions at various times next season, depending on the circumstances.
With spring practice just one week complete, McGhin talked about his situation and what we can expect this fall under new offensive line coach Don Mahoney.
McGhin is finding himself more and more on the right side of the line and he could even do some damage at right tackle where he has seen some action this spring.
"I'm just going and trying to be where the team needs me best whether it's center, guard or tackle, it doesn't matter. I'm just doing whatever it takes to help this team win."
He talked about spending more and more time at tackle this spring.
"It's definitely been an adjustment. I originally came in as a tackle and so it kind of feels good to get back out there. I'm just doing whatever I can to help this team win and if that means playing tackle then so be it. I think I can be successful at it and use my size and athletic ability to help this offense move forward."
By all accounts, things are progressing nicely under new offensive line coach Don Mahoney who spent four seasons at Tennessee where he helped the Vols to three straight bowl titles. Before that he was at Cincinnati for three years after helping Central Michigan to a pair of MAC titles.
"I think we're all just moving in a positive direction and we're following Coach Mahoney and all that he's trying to teach us.," McGhin told PirateIllustrated.com, "He's come in with a great, high energy and we're all willing to do whatever it takes."
The ECU offensive front is beginning to layer enough guys together to formulate what could be an improved group this fall.
"We're all just sick and tired of losing so we're all trying to do whatever it takes to win and push this offense forward," said McGhin.
Catch the complete interview on PI Audio on as ECU spring camp coverage continues here on PirateIllustrated.com.