ECU Shuts Out Appalachian St. 4-0 to Complete the Sweep of the KLC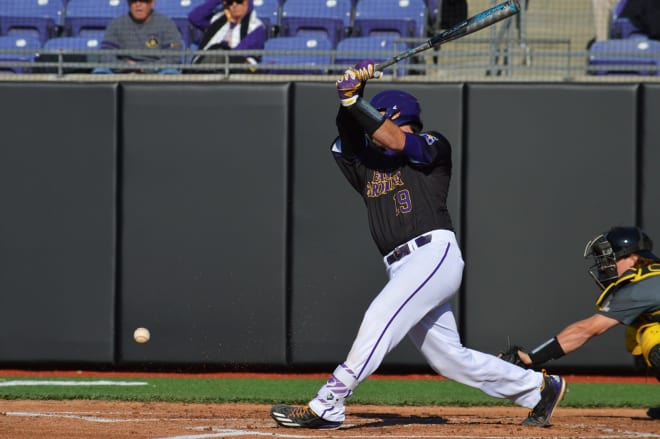 Ninth ranked ECU got two hits from Travis Watkins and Eric Tyler and timely hitting from the Pirates helped them claim a 4-0 victory over Appalachian State on the final day of the Keith LeClair Classic in Greenville.
The event is always big for ECU baseball and the memory of Coach LeClair lives on with the playing of this event each year.
"I get chills just thinking about it. Lynne and Audry come back and Bailey Cooper, Nelson Cooper's daughter, had the chance to throw out the first pitch," ECU coach Cliff Godwin said, " It means a lot. Davey Penny came and spoke to our team today and talked about Coach LeClair."
"Our guys want it for Coach LeClair. Davey told the team that when we go to Omaha there will be a lot of people going with them," said Godwin who played for Coach LeClair at ECU, "A lot of past players who put in a lot of hard work to help build this stadium, so our guys have a lot of pride in this tournament."

The Pirates won all three days of the event and have now won eight straight games after losing their first three at nationally ranked Mississippi.
"Hats off to their pitcher. He was tremendous and really it was tough on our left handed hitters. They were really special. We just kept rolling over stuff, but the thing I really like about this team is when their backs are against the wall and you challenge them they put up a three spot in the seventh inning. Trey Benton was as good as advertised. He was better today than he was against Le Salle."
Luke Bolka picked up his first career triple for ECU and Spencer Brickhouse got him home in the top of the third with a sac fly to left field for a 1-0 ECU lead.
Brickhouse and Tyler singled before Bryant Packard walked to load the bases in the ECU half of the seventh frame. Kirk Morgan's single scored Brickhouse on ECU's seventh hit of the day before Dusty Baker came in to pinch run for Packard at second base.
"You've got the veterans and then you've got guys like Brickhouse and Packard who are kind of new guys and T.J. Riles," Godwin said, "But you've got guys like Wes Phillips and Kirk Morgan coming off the bench. Dusty Baker is probably the only guy on our team who could have scored when he was back trying to tag there, so it's a lot of people contributing and a lot of people who are being selfless for our team. Our guys do a really good job when the game's on the line."
With the bases loaded, Riles belted a double near the wall in centerfield over the head of Drake Zupcic to score two more runs and give ECU a 4-0 lead.
Trey Benton(2-0) picked up the win for (9)East Carolina(8-3) while Luke Watts(1-1) took the loss for Appalachian State who falls to 5-6 on the season.