ECU Snaps a Four Game Home Skid With a 9-4 Win Over Towson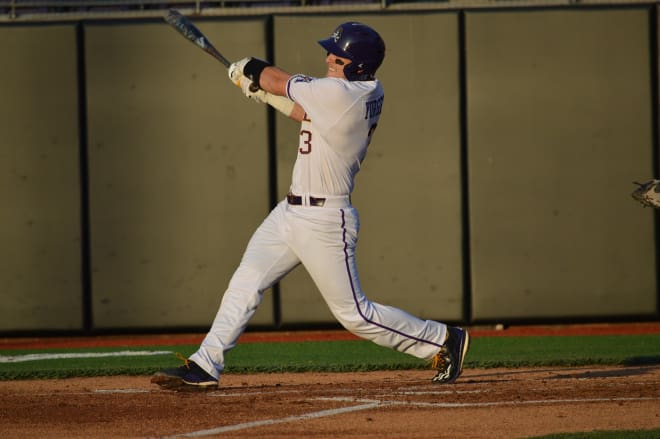 ECU got their bats fired up early and went on to beat Towson University 9-4 in game one of a three-game weekend series in front of 2,752 in attendance in Clark-LeClair Stadium Friday night.
A three-run first inning along with two runs in both the second and sixth frames accounted for the bulk of the damage for the Pirates. In doing so, ECU snapped a three game home losing streak to move to 15-8 with the victory.
Every Pirate in the lineup either scored or had an RBI in the victory that snapped a four game home losing streak.
Jake Agnos picked up his first career win for ECU. Sam Lanier went nine up and nine down in the final three frames to get the save for the Pirates while Dean Stamara with the loss falls to 1-2 on the season.
"Jake Agnos was good. He was solid, still throwing a few too many balls, but still pitched out of a jam in the sixth inning and gave us a shot to win on Friday night," ECU head coach Cliff Godwin said, "That's the Sam Lanier that we know right there. He came in, found the strike zone. His fast ball was electric. The breaking ball was good and he really stayed ahead of hitters for the most part."
Eric Tyler and Charlie Yorgen both went 3-4 on the night swinging the bat and Dwanya Williams-Sutton made his return to the lineup after being out for the better part of a month with a thumb injury. All three accounted for three RBI while Bryce Harman added two more on a pair of hits to extend his hit streak to six games for East Carolina.
"Charlie Yorgen was tremendous. He banged up his knee and fought through the entire game. He and Eric Tyler, both of those guys had three RBI and Bryce Harman at the bottom had two RBI, so we spread it out through the entire lineup. It was a very well executed offensive night."
Godwin talked about Williams-Sutton's return after the Friday night victory over Towson.
"I didn't really know what to expect. Dwanya is Dwanya. He's a special talent and he swung the bat really well tonight to have not seen live pitching in over a month," Godwin said.
"I thought our guys responded well after Wednesday night. I thought the offense was tremendous. I was looking for our team to come out with a little edge and play with a chip on their shoulder and we did tonight. I don't know if they had a choice, but that was what I was looking for. Some intensity and some focus and I thought they were tremendous all night."
Tyler talked about the Pirates' 15th victory of the season. "I think as a whole team we did a great job of sticking to our approach and making the adjustments that needed to be made." Tyler said, "A lot of opposite field hits tonight is always a good sign to see. We just came in locked in and ready to go from pitch one."
Logan Burke got Towson on in the first inning when his fielder's choice pop fly brought Colin Dyer across home plate for an early 1-0 lead.
But it didn't take East Carolina long to answer with three runs in the bottom of the first. Charlie Yorgen's single to right center allowed Dwayne Williams-Sutton to score. Then Eric Tyler doubled down the left field line to bring in two more runs in a 3-1 ballgame.
In the bottom of the second inning Yorgen's double to right center brought in a pair of additional runs. Then in the third, Bryce Harman's base hit to right field allowed Turner Brown to scamper home for another to give ECU a commanding 6-1 lead.
Towson then got into the act and cut the Pirate lead in the fourth with two runs on a pair of base hits.
But Harman got ECU on the scoreboard again in the fifth with a single to the pitcher that allowed Eric Tyler to cross home plate for a 7-3 lead.
Richard Miller got his first homer of the season in the sixth to right field to cut the ECU lead to 7-4. But a pair of Towson errors from Cuinn Mullins in left field led to two more Pirate runs to make it 9-4 on a hit and a walk in the bottom of the sixth inning.
Billy Lennox came on in replacement of Dirk Masters who went out early in the game after he collided hard with Charlie Yorgen who was sliding into second base. Lennox went 3 for 4 with one RBI to lead the Tigers.
With the loss, Towson drops to 8-8 on the season. Game two is set for Saturday with a first pitch scheduled for 4 p.m.