ECU Snaps Charleston's Seven Game Win Streak in 5-2 Win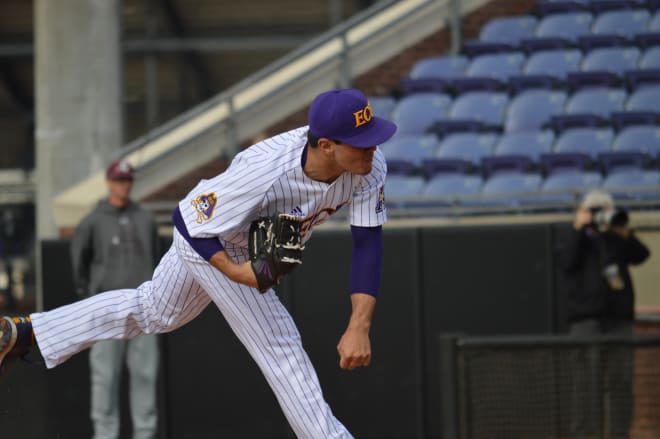 (19)ECU picked up a much needed midweek 5-2 victory over Charleston, snapping the Cougars' seven game winning streak Wednesday afternoon in Clark-LeClair Stadium.
Chandler Jenkins went two for four with a run while Alec Burleson was credited with a pair of runs with two hits and Brady Lloyd scored two runs for the victorious Pirates. Dusty Baker, Drew Henrickson and Bryant Packard all had RBI for the Pirates.
Jake Agnos(1-1) went five innings giving up a pair of runs on three hits with a pair of strikeouts to pick up the win for ECU. Alec Burleson came on in relief to pick up his first save of the season while Tyler Smith went three scoreless innings for the Pirates.
Luke Morgan got things started for Charleston(10-3) in the top of the first inning with a two run home run over the right field wall to give the Cougars an early 2-0 lead. Agnos talked about settling down on the mound after that.
I was just glad that I was able to go out there after that first inning and throw up zero and allow my team to tack on runs on the board. Once we got the two runs back I knew that it wasn't going to turn around and I knew the guys were going to put up more runs."
Agnos outlined what was good about his day on Wednesday on the mound for East Carolina.
"I was throwing strikes. It's as simple as that. I'd been flirting with the zone too much and getting behind the counts. Today the defense was making play after play after play," Agnos said.
"It's been a tough start to the season but I didn't let that stop me. It's easy when your offense continues to put up runs and crooked numbers every inning. It's fun to pitch with the defense that we have. You take it for granted that they're going to go out and make plays day in and day out. Letting them play makes the game easy for me."
Cliff Godwin was pleased to see Agnos bounce back from a less than stellar outing last weekend. Moving to midweek pitching was going to be an adjustment but he found a way to make the most of it.
"I knew it wasn't going to be easy for him out there. He walks the leadoff batter and the next guy hits a home run but then he just settled in and put up zeros," said Godwin, "Tyler Smith went three scoreless (innings), Davis (Kirkpatrick) came in and just didn't execute the pitches he was looking for but how about Alec Burleson coming in with runners on first and second and not giving up a run and getting his first save."
Brian Rourke took the loss for Charleston to fall to 1-2 on the season.
The Pirates got their bats cranked up in the second frame when Chandler Jenkins, Brady Lloyd, Dusty Baker and Bryant Packard all contributed offensively to four ECU runs to put ECU up by two at 4-2.
"I thought we put together some quality at bats there. Once we got him in the stretch, he was a little bit different and our guys put a lot of at bats together," Cliff Godwin said, "Brady Lloyd had a big bunt, Chandler had a big swing, Burleson had a big swing and Dusty Baker had a big swing as well so a lot of quality at bats that we put together."
ECU(9-3) loaded the bases with no outs in the bottom of the sixth inning prompting a pitching change from from Zach Williams to Justin Baker but Drew Henrickson's fielder's choice scored the only run of the Pirate threat to make it 5-2.
The Pirates hit the road for a three game series with Charlotte at Hayes Stadium starting Friday afternoon at 3 o'clock.