ECU Splits Friday Double-Header at UConn to End Regular Season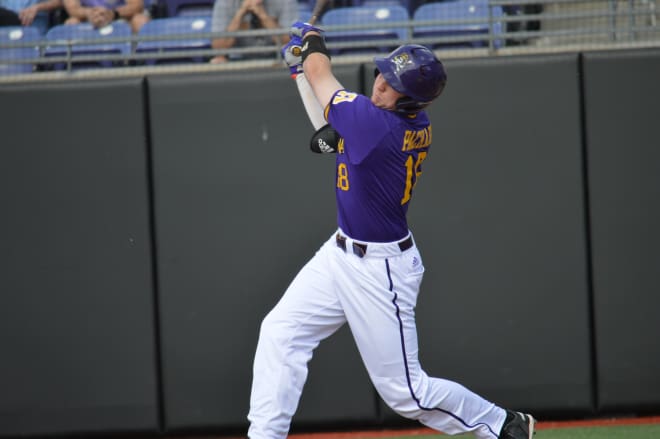 (22)UConn took game two of Friday's double-header with (9)ECU 4-2 to win the series two games to one as the Pirates head into next week's AAC tournament in Clearwater, Florida.
Big 6-7 UConn starting pitcher Chase Gardner(4-2) got the win for the Huskies. Michael Woodworth homered to lead UConn in his two hits to go along with a pair of hits from Troy Stefanski.
After a quick two and a half scoreless innings to begin game three, Zac Susi's base hit to left center brought John Toppa across home plate. That was followed by an Issac Feldstein hit that scored Michael Woodward. Then a Troy Stefanski RBI base knock on ECU starter Jake Agnos gave the Huskies their largest lead of the weekend at 3-0.
Bryant Packard's double down the right field line kept his all-time ECU record hit streak alive at 32 games before a Spencer Brickhouse sac fly to the warning track allowed Packard to scamper home from third base to get the Pirates on the scoreboard.
Michael Woodworth's seventh homer of the year on a shot over the left field wall kept the Huskies up by a field goal in the fifth inning.
ECU(39-15/14-19 AAC) starter Jake Agnos(4-3) yielded four runs on seven hits with seven strikeouts in four and two-thirds innings of work before Davis Kirkpatrick entered the game and put out a bases loaded fired in the bottom of the fifth inning. Then Zach Barnes came on in the sixth, giving up no hits with a pair of strikeouts in the last three innings.
Tim Cate then came into the game in relief on the mound for UConn(32-18-1/14-10 AAC) for the first time since an arm injury put him out of commission at the end of March. Cate gave up four hits in two innings and P.J. Poulan entered in the eighth inning for the Huskies.
A Brady Lloyd grounder in the top of the ninth allowed Drew Henrickson to score from third base for ECU to cut the lead to 4-2 but a Turner Brown grounder to short stop Andy Hague ended the game.
GAME ONE: ECU 6 UCONN 3
(9)ECU picked up a 6-3 game one victory over UConn to open the Friday double-header in Stoors. Bryant Packard went 3 for 4 with three RBI and a pair of home runs to lead the Pirates. Brady Lloyd went 3 for 5 and Spencer Brickhouse had a pair of RBI including a home run in the fifth inning for ECU.
Pirate starting pitcher Alec Burleson(5-1) went five innings giving up a pair of earned runs and three runs overall on six hits to get the win. Trey Benton and eventually Ryan Ross entered in relief.
Jeff Kersten(4-3) got the start for (22(UConn(31-18-1/13-10 AAC) and lasted six innings, yielding six runs with five strikeouts in a hundred pitches in taking the loss.
ECU(39-14/14-9 AAC) took a quick 2-0 lead to begin the ballgame in the first inning on a Spencer Brickhouse fielder's choice RBI that allowed Bryant Packard to score. That was followed by a Jake Washer single to right field that brought Brickhouse home.
A fourth inning two-run left field home from Bryant Packard kept his consecutive game hit streak alive at 31 games and increased the ECU lead to 4-0.
After Spencer Brickhouse advanced his on base streak to 23 games with a solo homer in the top of the fifth for ECU, a John Toppa double and a Zac Susi grounder produced a pair of UConn runs to make it 5-2.
In the top of the sixth, Packard homered to left center for ECU. Then in the bottom of that same inning Moriarty slapped a base hit to left field that scored a UConn run to cut the Pirate lead to a field goal.