ECU Sweeps Western Carolina with a 9-3 Sunday Home Win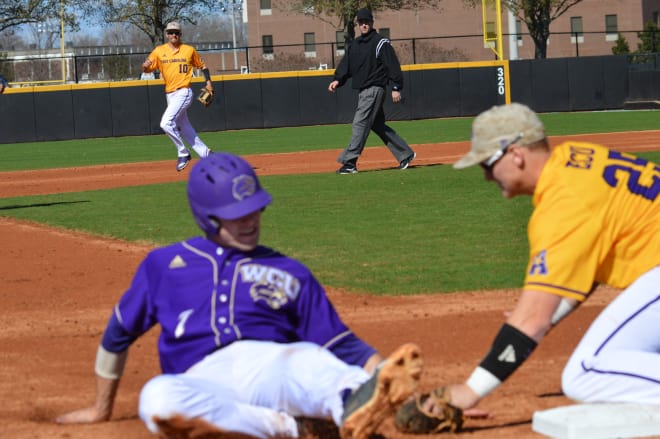 ECU picked up a three game sweep of Western Carolina with a 9-3 win on Sunday in Clark-LeClair Stadium.
The Pirates got off to a fast start for the third straight day when Jake Washer singled to right to score Alec Burelson and Dwanya Williams-Sutton for the the first runs of the game. Then Connor Litton's three run shot to left field made it 5-0 Pirates.
Chris Holba gave up just four hits in four and two thirds innings of work, striking out eight Catamounts and giving us just a pair of walks. He got his first win of the season to move to 1-0 for ECU(3-0) who used six pitchers all told.
Zach Franklin gave up six hits and six runs with just one strikeout in the loss in his first outing of the season.
Connor Litton led ECU offensively going 3 for 4 with three RBI including a home run. Dwanya Williams-Sutton had a pair of hits that generated three runs for the Pirates. Andrew Bullock went 2 for 4 with a pair of RBI and a home run to lead the Catamount offensive attack on Sunday.
"I thought we played well today and all weekend. I was impressed with our pitching staff and its depth. We were able to jump out to an early lead again getting five big runs," said ECU head coach Cliff Godwin, "(Jake) Washer had a big two-RBI hit for us in that opening frame and Connor Litton's 3-1 approach right afterwards was the shot we needed."
"It was good to get a bunch of guys some playing time this weekend, which will help with their confidence and development as the season goes along."
In the fourth inning, ECU was at it again when Burleson reached on a fielding error and Brady Lloyd scored from third to make it 6-0 ECU.
Bryant Packard got into the act with a double to center in the sixth inning that scored two more ECU runs and extended the Pirate lead to 8-0.
Then in the seventh frame a Justice Bigbie grounder to second base allowed Spencer Holcomb to score Western Carolina's first run of the contest.
Western Carolina(0-3) got a two-run homer from Andrew Bullock to cut the ECU lead to 8-3 before the Pirates scored again in bottom of the eighth to make it 9-3.
ECU travels to Campbell to take on the Camels Wednesday afternoon. The first pitch is at 5 o'clock.