ECU To Host UNC-W, Ohio St & South Carolina in Regional Action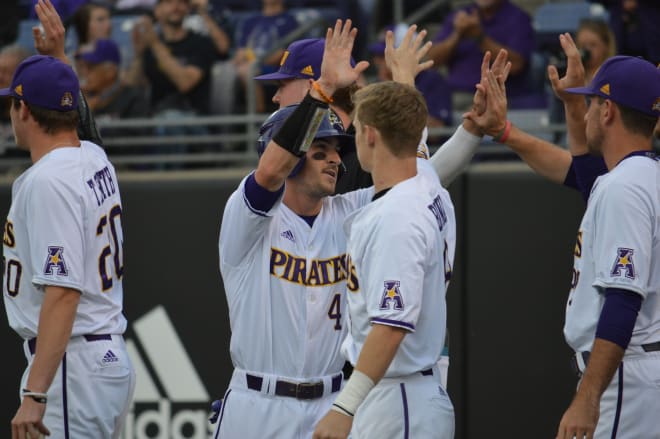 For the second time in Pirate baseball history, ECU and Clark-LeClair Stadium will be a regional host for the opening round of The Road To Omaha.
The regional begins this Friday, June 1 with a pair of games. ECU is the 12 seed nationally in this year's tournament and will play (37-21)UNC-W while (36-22)Ohio State takes on (33-24)South Carolina in the other bracket. The winner of the Greenville regional will be matched up with the Arkansas regional winner that also has Oral Roberts, Dallas Baptist and Southern Miss in Fayetteville, Arkansas.
Bryant Packard, Spencer Brickhouse and Drew Henrickson all delivered a pair of RBI for victorious ECU who took the AAC Tournament title on Saturday with a 4-3 win over UConn on Saturday at Spectrum Field. It was the Pirates' second tournament title in the last four years.
This year's NCAA bid is the third under Coach Cliff Godwin in his four years as the head coach in Greenville. It is the 29th appearance in NCAA play for ECU(43-16). The Pirates have made it into the field for 15 of the last 20 seasons.
Godwin's teams traveled to the Coral Gables Regional in 2015 and again in the Charlottesville Regional in 2016.
ECU has also hosted NCAA regional action twice at other local venues. The Pirates went 3-0 mark at Fleming Stadium during the Wilson Regional in 2001 before turning in a similar result at the Kinston Regional at Grainger Stadium in 2004.
ECU, this year's American Athletic Conference tournament champions, also utilized Granger Stadium in Kinston when it hosted Tennessee for a Super Regional appearance in 2001.
Tickets for the Greenville Regional are currently on sale via ECUPirates.com through the ECU Athletics Ticket Office for Pirate Club members and season ticket holders only.
Sales begin for the general public beginning at 9:00 a.m. Wednesday. All-session ticket books are available for $90, $72 and $60 depending on seat locations, while tickets for single sessions (games) - priced at $15, $12 and $10 - will go on sale Friday at 11 a.m.
Tickets can be purchased in person or over the phone by calling (800) DIAL-ECU or (252) 737-4500 during normal business hours from Tuesday through Thursday following the Memorial Day Holiday.