ECU Toasts Terps 4-0 to Sweep Weekend Series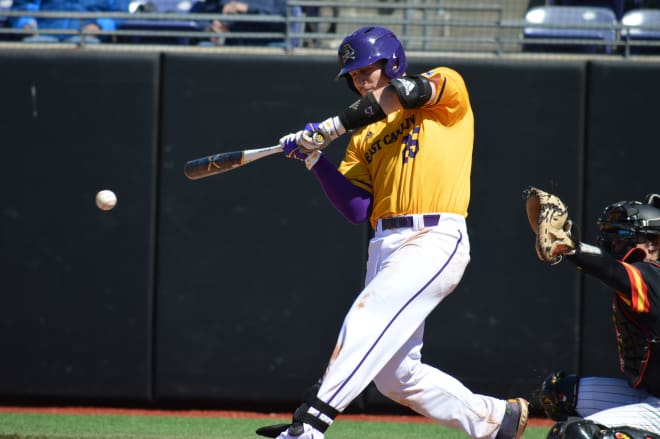 Tyler Smith(3-0) picked up a solid 4-0 shutout victory over Maryland to complete a three-game weekend sweep Sunday afternoon in Clark-LeClair Stadium.
Bryant Packard had a pair of hits and scored two runs while Connor Litton went 2-3 at the plate and Turner Brown, Spencer Brickhouse and Bryant Packard all delivered RBI for ECU to improve to 19-4 with the win. Then Dusty Baker picked up a big two-out RBI to help seal the deal.
"I thought Tyler Smith really executed pitches when he had to. Jake Washer bailed him out of the one inning with the back pick at second base. The guys played great defense. Tyler Smith and Ryan Ross, they just executed a ton of pitches," ECU head coach Cliff Godwin said afterward, "Pitching was phenomenal all weekend and today we had tough bats and we were able to keep adding on to make it 4-0"
"We got all the guys in from third base with less than two outs. We had a big two-out RBI by Dusty Baker, so the the guys had tough at-bats and when we had to score we manufactured single runs which is a little bit abnormal from what we normally do and have big innings. We kept adding to the lead which takes some pressure off the pitching," said Godwin.
"Bryant (Packard) slugged all the balls he had today. I think he only had two hits but I think he was 4-4 in quality at bats and Brady Lloyd was still seeing it well from yesterday so there were a lot of quality at-bats even though there weren't a ton of hits."
The Pilot Mountain sophomore lasted 82 pitches for ECU in five and two-thirds innings of work, giving up just six hits and throwing a career high seven strikeouts before Ryan Ross came on in relief and get his second save. Catcher Jake Washer had ten put outs for the Pirates in the victory.
"I knew I had a great defense behind me the whole time, so no matter what situation I was in - either hit a ground ball, fly ball - I knew that the defense was going to be there for me," said Smith, "Offensively we came up big and in certain situations I needed to come up big. I didn't really have to worry about anything. I knew they had my back the whole time."
Fruitland, Maryland right-hander Hunter Parsons went seven innings and 96 pitches giving up five hits and three runs with three strikeouts for the Terps who were picked to finish second in the Big Ten. Parsons absorbed the Sunday loss to fall to 2-2 on the year for Maryland who had six hits, but left seven men on base and had three errors on Sunday.
"You know how tough it is to win college baseball games. People think you just show up and just win and that's not the case. We had to play well today to win and we did. We pitched well, we played good defense and we were opportunistic offensively. Anytime you can sweep a good, quality club like that, that's huge and it was a big day for the Pirates" said Godwin, "We're good right now but I think we have a chance to be special when we get everybody healthy."
ECU got on the scoreboard in the first inning when Turner Brown's grounder allowed Bryant Packard to the Pirates a 1-0 lead.
In the bottom of the sixth inning, Spencer Brickhouse flied out to left field but that gave Packard time to scurry home and increase ECU's lead to 2-0.
Then in the seventh frame, Dusty Baker delivered an RBI single to left and Connor Litton scampered home as the Pirate lead grew to 3-0. Connor Litton then knocked in ECU's fourth run of the game in the eighth inning when Turner Brown crossed home plate to add an insurance run late.
The Pirates return to action next Wednesday night at 6 o'clock when ECU travels to Brooks Field in Wilmington to take on UNC-W.