ECU Topples N.C. Wesleyan In Home Opener 91-62
East Carolina improved their record to 2-0 with an easy 91-62 win over N.C. Wesleyan Tuesday night in Minges Coliseum.
Jayden Gardner led four Pirates in double-figures with 27 points on 11 of 12 shooting to go along with 14 from Brandon Suggs, 11 from Tristen Newton who led ECU with eight rebounds and 10 points from ever improving Bitumba Baruti.
ECU got off to a relatively good start, going up 9- 5 on five early points from Gardner. Wesleyan then closed to within as few as two points at 13-11 on a pair of baskets from Kyron Kelly and Kalid Chavis-Hinds midway through the first period.
….that is as close as the Bishops would come for the rest of the contest.
The Pirates heated up on a 19-6 run that expanded the lead to 41-19 on three-point jumpers from Brandon Suggs and Noah Farrakhan's second trey of the half.
Suggs led ECU with 12 first half points to go along with five rebounds while Gardner added 11 points. Wesleyan got 14 points in the first period from Damon McDowell in a 44-30 contest at halftime.
Overall, Gardner was pleased with his performance Tuesday night.
"My performance is dictated by my teammates and my teammates were setting me up and finding me all night. I just let the game come to me," Gardner told PirateIllustrated.com.
"I got out to some easy buckets early off turnovers and just taking what the defense was giving me all night. Big credit to my teammates. We had 24 assists tonight so they were finding me and setting me up."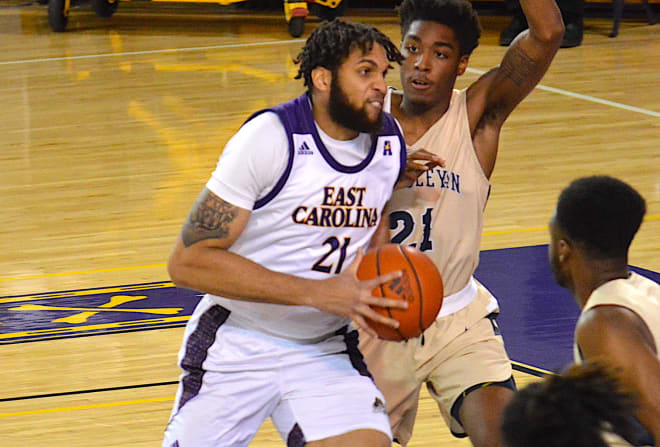 In a mostly empty arena due to Covid19 restrictions, the Pirates did a good job of using their size as well as getting out in transition against the Bishops.
At the other end of the court, the Pirates had some issues at times and Dooley did not like the fact that Wesleyan hit 49 percent from the floor and 38 percent from the arc.
"We did some really good things, but I was very, very disappointed in our defense," said ECU head coach Joe Dooley afterward, "The number of points given up were an adequate number, but the percentages were way too high. We gave up some easy points. We did force some turnovers - 21 forced turnovers is a good number, but we can't have people shooting that number, especially in our building."
On the other hand, ECU only turned the ball over nine times which is solid overall. Many of those came in the first twenty minutes.
"The number of turnovers at nine was a good number. I did think we shared the ball but sometimes we almost over passed the ball. We probably passed up a few good shots," Dooley told PirateIllustrated.com, "We had a few bobbles in the first half that were part of those nine turnovers. We probably easily could have had just five or six turnovers at the most and that's a good number."
Freshman point guard Noah Farrakhan got on the court for the first time Tuesday night. He got off to a good start, looked comfortable out there and made his first two shot attempts of his collegiate career. Both were from three-point range to go along with three assists.
"It felt good. It felt amazing," Farrakhan told PI, "I've got to give credit to my team first and foremost for encouraging me and keeping me level headed. It was just a great experience being out there with them."
The Pirate lead expanded to 71-48 with just under nine minutes remaining and 80-54 with five minutes to go. The Bishops did not put up much resistance the rest of the way.
ECU returns to action on Saturday at 2 pm when they host Radford in Minges Coliseum.
PI AUDIO: JOE DOOLEY POST GAME