ECU Tops Lamar 84-78 in Overtime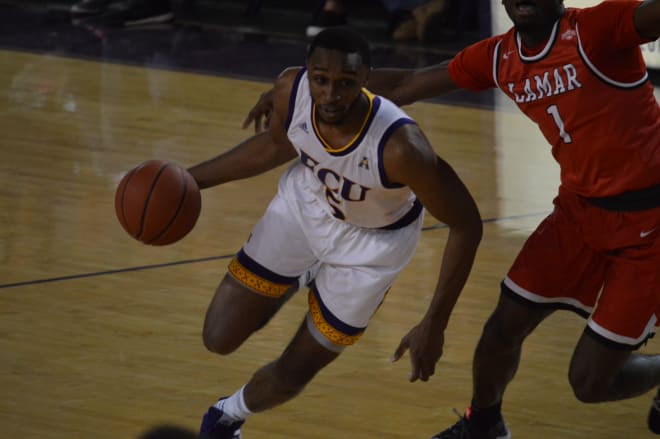 Jayden Gardner became just the third freshman in ECU basketball history to score 30 points in a game in ECU's 84-78 Sunday victory over Lamar. With the win, ECU bettered their record to 2-1 while Lamar dipped to 1-2.
Gardner hit nine of his ten shots from the floor and twelve of fourteen free throws to go along with 16 points from front court teammate Seth LeDay, twelve from Tyler Foster and ten each from K.J. Davis and Tae Hardy.
Lamar also put five players in double figures led by 15 points from both Josh Nzeakor and V.J. Holmes to go along with thirteen from T.J. Atwood and twelve points each from Mike Kolawole and Nick Garth.
"It was exciting. My first two games I was just struggling. It just felt really surreal to start seeing things work out. My shots started to fall and my teammates started giving me the ball and trusted me and we just executed. This team had a lot of heart," said Gardner who stated that the made free throws down the stretch were crucial.
"Coach kept encouraging us in the timeouts, telling us to go harder and questioning out effort so it made everybody wake up and start playing even harder," LeDay told PirateIllustrated.com, "You've got to give Jayden a lot of credit. We battle hard every day and it paid off tonight."
"I was obviously very proud of the guys rebounding. We were dead in the water and the guys responded and made some plays. When things weren't going our way, we sort of held tight down ten points with six and a half minutes left," Dooley said,
"Guys had to make a decision whether we were going to keep playing or were we going to get beat and I think they made the decision that we wanted to win. We did some good things, a lot of correctable things," said Dooley, "We do need to clean up a lot of things and that will start on Tuesday. Tomorrow we'll start preparing for Georgia Tech."
The Cardinals took a 35-29 lead into the locker room at halftime. Lamar got 18 of their first half points in the paint, shot 52 percent from the field and led by six at the break despite going just 1-8 from the arc in the first twenty minutes. John Nzeakor led the Cardinals with nine at intermission. Jayden Gardner led ECU with nine to go along with five rebounds. Tyler Foster added eight first half points for ECU.
Lamar maintained a ten point 54-44 lead with 10:30 to go before a pair of Seth LeDay buckets cut the lead to six with 5:41 remaining. Then with the Pirates down by four with 34 seconds left, Tae Hardy hit one of two from the stripe make it a three point game.
After Lamar threw the basketball away on the inbounds pass with 33.3 to go, Ty Foster drove in the lane, scored and was fouled with 26 seconds on the clock but missed the free throw and Mike Kolawole was then fouled and hit one of two from the stripe. Then Seth LeDay's tap in of a Tay Hardy missed jumper tied the game for ECU and sent the contest into overtime.
"It just happened so quick, once he shot the ball my reaction is always to get to the rim as fast as I can," said LeDay, "They didn't box me out so I got to the rim and I got the put back to put the game into overtime. I was trying to dunk it but two points is two points. I was glad we went into overtime and won the game."
A Seth LeDay dunk and two Jayden Gardner free throws suddenly had ECU up by four with four minutes to go in the extra period. After V.J. Holmes and Jayden Gardner exchanged baskets, Edwin Jeudy's corner three-pointer helped Lamar retake the lead at 78-77.
With 1:28 to go in overtime, Jayden Gardner's free throw was followed by a missed attempt that was tapped out of bounds by Lamar. Five seconds later, Jayden Gardner's turn around basket in the lane gave ECU an 80-78 lead.
Lamar then turned the ball over on their end of the floor giving ECU the ball with a two point lead and 41.6 seconds remaining. Gardner was fouled in the paint with 22.6 remaining where he connected on both shots to put ECU up by four. Seth LeDay added two more free throws down the stretch to ice the victory.
PI POSTGAME AUDIO: JAYDEN GARDNER, SETH LEDAY & JOE DOOLEY