ECU Tops Memphis 11-4 on Friday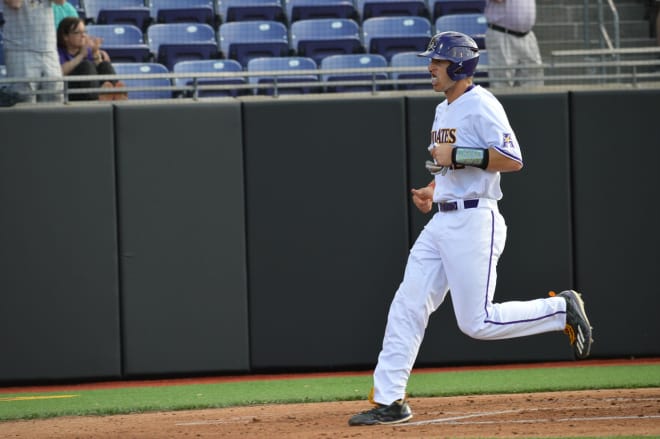 Spencer Brickhouse knocked a pair of home runs, Eric Tyler had another one and Evan Kruczynski pitched seven complete innings, giving up just three runs and moved to 3-2 on the year after ECU's 11-4 Friday night win over Memphis in Clark-LeClair Stadium.
Drew Crosby fell to 5-3 with the loss for Memphis(26-24/6-13 AAC)
The Pirates got on the scoreboard first in the second inning when Spencer Brickhouse sent a Crosby pitch over the left field wall for a homer and a 1-0 lead.
Trent Turner's three-run shot down the left field line in the sixth gave the Tigers a 3-1 lead and briefly turned things around for Memphis.
But the Pirates got things cranked up again with a nine-run sixth inning highlighted by Eric Tyler's three-run shot to left field that erased the deficit and gave ECU a one run lead. That was followed by a Wes Phillips double down the left field line that brought Travis Watkins home to make it 5-3.
As the sixth inning continued, Phillips scored on a fielder's choice from Turner Brown. The Pirates loaded the bases again on a Kirk Morgan walk before a T.J. Riles walk brought home another ECU run.
After Taylor Bobo came on in relief for Nozicka for Memphis, he then walked Williams-Sutton with the bases still loaded in the sixth to score yet another ECU run before an Eric Tyler bunt allowed Tyler to score again from third. Travis Watkins then walked to bring home the final run of the frame as the ECU lead ballooned to 10-3.
Spencer Brickhouse homered again in the seventh frame to extend the ECU(26-24/5-11 AAC) lead to 11-3.
Kyle O'Keefe got Memphis on the scoreboard again when his single scored one run in the top of the eighth inning to make it 11-4.