ECU Tops Memphis 88-85 in OT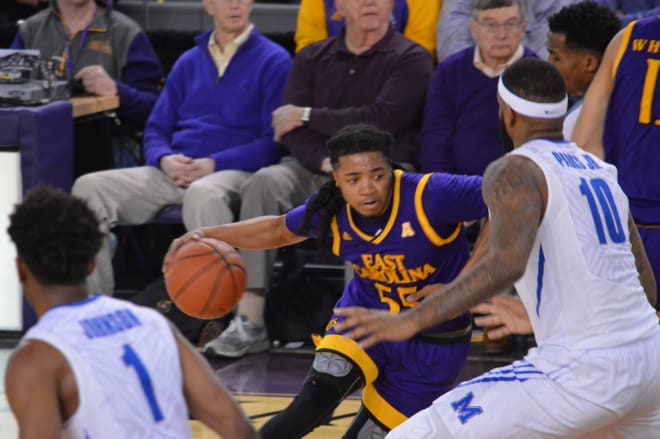 Shawn Williams tossed in a career high 30 points, Isaac Fleming recorded the school's first triple-double and Kentrell Barkley picked up his 1,000th career point and 600th rebound in ECU's 88-85 overtime win over Memphis Saturday afternoon in Minges Coliseum.
Williams went six for six from the free throw line in overtime and 8 for 9 overall to go along with six three-pointers that proved big in the victory. B.J. Tyson even got into the act with 14 points of his own before fouling out late in regulation play.
The Pirates came up two points short in overtime Wednesday night to Tulane but for Williams, the more his team is put in a position to win big games, the more acclimated they become.
"As you know we're a new team, so we're still learning how to play with each other in crunch time. We're making the right plays and trying to stay confident," Williams told PirateIllustrated.com after the game, "Coach is building confidence in us."
With the win, ECU improve to 9-13 and 3-8 in conference play while Memphis fell to 14-9 and 5-5 for the season in the AAC.
"For the most part we took pride in the game and tried to believe in each other. We had a little more confidence after coming off the loss," said Barkley who ended up with 19 points and 13 rebounds in the win, "We just tried to stay focused. We went through some adversity but we tried to keep the guys calm and just play Pirate basketball and that's just playing together and doing what we do well."
Fleming, who was wearing the big Junk Yard Dog chain in the post game press conference with a big brick attached for being Mr. Everything for the game, talked about getting a triple-double in Saturday's AAC win over the Tigers with 11 points, 10 rebounds and 11 assists.
"Honestly it hasn't hit me yet, they just told me back in the locker room. I think probably when I go home and wake up tomorrow I'll probably feel it more like dang I did just really do that, but it's unreal right now," said Fleming, "I'm just happy that we pulled the win out. I know we went into overtime the last game and couldn't do it."
The Pirates shot nearly 50 percent from the floor including 45.8 from the arc to go along with 88 percent free throw shooting on 15 of 17 from the stripe.
"I'm really proud of the young men that we have here on this basketball team. This is a group that is really resilient and it's a pleasure to coach because when you face some adversity as a coach you're always curious how your team is going to respond the next day," ECU head coach Mike Perry said, "These guys come in with their lunch pails and give you a hard day's work with a smile on their face. They're dialed in to the film session and that says a lot about them."
"I always tell them good things are eventually going to happen to guys who have that kind of approach. It was good to see the finish tonight because we put ourselves in the position to win the last two games here at home but we want to do more than put ourselves in a position. We want to win it and it starts with putting yourselves in a position to win and we certainly did that today."
ECU came out hot and opened up as much as a eight point 27-19 in the first half. The Pirates maintained a 37-29 lead with 3:41 to go before intermission on twelve points from Shawn Williams and nine from Kentrell Barkley.
Three Jeremiah Martin drives in the paint trimmed the ECU lead to three before a Justin Whatley basket gave ECU a 41-36 lead at halftime.
Both teams shot at a 59 percent clip in the first 20 minutes. Martin scored 12 points in the first half for the Tigers before ending up with a game high 33 to lead four Tigers in double-figures.
The Pirates went 5 of 9 from three-point range in the first twenty minutes.
An early second half surge offensively from Tyson, Spasojevic and Barkley found ECU up by ten. Martin's three-pointer cut the Pirate lead to two and two Martin free throws eventually tied the game at 60-60 with 8:40 to go.
Memphis eventually retook the lead on a Martin three-pointer with just over seven minutes to play. Kentrell Barkley's 1,000th career point tied the game again at 67 at the four minute mark before Isaac Fleming's corner trey had ECU up 72-70 with 2:30 to play.
Two B.J. Tyson free throws with 56 seconds left in the game extended the Pirate cushion to four. But a Martin bomb from the left arc cut the lead to one with 43.7 on the game clock.
Davenport hit one of two from the stripe for Memphis with six seconds to go to tie the game at 77 and when ECU was unable to score on their end, the game went into overtime.
Two Williams treys found ECU up 84-80 before a Martin bomb for the Tigers cut the Pirate lead to just one with 1:55 to go in overtime. A pair of Williams free throws gave ECU a 86-83 lead with 50.2 left in the extra period. But a Martin strip of Shawn Williams and his subsequent layup at the other end of the floor reduced the lead to just one with 18 seconds remaining on the game clock.
Williams was fouled by Memphis' Jimario Rivers on the inbounds pass and he made both shots to give ECU a three point 88-85 lead with 15.2 to go. Then Martin's three-point shot attempt with one second left in on the clock missed and ECU pulled down the rebound to secure the victory.
ECU takes on Temple Wednesday night in the first of a two-game AAC road swing that will also include a game at Tulane on February 11.
Shawn Williams, Isaac Fleming & Kentrell Barkley's Post game comments
Coach Michael Perry Discusses ECU's Overtime Victory Over Memphis