ECU Tops ODU 10-3 in Midweek Action at Clark-LeClair Stadium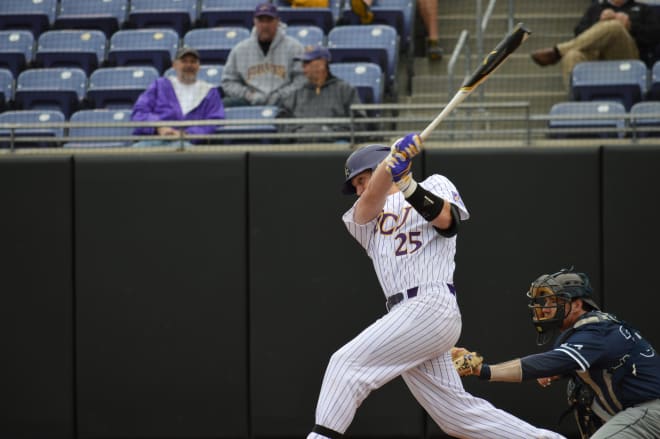 GREENVILLE, N.C - 18th ranked ECU advanced their record to 7-1 with a 10-3 win over Old Dominion Wednesday afternoon in Clark-LeClair Stadium.
Starter Jake Kuchmaner went four innings for the Pirates to pick up the win before yielding to Matt Bridges in what turned out to be largely a staff day for ECU.
ODU starter Morgan McGuire gave up six ECU runs on five hits in 58 pitches before the Monarchs went through several relief pitchers in their fifth loss of the season.
Morgan McGuire took the loss for the Monarchs to drop to 1-1 for the season.
"I thought Kuchmaner gave us a solid start in his first career start. He goes out there and throws four innings, I though it was great. I thought Matt Bridges just did a good job along with Ryan Ross, Davis Kirkpatrick, West Covington, Austin Covers and Cam Colmore," ECU head coach Cliff Godwin said after the game.
"I thought we played really good defense. Brady Lloyd was unbelievable defensively tonight. Connor Litton made a big play, Turner Brown made a big play, I thought Seth caught well so I thought our defense was very good."
Brady Lloyd and Bryant Packard scored a pair of ECU runs and Connor Litton had a solid day both at the plate and in the field for the Pirates in their seventh win of the still young baseball season.
"It was a good day at the plate. I was seeing the ball well. I just had a good approach coming in so it was just a good day," said Litton who went 3 for 4 that scored a pair of runs in the contest for the Pirates, "Everybody today hit the ball well and that's how it's been a lot of the year. Just being a part of the middle of the lineup, that's pretty special."
The Pirates wasted little time getting going offensively when they put up a three spot in the first inning on singles from Alec Burleson and Dwanya Williams-Sutton and a fielder's choice from Spencer Brickhouse.
ODU(3-5) got on the scoreboard in the second frame when Matt Schwarz's fielder's choice allowed Bryan Morley to score to make it 3-1.
In the bottom of the second, ECU was at it again when Bryant Packard homered to right to score two more Pirate runs. Then in the following inning a Seth Caddell grounder allowed Connor Litton to scamper home for another ECU run to make it 6-1.
The Monarchs picked up a pair of runs in the fifth frame when Jimbo Reemsnyder singled up the middle for ODU to cut the Pirate lead to 6-3.
Chandler Jenkins' three run homer in the seventh blew the game wide open to give ECU a 9-3 lead before Burleson reached on a fielder's choice in the eighth to allow Brady Lloyd to score the final run of the contest.