ECU Tops UNC-Wilmington 6-4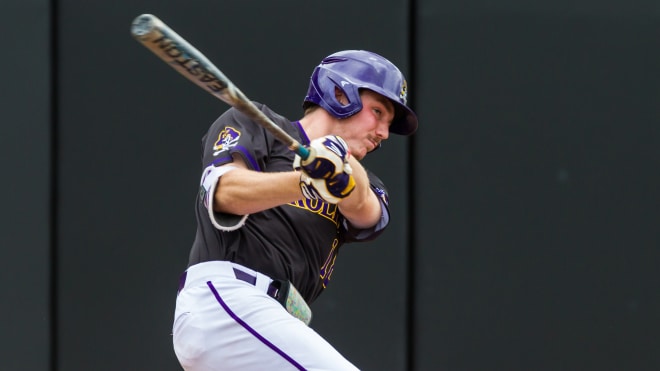 A four run second inning and a pair of Pirate home runs highlighted (11)ECU's 6-4 home victory over UNC-Wilmington Tuesday night in Clark-LeClair Stadium.
Connor Litton collected a pair of hits including a home run and two RBI while catcher Jake Washer added another homer to help lead the Pirate attack at the plate. Alec Burleson picked up the win on the mound in two innings of work in relief for ECU to remain perfect at 2-0 on the season.
"We don't really focus on batting average, we just focus on quality at-bats and I feel like I've had a lot of those this year and that's all thanks to Coach Godwin harping on that," said Washer whose home run in the third inning gave ECU some breathing room, "It's been a good year and hopefully we can keep that going."
Ryan Ross got his third save of the season for ECU and Breydon Gorham fell to 0-3 with the loss for UNC-W.
"We hit a lot of balls hard but we didn't have a lot to show for it as much as you normally do. Litton got us going with the home run and we just put at-bats together. (Bryant) Packard and Brady Lloyd had big two-out RBI's so we scored four in that inning," Cliff Godwin said the game, "Connor Litton finished the scoring off with a big two-out RBI in the eighth inning."
Coach Godwin came away happy with the effort of his pitching staff Tuesday night.
"I thought our pitching was phenomenal. I thought Jake Agnos did a good job and had a good start against a very good team. Then Davis Kirkpatrick came in in a tough situation and minimized and then Ryan Ross shut the door," Godwin said.
UNC-Wilmington(19-9) cashed in first in the top of the second inning when Mason Berne's home run to centerfield off of Jake Agnos gave them a 1-0 lead.
In the bottom of the second inning Connor Litton launched a home run over the right field wall off Wilmington starter Breydon Gorham to tie the contest. Bryant Packard's base hit up the middle in the same inning allowed Drew Henrickson to score before Nick Barber scored from third base to make it 3-1 on a wild pitch. Then Brady Lloyd's base hit to right allowed Packard to score from second base to give ECU(21-6) a commanding 4-1 lead.
The Seahawks bounced back in the top of the third when Zack Canada launched a home run into the left field jungle to cut the ECU lead to two.
The slug fest continued in the bottom of the third when Jake Washer knocked a home run over the right field wall to extend the Pirate lead to 5-2.
With the bases loaded for the Seahawks in the top of the seventh, Canada reached on a fielder's choice and Brycen Braswell scored. Then Berne sac flied and Bridges scored to cut the ECU lead to one at 5-4.
A two-out two strike hit from Connor Litton and a throwing error from Wilmington catcher Ryan Jeffers brought in an ECU insurance run in the top of the ninth.
Braswell doubled off the wall in right field to open the top of the ninth frame for Wilmington but a pair of Ryan Ross strikeouts and a ground out from Canada ended the Seahawk threat.
ECU is scheduled to take on Wofford Wednesday night at 6:30 in Clark-LeClair Stadium.