Georgia Tech Trounces ECU 79-54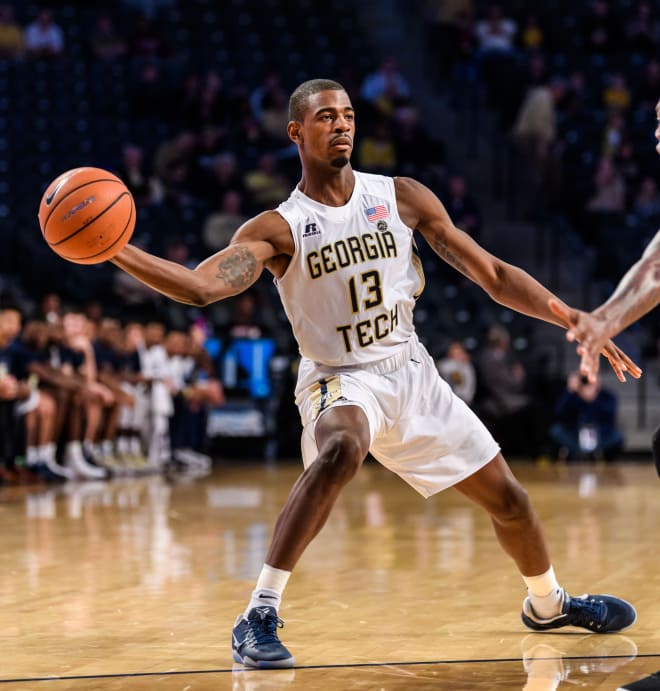 Curtis Haywood II tossed in a career high 18 points to lead Georgia Tech to an easy 79-54 win over ECU Friday night at McCamish Pavilion as part of the Deep South Showcase.
Haywood along with Michael Devoe who added 13 points were the only two Yellow Jackets in double-figures. Jose Alvarado and Brandon Alston added nine points apiece for the Yellow Jackets.
Jayden Gardner's 13 and a career high 12 points from DeShaun Wade led ECU in scoring. Seth LeDay tossed in nine points and Isaac Fleming added eight for the Pirates that fell to 2-2 with their first road loss of the season.
It looked like the prototypical road effort as the ECU went just two for seventeen from the arc for 11.8 percent and just eleven of thirty-seven overall from the floor. The Pirates committed 22 turnovers and went just 10 of 19 from the stripe in their second loss of the season against a Georgia Tech squad that hit 49 percent from the floor and 53 percent on 9 of 17 shooting from the arc.
"We've got to learn how to bend but not break. We broke in every aspect and reverted to some bad habits that we've got to figure out how to fix. You turn it over, you foul, take careless shots and we've got to do a better job coaching them to not do those things," said ECU head coach Joe Dooley.
"I don't think there is one thing we can take out of tonight that was positive. When it went sideways today it went totally sideways," Dooley said, "We've got to figure that out quickly. This was embarrassing for our program, not to take away from Georgia Tech who I thought shot the ball well and did some good things."
The Pirates were a cold 2 of 11 in the first five minutes of the game while Georgia Tech(2-1) wasn't much better at 1 for 6 in an early 5-3 contest. DeShaun Wade's first trey of the game, a Seth LeDay dunk and an Isaac Fleming steal for a layup had ECU up 9-5 eight minutes into the game.
But the Yellow Jacket put the breaks on the ECU run with one of their own with baskets from Brandon Alston, Abdoulaye Gueye and a Jose Alvarado trey that put Georgia Tech up 15-13. Michael Devoe scored, Curtis Haywood's first half leading twelfth point, a pair of Shembari Phillips jumpers and two more baskets from Alvarado all contributed to a 21-3 run that gave the Jackets a 36-18 cushion with 3:18 to play in the half.
ECU fought back just before halftime with Isaac Fleming, Jayden Gardner and Tae Hardy scoring baskets but Georgia Tech still took a commanding 40-24 lead into the locker room. The Rambling Wreck hit 48 percent from the field in the first twenty minutes to just 34.5 percent shooting including just 1 for 10 from the arc for the Pirates that were led by seven Jayden Gardner points at intermission.
Georgia Tech expanded their lead to twenty-four at 58-34 on a Moses Wright trey with 11:36 to go, a lead that expanded to 31 with five minutes remaining.
ECU finally hit their second three-pointer of the game in seventeen attempts on a DeShaun Wade jumper with 3:43 to play in a 73-46 contest.
The Pirates return to the floor Monday night when ECU hosts Texas Rio Grande Valley. Game time is at 7 o'clock.