ECU Victorious in 3-0 Win at Elon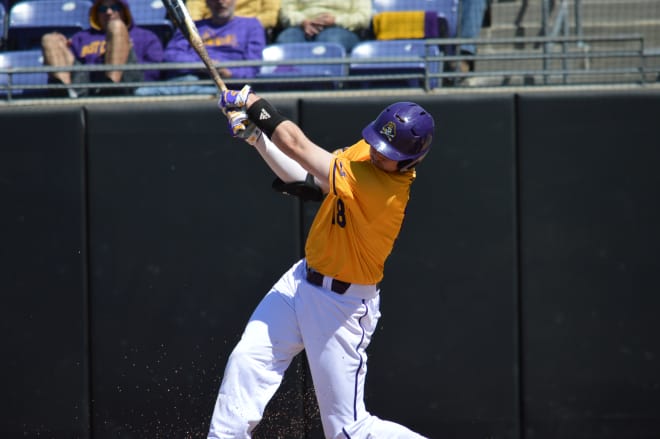 (7)East Carolina moved to 25-7 after picking up a 3-0 shutout road win at Elon Wednesday night. Bryant Packard had three hits, two for extra bases including a home run and Brady Lloyd scored twice for the Pirates in the win.
With the victory ECU moved to 10-2 on the road for the season.
"I'm seeing the ball well. I talk to Coach G every day about hitting and we stick to the same approach no matter what the result it and it's really comfortable just knowing how our pitchers pitch out here and it really takes a lot of ease on us hitting," said Packard who showed power early in the game which tends to affect opposing pitchers.
"It's a little unconventional. I'm not the fastest leadoff hitter in the country but I just try to see pitches early, grind for my teammates and I guess that's what a leadoff hitter does."
Jake Agnos moved to 3-2 on the season in his midweek start for ECU where he lasted four innings, giving up just one hit with six strikeouts. Davis Kirkpatrick, Ryan Ross and eventually Alec Burleson came on to get his fourth save for the Pirates in relief.
After the game, Coach Cliff Godwin had positive things to say about his relief pitchers.
"Those guys a lot of the time are closing out the game but with a 1-0 game I wanted to go to the guys who had been in the back end of the game. So Davis went two innings. We were actually going to run him out there for another inning but then we scored two runs so we went to Ryan Ross and then Burleson. The pitching was awesome, Coach Roszel did a great job of calling the game and the pitchers did a really good job of executing pitches."
Elon(17-16) starter Mason Daniels gave up two hits and a run in just two innings of work and took the loss to fall to 0-1 before five relief pitchers saw action for the Phoenix, none of whom pitched over two innings.
The Pirates got on the scoreboard first when Bryant Packard knocked a home run in the top of the first inning to give the Pirates an early 1-0 lead.
That score held until the seventh inning when a Spencer Brickhouse base hit to left brought Packard home for another ECU run. Then Jake Washer's base hit to right centerfield brought Brady Lloyd across home plate to give the Pirates a 3-0 cushion.
ECU resumes action on Friday when they host USF in Clark-LeClair Stadium with a first pitch scheduled for 6:30.