ECU Wins 69-64 In a Sloppy Game Against Texas-Rio Grande Valley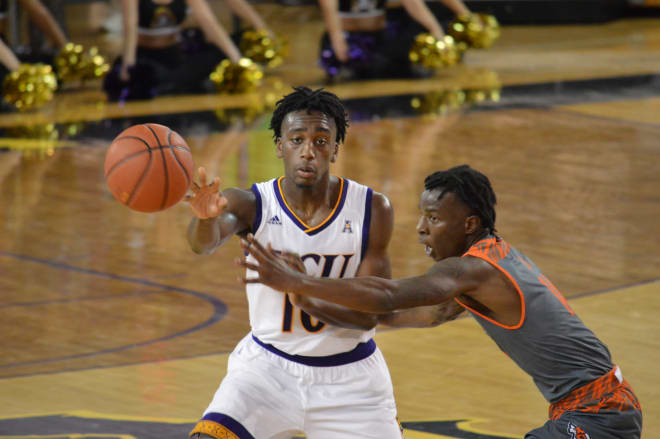 ECU put three players in double figures led by Jayden Gardner's 15 points as the Pirates improved to 3-2 with a 69-64 win over Texas-Rio Grande Valley Monday night in Minges Coliseum.
Gardner got twelve points of help from Seth LeDay and Ty Foster added eleven for an ECU team where four freshmen and two sophomores are getting significant minutes.
The Pirates committed 26 turnovers in a sloppy contest that Joe Dooley hopes to get corrected before the trend continues and his team takes the floor again on Wednesday night.
"The only thing missing was a tent, "said Dooley afterward, "That was a circus right there for a little bit. Our defense was great for the most part and it would have been even better if we didn't turn it over and if we didn't foul as much. When you turn it over 26 times it puts much more pressure on your defense."
Luckily the Pirates played a decent brand of defense, especially in the first half where ECU was able to build a substantial lead.
"For the most part we held tight and we didn't give them easy points with the exception of putting them on the free throw line," Dooley said, "The passing and catching has got to improve. A lot of these are simple plays that we've got to continue to work on. We'll get better at it, but that was a debacle."
Rio Grande Valley(3-2) was led by Terry Winn who scored 16 points. Tyson Smith added 14 and Lesley Varner tossed in 10 points to go along with six rebounds for a Vaqueros team that hit just 28 percent from the floor including just 6 of 27 from three-point range.
"Even though we got the W, we played sloppy we had a lot of turnovers. For us that is not a winning percentage and we've got to pick it up," Jayden Gardner said after the game.
"Winning is the most important thing, but we can't be satisfied with the way we played IQ wise with the turnovers and offensive execution," Seth LeDay said, "The defense was great though so that's a good sign. We've just got to keep on getting better."
The Pirates took an early 15-9 first half lead on a dunk from LeDay. The ECU lead then expanded to as much as 17 at 37-20 on treys from Ty Foster and Tae Hardy with three minutes to go before intermission.
Three straight Terry Winn baskets for his game leading ninth point at halftime keyed a Rio Grande Valley eight point mini-run to pull the Vaqueros back to 41-28. K.J. Davis with seven and Tae Foster's six points led the Pirates as the two teams headed to the locker room at halftime.
ECU did connect on 60 percent of their shots in the first period on 15 of 25 shooting to just 23 percent for a Rio Grande Valley team that hit just 8 of their 35 first half shots from the floor.
While ECU went 0-4 in the early going, Rio Grande Valley baskets from Wynn and Javon Levi trimmed the Pirate lead to nine in the first two minutes of the second half. Jordan Jackson's two hand dunk, a Greg Bowie reverse layup and Tyson Smith's three-point bomb then cut the ECU lead to 46-42 at the ten minute mark.
But 1 for 10 shooting from the arc and just 5 for 22 from the field from Rio Grande Valley and eight quick ECU points from Foster and Gardner expanded the ECU lead back to nine at the five minute mark of the second half.
Tyson Smith's three-pointer did cut the ECU lead back to six before a Seth LeDay two-hand jam in the paint along with two free throws and a pair of Jayden Gardner baskets down the stretch helped keep the Vaqueros at bay.
ECU next plays Prairie View this Wednesday night in Minges Coliseum as the Pirates' three-game home stand continues. Tipoff is at 7 o'clock.
PI POSTGAME: JAYDEN GARDNER, SETH LEDAY & COACH JOE DOOLEY
BOX SCORE & FINAL STATISTICS: ECU 69 TEXAS-RIO GRANDE VALLEY 64