ECU Wraps Up Spring with a Solid Showing in the Purple-Gold Game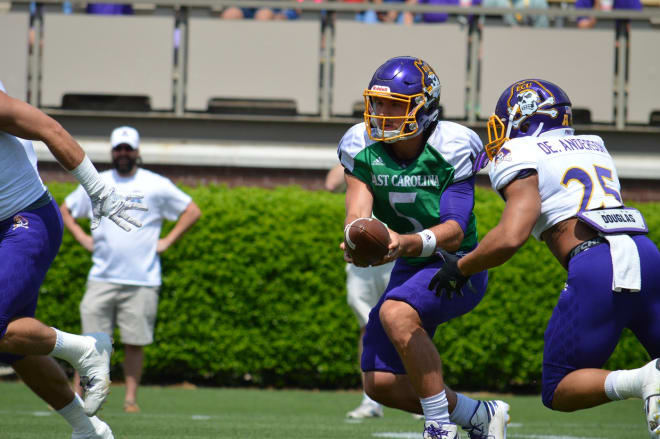 Gardner Minshew passed for 265 yards to lead three ECU quarterbacks on Saturday completing 21 of 36 with two touchdowns against just one interception. He found Jimmy Williams on a 36-yard strike and also hit Quay Johnson on an 18 yard touchdown pass.
Reid Herring went 13 of 17 for 137 with a two-yard strike to Malik Gray for a touchdown. Most of his incomplete passes were just throwaways when he couldn't find someone open. Kingsley Ifedi didn't play much until late in the contest but went 1 of 2 and looked really good scampering out of the pocket and running the football with a 16 yards on four carries.
ECU looked solid running the football. Hussein Howe had 10 carries for 92 yards, Derrell Scott looked great with 51 yards rushing including a 27 yard touchdown. Devin Anderson had eight carries for 40 yards, Nate Harvey showed glimpses of what he can do with 19 yards on three carries and Anthony Scott had eight carries for 16 yards.
"We've got some things to clean up in our passing game. I thought we missed a few down the field shots that we could have had there. Then again our DB's were a lot closer than they've been even throughout spring," said Montgomery, "I thought some people did good jobs and we had some real contact and I really liked the way 24 (Derrell Scott) carried the football. Man that jump cut was impressive."
The Pirates had a pair of fumbles, but only lost one of them and Corey Seargent had an interception in the contest. All told, nine ECU defenders had five tackles or more led by Colby Gore with eight, Keyshawn Canady with seven, Cannon Gibbs with seven, Jordan Williams, Ray Tillman and Raequan Purvis with six stops apiece. Xavier Smith, Travis Phillips and Jalen Price all recorded five tackles on the day.
Overall the defense looks better in both the 4-3 and 4-2-5. They had only two penalties all day which is a positive sign heading into this fall.
"The one thing I really wanted to see was the turnovers go away and of course they did. I thought defensively up front for the first time for the first time since I've been here, I saw true pressure applied to the quarterback so that made me happy," Scottie Montgomery told PirateIllustrated.com after the game, "The weather and the fans were fantastic."
Montgomery had positive things to say about the overall diligence of this ECU team in all areas during the spring period.
"In general I thought our quarterbacks and team did a really good job of understanding our system throughout the spring," Coach Mo said, "The way we go to class. The way we work in the weight room, everything. I think the system is in place now and we're definitely headed in the right direction."
Eight players were recognized for their efforts during spring drills during a halftime ceremony: Offensive MVP ("On The Ship") - Jimmy Williams; Defensive MVP ("On The Ship") - Aaron Ramseur; Special Teams MVP ("On The Ship") - Jake Verity; Most Improved Offensive Player - Brandon Smith; Most Improved Defensive Player - Chandon Hickerson; Offensive "Respect The Ball" Award - Gardner Minshew; Defensive "Respect The Ball" Award - Travis Phillips; Community Service Award - Jimmy Williams.
PirateIllustrated.com was there to bring you 140 photos from the sidelines of Bagwell Field along with post game interviews with Coach Montgomery, offensive coordinator Tony Petersen and several ECU players after the game.
OTHER PLAYERS & OC TONY PETERSEN
___________________________________________
PURPLE-GOLD GAME STATISTICS (Courtesy of ECU)
SCORING:
TD – 4; FG – 2
GOLD – Malik Gray 2-yard pass from Reid Herring (Jake Verity kick) – 7-0
GOLD – Derrell Scott 27-yard run (Caleb Pratt kick) – 14-0
PURPLE – Jimmy Williams 36-yard pass from Gardner Minshew (Verity kick) – 14-7
PURPLE – Quay Johnson 18-yard pass from Minshew (Pratt kick) – 14-14
GOLD – Verity 42-yard field goal – 17-14
PURPLE – Pratt 32-yard field goal – 17-17
RUSHING: Hussein Howe (10-92), Derrell Scott (5-51, 1 TD), Devin Anderson (8-40), Nate Harvey (3-19), Anthony Scott (8-16), Kingsley Ifedi (4-16), Deondre Farrier (1-<-5>), Gardner Minshew (2-<-10>), Reid Herring (3-<-17>). Totals –– 44-202 (4.6 ypr), 1 TD.
PASSING: Gardner Minshew (36-21-1, 265 yards, 2 TD), Reid Herring (17-13-0, 138, 1 TD), Kingsley Ifedi (2-1-0, 2). Totals ––55-35-1, 405 yards, 3 TD.
RECEIVING: Quay Johnson (7-105, 1 TD), Tahj Deans (5-98), Jimmy Williams (4-71, 1 TD), Davon Grayson (5-53), Deondre Farrier (4-23); Malik Gray (4-18, 1 TD), Derrell Scott (1-17), Anthony Scott (2-10), Cam Marshmon (1-5), Stephen Baggett (1-3), Jayden Borders (1-2). Totals –– 35-405, 3 TD
TACKLES: Colby Gore 8, Keyhawn Canady 7 (1 TFL/-2), Cannon Gibbs 7, Jordan Williams 6 (1 TFL/-5), Ray Tillman 6, Raequan Purvis 6 (2 TFL/-7, 1 Sack), Xavier Smith 5, Travis Phillips 5, Jalen Price 5 (2 TFL/-9, FR), Bobby Fulp 4, Tony Baird 4, Kendall Futrell 4 (2 TFL/-5, 1 Sack), Demage Bailey 4, Austin Teague 3 (1 PD), Marcus Holton Jr. 3, Chance Purvis 3, Aaron Ramseur 3, Taijh Alston 3 (1 TFL/-7), Justin Brown 3 (3 TFL/-5, 2 Sacks), Travon Simmons 2, Yiannis Bowden 2, Chandon Hickerson 2, Randall Anderson 2, Corey Seargent 1 (1 INT), Kenton Taylor 1, Shawn James 1, Mike Myers 1, Bennett Boateng 1
TOTAL OFFENSE/TOTAL DEFENSE: 99-607 (6.1 ypp)
FUMBLES/LOST: 2/1
INTERCEPTIONS: 1 (Corey Seargent/no return)
THIRD DOWN CONVERSIONS (full possessions only): 8-19 (42.1%) – Gardner Minshew (6-10), Reid Herring (2-7), Kinglsey Ifedi (0-2)
PENALTIES: 4 (2/OFFENSE – 1 holding, 1 false start; 2/DEFENSE – 1 personal foul, 1 offside)
QUARTERBACK FIRST DOWN/SCORING CHART (DRIVES)
Gardner Minshew – 19 first downs, 2 TD, 1 FG (TO, P, TO, P, TD, TD, FG)
Reid Herring – 9 first downs, 2 TD, 1 FG (TD, TD, P, P, P, FG, P)
Kingsley Ifedi – 2 first downs (downs)
PUNTING:
Jake Verity (6-218 – 36.3 ypp)