Energized ECU Topples BYU 33-17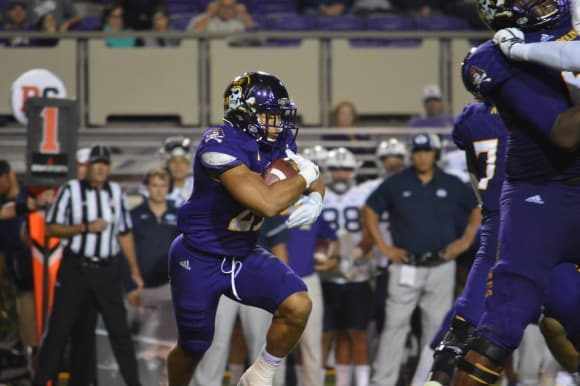 Jake Verity kicked school record tying four field goals and Gardner Minshew came on late to throw a pair of touchdowns that made the difference in ECU's 33-17 homecoming victory over BYU Saturday night in Dowdy-Ficklen Stadium.
"It feels so good. It's been too long, you know. It was a great team win and we're definitely going to enjoy it," Minshew told PirateIllustrated.com after the game, "I saw that Sirk had a stinger. That last drive he was all in and he's out there battling through it. It just got to a point where he couldn't and when I had my opportunity I had to help my team win any way that I can."
"I felt good. We kept it simple. I still practice and everything and I felt good out there. Hopefully we can build on this win through our bye week, keep getting better and then roll into the next game ready to roll."
Minshew connected on 6 of 9 passes for 121 yards in the fourth quarter in relief of Sirk. Montgomery had high praise for the job he did coming off the bench.
"We have been practicing them about 60/40 which is pretty normal but he had great command of the offense. As long as we can protect those guys moving forward and our completions are greater, our offense is going to continue to pick up yards and score points."
ECU's defense was able to get several solid defensive stops throughout the contest. Even when the Pirates didn't get touchdowns they were still able to put three points on the board. Verity connected on field goals twice from 42 yards to go along with kicks of 33 and 32 yards that proved big in the end.
Obviously, Scottie Montgomery would have rather had his offense get in the end zone a little more frequently, but some of that was a product of Sirk playing with a bruised elbow that was making it difficult for him to throw the football.
"Too many field goals down there. I think we could have had a touchdown on one of those but Thomas didn't want to come out of the game. We didn't know anything was wrong with him so we were calling plays for him," Montgomery said, "But he was whipping them off and the reason why is that he had an elbow bruise that wouldn't allow him to throw it. So we got into a call that we didn't necessarily like, but thank goodness we got Gardner in there and he kept rolling."
Sirk scored on a one-yard run late in the first quarter to tie the contest at 7-7. He went 14 of 21 through the air for 177 yards before showing signs of wear late in the game. That's when Minshew came on to seal the deal for ECU's second win of the season against six losses.
"I thought we made great adjustments at halftime. There were a few things that we missed. Our defense didn't really give up very much at all. We turned the ball over right down there and gave them a little of the momentum, but it was really, really good to come out of halftime, Montgomery said.
"I challenged the guys. I said if we go out and score, stop and score we would dominate the third and fourth quarter. That's exactly what our guys did. But the real dagger and confidence boost that our guys got was the interception/touchdown. Whenever that happens to a team whether it happens early in the year or late in the year on teams that I've been on, that brings the team together more than anything."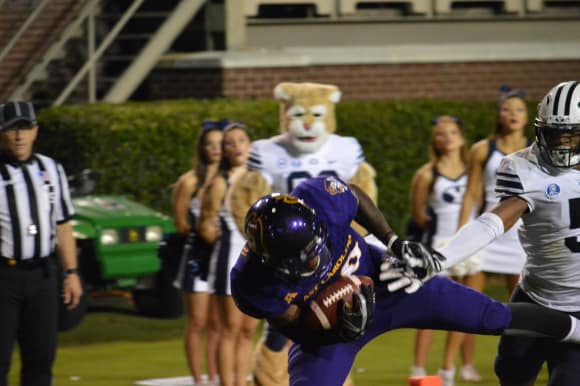 Davon Grayson caught the bulk of the passes for the Pirates, hauling in ten catches for 164 yards including one of 36 yards. Both Quay Johnson and Trevon Brown delivered with touchdown catches of nine and twenty-six yards respectively for the Pirates.
Tanner Mangum completed 26 of his 41 pass attempts for 319 yards and two touchdowns for BYU which was the first time the Cougars have eclipsed the 300 yard mark since 2016. Ula Toluta'u led all BYU rushers with 62 yards while KJ Hall added 46 yards on nine carries. Aleva High caught nine passes for 148 yards and Micah Simon along with Matt Bushman both hauled in touchdown catches for BYU(1-7) in the loss.
But it was the ECU defense that delivered several stops and the Pirate offense was able to convert them into points on almost every occasion. Aaron Ramseur led the ECU defense with 12 tackles while both Devon Sutton and Jordan Williams delivered with ten tackles apiece for the Pirates. Even Cannon Gibbs got into the act with an interception that proved big in the contest.
Montgomery talked about how important it was after getting a defensive stop to then convert that into points on the scoreboard for the Pirates.
"Defensive stops are great, but when the defense gets stops and they have to go right back out there three plays later, they don't feel like they've gotten a stop. They feel like they just went over and got some water in a timeout and came back out and played," Montgomery told PirateIllustrated.com after the game," So it's critical that they see when they do stop, the offense is going to score."
"I heard our defense say to our offense, keep killing them and my whole deal at that point and time was they're killing us. We're scoring three points, but you could just see the mentality of a team if you just get three points and six points and then nine points. That is a very, very important feeling for the defense as it pertains to the offense going out and scoring."
With the victory, ECU's hopes of a possible bowl at the end of the year remains alive since they were able to avoid their seventh loss of the year.
"We just want to go 1-0 every time we step out there," Minshew told PI, "That's something that gets old to hear but that's what we're going to try to do and that's what I'm going to keep doing the rest of the year."
The Pirates enter an off week that was rearranged by the league after Hurricane Jose in September.