First Wednesday: Full Pads for the First Time at Hot Hight Field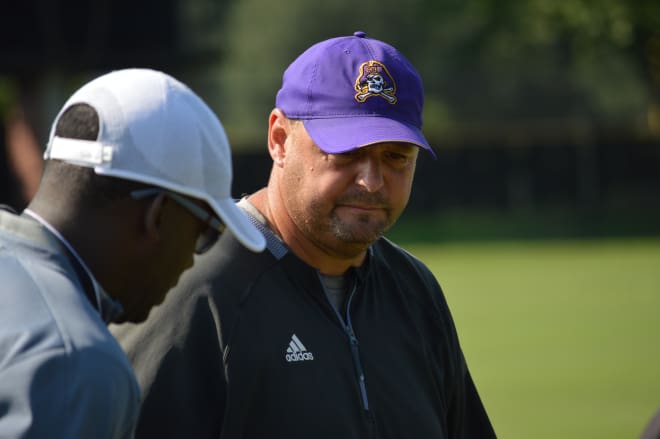 GREENVILLE - The Pirates put in their fifth day of practice and their first in full pads for First Wednesday at the Cliff Moore Practice Complex on the campus of ECU. Work was intense and the team continues to look the part at Hight Field on another sunny and hot morning in Greenville.
'Knock on wood this weather is what we've needed and we're getting it every day," ECU head coach Scottie Montgomery said after Monday's fifth full workout.
"It was a really good of football practice for us. I was concerned about yesterday coming out of some of our run periods. I thought we got a lot of our adjustments fixed in the run game with some calls made by our quarterback and interior that gave us a better job running the football," Coach Mo said, "We had a great period of redzone where we stressed them out a little bit and stretched it out and made it real. I think the offense ended up winning the series two to one. Our ones and our twos are very close as well. The first time we scored in a few plays. The second time we didn't get any yards."
"Defensively I think we're continuing to grow. We made a few critical errors at linebacker today and we'll get that fixed and get that changed," said the third year ECU coach, "Some of those plays that we hit, I know we can fix them on defense."
"Special teams wise I think we're really far along. We've got some guys who are dedicated to being great special teams players so it's helping Coach Doll out a lot."
Montgomery talked about what he expects in Saturday's first full scrimmage in Dowdy-Ficklen Stadium.
"I want to see our old people play penalty free, assignment correct offense, defense and special teams and I want to see our young people make plays," said Montgomery, "We're trying to get our young people ready to play and we've done a good job at this point of trying to get them ready to play in these games. I don't want them being out there like robots. There are going to be some bad mistakes that happen and we're going to move on from it, but we've recruited some play makers and I told these coaches don't coach the playmaker out of them."
"Sometimes when you don't grade out at 95 percent you feel bad. Well I'm going to do a good job of making sure that we hold great players accountable to consistency and young player we're going to reward them for great plays."
David Blackwell has wasted little time in the process of getting ECU's defense turned around when he presided over spring workouts. Now in his first fall as the new defensive coordinator, he continues to show great intensity and that is having a positive effect on the players.

Wednesday's first full pad practice marked the beginning of the next phase of fall camp. After inheriting one of the lowest ranked defenses in the country from last season, the bar is set pretty high for the former Pirate player who has returned to Greenville to help turn the program around.
The Pirates return a bevy of players who are looking to turn things around on defense. Devon Sutton, Aaron Ramseur and Cannon Gibbs combined for 105 tackles last season which ranked third, fourth and fifth overall for ECU. 4-star transfer Tim Irvin is set for a big year if he can stay healthy at nickel back. Alex Turner and Jalen Price are back on the interior of the ECU defensive line along with Chance Purvis and Raquan Purvis (not related).
Ever improving Bruce Bivins at linebacker made a lot of noise as a high school standout and has a year under his belt at ECU along with veterans like Corey Seargent at corner and Devondre Robinson who is growing up fast at free safety. Marcus Holton also hopes to make a name for himself in his senior year at strong safety.
"Bruce Bivins has been fantastic. He's going to be a leader on our defense. A young guy that we knew was going to have a bigger role but he's taken that bigger role on for a long time. I think Coach Blackwell has done a really good job with him," said Montgomery.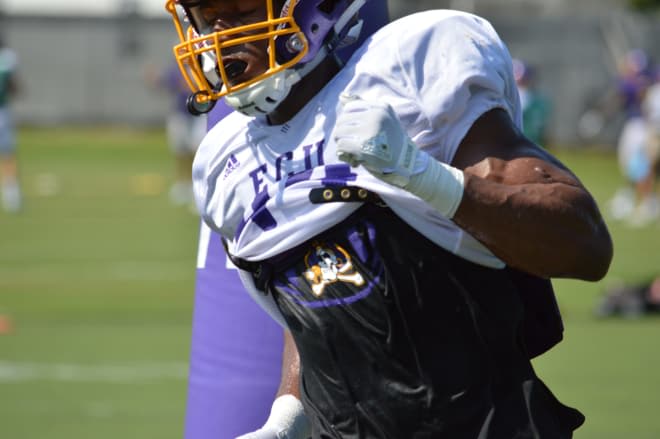 "Another guy who isn't necessarily young has taken a leadership role because he's probably our most talented player on defense is Kendall Futrell. He has really came on. His level of maturity and understanding of our defense, this defense fits him. Let's be honest, this is his defense. We're starting to see a lot of leadership out of him. The defensive line room has a lot of juice and a lot of them are looking for him and (Alex) Turner as the leaders in the group."
Futrell played in just nine games last year recording 13 tackles including three in the backfield and a forced fumble. But his work both in the spring, summer and so far in preseason camp has given both the coaches and team a glimpse of what is to come this season.
"The first thing we've got to do is do a great job of keeping him healthy. Last year he had an illness that prevented him from staying on the field. Basically we didn't have him for four or five consecutive weeks, then you've got to get your body back in shape," Montgomery said, "He wasn't able to lift during that time. I think he was set on a pace to have a great year the next year. He was there in a leadership position when they came off the field."
In Blackwell's first season back at ECU, he is expecting a big year from Futrell and the Pirate defensive ends as a whole.
"Kendall is a guy who really fits what we do. Our scheme and he are a great marriage. He's extremely fast and explosive and he's a guy who can play on edges," Blackwell told PI on Wednesday, "We play our ends more like outside linebackers and so the way he plays in our scheme, it really benefits him. It's been a win-win for him and for us and as he continue to become a guy who I think can become a dominant force. He's got a chance to be a special player."
"Sometimes as defensive coaches you want everything right now. So we're looking at can this guy help us right now so we're not as patient as the head coach is," Blackwell told PI, "We have been very pleased with our freshman class. It's an outstanding freshman class. I think the fans are going to be excited about those guys in the future and some of them this year."
With Futrell expected to be one of the leaders of this year's Pirate defense and just over three weeks to go before game one against N.C. A&T, he isn't wasting a lot of time making his presence known.
"I feel like now is my season to put it all together," Futrell told PI after the team's first full pad practice on Wednesday, "It's different this year because I get to use space. I was really close to linemen last year. Now this year I get to widen out a little bit and use speed as a weapon which I feel like is my best weapon. I get to drop in coverage and do some stuff that I really wasn't able to do last year."
"I'm really just ready to play. Ready for September 1st. I'm working hard right now so when that moment comes I'll be ready," said the former South Central star from nearby Winterville who talked about how Blackwell's new ECU defense should benefit this team come September, "I think it's really good for us. We're really aggressive on defense. We're not like sitting back and letting teams score on us. We're going to be aggressive, we're going to blitz, we're going to rush off the edge and we're going to be one dimensional."
COACH MONTGOMERY RECAPS FIRST WEDNESDAY
DAVID BLACKWELL TALKS DEFENSIVE PROGRESS & MORE
KENDALL FUTRELL UPDATES THE ECU DEFENSE