Hard Day's Knight For East Carolina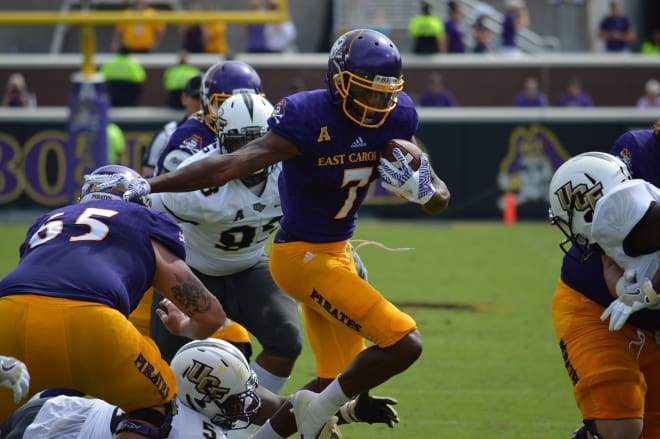 Justin Holman and UCF rolled into Greenville with a flurry and rolled out with a 47-29 win over East Carolina to pick up their first AAC victory of the season. With the win the Knights moved to 3-2 on the season under new head coach Scott Frost.
It was a Hard Day's Knight for the Pirates who were working like a dog, but came up short for the third consecutive week after opening the season with a pair of victories.
Holman completed 11 of 29 passes for 156 yards against a pair of interceptions, but it was the UCF running game that laid the wood to the Pirate defense to the tune of four rushing touchdowns and 214 yards on the ground. That made new UCF coach Scott Frost feel alright.
Dontravious Wilson led the way for the Knights with 73 yards and a pair of touchdowns while Taj McGowan and Jawon Hamilton both found pay dirt as well in a game that seemed closer than it was for much of the game.
"Hat's off to UCF for winning the football game. Really, really frustrating loss, very disappointing loss as well. We had a lot of numbers in that game. We don't know how to finish drives right now," ECU head coach Scottie Montgomery said after the game, "I thought our defense for the first half and most of the game battled just as hard as they could battle. It's been like that for a few weeks now and offensively we couldn't get any rhythm going early because we couldn't run the football. We also couldn't protect the passer in situations where I think we should be able to protect the passer. He was on the ground way too much forcing us to throw the football more than we wanted to."
After a 16-yard Philip Nelson to Deondre Farrier touchdown, ECU's special teams struck again giving up a 100-yard touchdown to Adrian Killins to tie the game at 7-apiece on the very next play.
Things only went downhill from there when ECU was tackled in the end zone for a safety to give UCF a 9-7 lead with 4:18 to go in the first quarter. Then after a defensive stop, UCF struck again when Wilson picked up his first touchdown of the day on a 35 yard run. A Mathew Wright extra point found the Knights up 16-7 at halftime.
Jawan Hamilton's two-yard touchdown put UCF up 23-7 early in the third quarter before a pair of touchdowns to Zay Jones and a 75-yard Gardner Minshew to Quay Johnson touchdown strike christened Minshew's first pass ever for ECU after replacing Nelson who went out after a targeting hit in the ECU backfield. That resulted in an apparent concussion. Suddenly the Pirates were seemingly back in the game, down 23-21 with 13 seconds to play in the quarter.
But less than a minute later, Wilson scored again on the porous ECU defense and a Brendon Hayes interception of Menshew on the ensuing ECU series only added insult to injury as the Knights took a commanding 37-21 lead.
"We had some chances to make plays. Turnovers once again and special teams just was the undoing of our football team. We worked very hard on it, but the kickoff return after being able to score and get a good feel for what they were doing on defense was really, really hard for our football team. We'll know the status of Phil later, but all and all disappointed in the overall performance of our football team," said Montgomery.
ECU once again had a similar situation to the one in Columbia where the offense had the football on the one yard line and were unable to turn it into points on the scoreboard.
"Our defense I thought did play well, but I didn't think special teams helped us win the game. I thought it hurt us and I also think offensively we had some good opportunities to score and we did not score - we couldn't move the football at the one or two-yard line. You've got to be able to run it down there. You don't want to be in situations where you have to put all of it on your quarterback," Montgomery said.
A 19-yard Mathew Wright field goal added to ECU's pain before the two teams traded touchdowns in the last minute and a half of the game highlighted by a 47-yard Taj McGowan touchdown run that put the game away at 47-29 with 54 seconds on the clock.
Nelson led the ECU rushing attack with 31 yards that would have been more had he not been sacked for 27 yards of negative yardage for the day. Anthony Scott ended up with eight yards to lead all Pirate running backs for the day.
Zay Jones had 15 receptions in the game for ECU for 122 yards and one third quarter touchdown while Jimmy Williams tallied 145 yards on seven catches including a 50-yard catch at one juncture.
Jordan Franks, Tre'Quan Smith and Tristan Payton all had a pair of catches for the Knight receiver corp in the victory.
Terrell Richardson and Cam White led the ECU defense with ten tackles apiece while Mark Rucker had eight unassisted tackles in his ten stops for the day for UCF.
ECU had 518 yards in 100 plays of total offense while UCF had 370, but two lost fumbles and three interceptions proved to be the Pirates' undoing. UCF was 6 of 19 on third down to just 4 of 18 for the Pirates in what is their third straight loss.
ECU dips to 2-3 and 0-1 in AAC play with USF on the docket next weekend in Tampa.