Havelock Offensive Lineman Nishad Strother Is On The Ship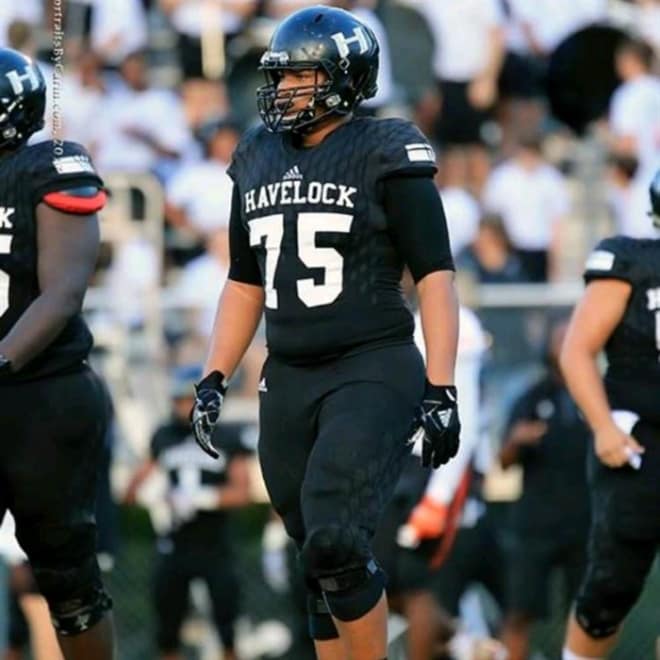 Havelock offensive lineman Nishad Strother took home the hard hat as offensive MVP at Saturday's ECU Big Man Camp.
He came away with a special feeling in Greenville and Monday night he made his commitment to jump on the ship.
Strother is ECU's second offensive lineman of this year's class and could eventually prove to be a big cog in the Pirate machine for the future.
"Today I took the first step in what I hope to be a long and rewarding relationship by verbally committing to the scholarship offer given by Coach Mo," Strother said, "My parents have been great throughout this whole process. I thank God for the opportunity and look forward to what the future holds as a Pirate."
Strother talked to PirateIllustrated.com on Saturday after receiving the offer at the ECU Big Man Camp.
"Yeah it was pretty cool. That was my first offer. I guess they saw what they needed to see and they made it happen," Strother told PI, "Coach Mo told my Mom and my Grandmother at the same time at the camp today. He told them that they have been looking at me for a while and they wanted to offer me a scholarship. My Mom and Grandmother were crying. I got choked up a little too but not too bad."
Offensive line coach Don Mahoney headed up Strother's recruitment with an assist or two from offensive coordinator Tony Petersen. Head coach Scottie Montgomery pushed it over the top.
"I was up there for the Big Man camp. Me and Coach Mahoney have a real good relationship and he wanted to see me come up there and perform so that's what happened. I've talked to Coach Petersen a couple of times. He's a cool dude. Pretty much everybody up there knows me now."
The 6-3, 290 pounder says he and new offensive line coach Don Mahoney talk pretty much every day and that he has a good relationship with the first year Pirate offensive line coach.
"He said he liked what he saw today so he pulled the trigger. I went up there for the Junior Day a couple of months ago and we've been talking ever since then," said Strother, "I got the offensive MVP from Coach Mo. He called me up in front of everybody and I got the construction hat, so it went really good."
Strother said on Saturday he would wait until sometime closer to the season to make a decision but in the end, his first offer was the one he really wanted most.
With this new commitment, ECU moves to 16 verbal pledges for the Pirate class of 2019.