Herring Returns, Expected to Be Ready For ODU On Saturday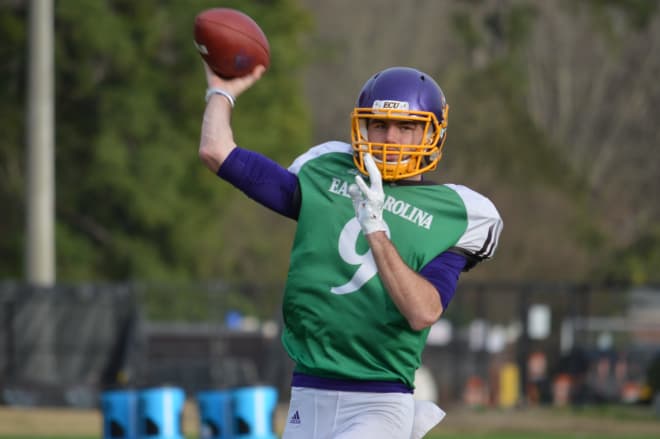 Herring got back in the full swing of things when he practiced on Wednesday after sitting out on Tuesday. That gives him every opportunity to start this Saturday when the Pirates take on an improving ODU team that is coming off a big win over Virginia Tech last Saturday.
Scottie Montgomery also said to look for more than one quarterback to play on Saturday and he talked about Herring's progress and the overall progress of his team with the ODU game just three days away.
"The good is that our quarterback took every single snap today. The good is also that our defense bounced back after losing the two minute drill and they won the two minute drill today," Montgomery said.
Getting Herring back is a big boost to ECU's chances this Saturday against ODU.
"He looked great today. I don't know if I can say a hundred percent because we didn't run him on very many quarterback runs today. We did move the pocket and did a number of things with him and he played well but I still expect to see another quarterback in the game at some times during the game."
Overall, Montgomery said he likes what he is seeing from his team in practice in terms of paying attention to detail.
"I thought we had some really disciplined detail work today. We got the attention of the football team today. We've got to keep them where we are now and continue to grow," said Montgomery, "I really like the way our defense and offense is practicing. I like the guys who are upset at some of the coaches for not letting them play some special teams that are fighting to get back on some special teams. I like the football team at this point and time and we've just got to continue to grow."
ECU(1-2) enters this weekend's game with 1-3 ODU ranked 57th in passing yardage at 286.7 yards a game but the Pirates rank just 168th in rushing at 148 yards per outing and 92nd in overall yards at just 434.7 yards a game.
Getting some running yards out of quarterback Reid Herring would open up a lot of things offensively but he is playing a little nicked up with a sore ankle so it remains to be seen how effective he will prove to be on Saturday.
Defensively, Coach Mo had positive things to say about his team's development and he talked about what concerns him most about ODU.
"Their size, ability to make plays on the perimeter with their size and then their defensive ends that cause a lot of concern. They're really talented at defensive end," Montgomery said, "They get after the passer. We want to do things in our protection to make sure we negate them from getting around the edges. They're a big football team and they're physical and that's concerning."
Game time is 3:30 on Saturday when the Pirates take on Old Dominion in Dowdy-Ficklen Stadium on ESPN3.