Holland Tosses In 26 points in Mercer's 70-66 Win Over ECU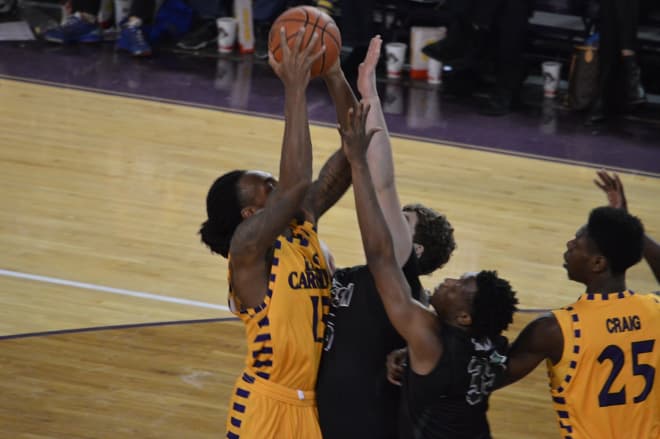 Mercer(4-1) blew a 15 point first half lead before holding on down the stretch for a 70-66 win over East Carolina in the Savannah Invitational Friday night. Ria'n Holland led four Bears in double-figures with 26 points. Stephon Jelks, Demetre Rivers and Ryan Johnson scored ten apiece in the victory.
Kentrell Barkley led ECU with twenty points while B.J. Tyson had 15 and Andre Washington scored 10 for the Pirates.
"They were much more physical to start the game. Give them credit. Holland made two end of clock bombs from three that were back breakers. We had a stop up one. The ball was loose and they gave them a timeout. I thought the guy was laying halfway out of bounds. They got the ball back and that's when Holland hit the dagger," said ECU head coach Jeff Lebo, "When they needed a bucket, he delivered."
The Pirates experienced cold 4 for 16 shooting early in the game and coughed up the basketball eight times in a 25-12 contest with five minutes to go in the first half.
Kentrell Barkley with a fast break basket and point guard Jeremy Sheppard who canned a three-pointer for ECU(4-2) cut the lead to eight before a Jordan Stawberry trey found Mercer up 31-20 at halftime. Stephon Jelks had 10 first half points and R'ian Holland had 9 points to lead Mercer. Caleb White was ECU's top scorer in the first twenty minutes with just six points.
East Carolina hit just 6 of 22 first half shots for 27.3 percent shooting while Mercer shot right at 42 percent to go along with 5 of 15 from the arc to just 3 of 9 for ECU at intermission.
Three Andre Washington buckets and a Kentrell Barkley dunk allowed ECU to pull within five at 36-31 six minutes into the second period. Then a pair of Deng Riak buckets and a three-point play from Barkley ate further into the Mercer lead in a one-point 39-38 game with 12:33 to play.
Mercer pushed the lead back to eight on a pair of Demetre Rivers treys, but two ECU baskets from Tyson and Jeremy Sheppard and a pair of Kentrell Barkley free throws kept things close in a three-point 50-47 ballgame.
Barkley canned three more shots as ECU came roaring back to tie the game at 54-54 with seven minutes to play. B.J. Tyson's dunk allowed ECU to close to within one at the 3:38 mark and then Tyson tied the game 61-61 on a three-pointer.
Holland's 22nd point of the game on a three-pointer put Mercer up by three points before a Deng Riak basket for ECU cut the lead to one. Tyson then tied the game at 65-65 at the 1:47 mark.
A Desmond Ringer foul put ECU's Andre Washington at the free throw line where he hit one of two to give ECU their first lead of the game at 66-65. On the ensuing possession Mercer was given a time out during a loose ball where nobody really had full possession of the ball at the :30 second mark.
Holland then nailed a three-pointer from 27 feet that proved to be the game winner to give Mercer a two-point 68-66 lead with 19.3 seconds to play. Tyson turned the ball over for ECU and then Washington fouled out with six seconds to play. That put Strawberry at the foul line where he hit both free throws to seal the win 70-66.
Mercer went 11 of 29 from the arc while limiting ECU to 5 of 16. The Bears were 48.6 percent from the floor overall while ECU connected on 42.6 percent of their shots. ECU won the rebound battle 38-34. ECU went 15-19 from the stripe to 7 of 8 for Mercer.
The Pirates return to the hardwood in the consolation game against Air Force Saturday afternoon at 5 pm.