Houston Cruises Past ECU 65-49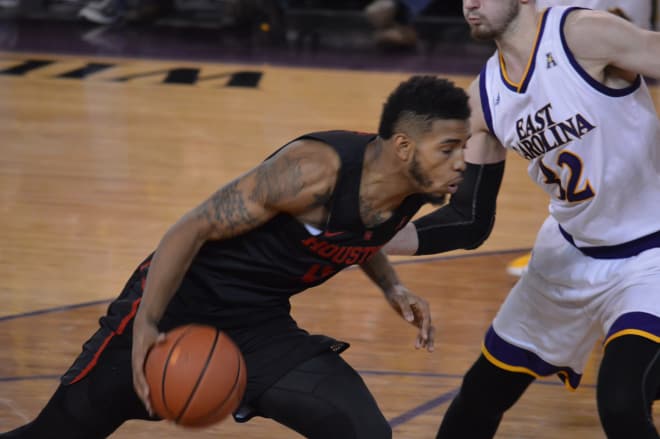 Houston improved their record to 14-3 and 4-1 in AAC play with an easy 65-49 win over a depleted ECU ball club Sunday afternoon in Greenville. Corey Davis led the Cougars with 20 points to go along with 17 from Fabian White on 8 of 12 shooting while Rob Gray from Forest City, North Carolina made his presence known scoring 12 points and dishing out nine assists in the win.
ECU(7-10/1-5 AAC) was led by Shawn Williams who came off the bench at guard to score 17 points to go along with six boards. B.J. Tyson added 12 points after being shut out in terms of scoring in the first half.
The Cougars, who have won six of their last seven games, moved to 14-5 in the all-time series against the Pirates and after the game Houston coach Kelvin Sampson talked about what his team did best in the victory over the Pirates.
"You know I love golf so I'll make a little golf analogy here. The hardest thing to do in golf is to follow up a 60, 61 or 62 with another 60, 61 or 62," Sampson told PirateIllustrated.com, "Well we're coming off a game where we scored 104 points, made 18 threes and set a conference record. The thing I liked about the game today, we didn't make a lot of shots but our defense was really good. If you can play at both ends with some kind of consistency you'll usually have a pretty good team."
The Pirates managed to keep the game close for about seven minutes before Houston took advantage of a number of ECU turnovers and missed shots to take a 21-9 lead with 7:47 to play in the first half.
A 12-0 Houston run found the Cougars up 28-12 with just under four minutes before halftime. Rob Gray's three point jumper for a game high tenth point expanded the Houston lead to 36-17 at the break and Sampson talked about the ball movement of his team on the offensive end of the floor.
"You achieve what you emphasize. Obviously we're a very good rebounding team. That doesn't happen because I wrote it on the board. It's consistency, repetition and emphasis. As long as we play with space and make the right play," Sampson told PI, "I teach our kids to not play in traffic. If I dribble in here and there are two people then that means somebody's open. It's not rocket science. Move the ball to the open man."
The Pirates hit just 6 of 24 from the field including just 2 of 10 from the arc in the first twenty minutes while Houston made 42.4 and went five of nine from three-point land. Shawn Williams' six points led ECU in the first half.
Five straight made jumpers including three treys from Corey Davis, Jr. put the game largely out of reach at 49-25 five minutes into the second half. Gabe Grant's three pointer had the Cougars up by thirty at 61-31 with 6:42 to go.
A pair of B.J. Tyson baskets helped ECU pull back to within 19 points at 61-42 but Houston was able to hold the Pirates off the rest of the way to take the victory. ECU used just seven players on what has become a depleted bench and interim coach Mike Perry addressed that and more in his post game comments.
"Yes it does make it difficult. We try to use timeouts and we try to be measured in terms of getting guys breaks, shuffling them back and forth so we can keep them as fresh as possible," Perry told PI afterward, "We just can't go as deep into the bench as we would like to right now but again as guys gain confidence we can steal a minute or two for some of these guys but it is a problem. The bench in the top third of the league, their benches are pretty competitive and they could probably take their second units and be a middle of the pack team in this league."
"Obviously a tough night when you step into the very top of this league. There is a big divide in this league. You talk about Wichita State, Cincinnati and Houston, they're all right there then there is some divide after that," Perry said, "The challenge for everybody else including ourselves is to try to bridge that divide, try to compete among those who kind of look like you and then try to get better in terms of closing that gap with the teams at the top of the league."
The Pirates conclude their three-game home stand against USF Wednesday night at 7 o'clock in Minges Coliseum.
HOUSTON'S KELVIN SAMPSON'S POST GAME PRESS CONFERENCE