Houston Rallies to Beat ECU 5-4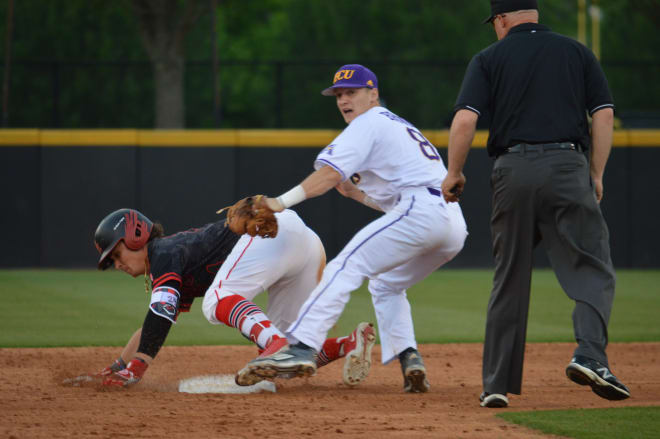 Houston scored three runs in the sixth inning to erase a two run deficit and then held on pick up a 5-4 game one AAC series win over (7)ECU Friday night in Clark-LeClair Stadium.
Trey Cumbie got the start and lasted for nearly seven innings to pick up the win for Houston before Carter Henry came on in relief to grab his sixth save of the season.
ECU(30-10/8-5 AAC) starter Jake Agnos gave up four runs on seven hits with seven strikeouts in his five innings of work on the mound before Ryan Ross and eventually Trey Benton who threw four innings of relief for the Pirates. Ross pitched for just one inning of relief out but he absorbed the loss for ECU to fall to 0-2 for the year.
"I want to thank the fans. It's the best the crowd has been all year consistently. They stayed in the game, got on their feet late in the game and gave us some juice that we needed," Cliff Godwin said afterward, "Unfortunately we couldn't get the big knock when we needed it, but our guys gave everything they had. They just didn't do enough to win the game."
Godwin described how he thought the Pirate pitchers performed Friday night against a tough Houston ball club.
"I thought we were okay. Houston was just one pitch better. They made a few more pitches than we did on the mound and it's a tough league. It's a very small margin of error and I thought our guys played hard and Houston scored one more run than we did and they won 5-4. They deserved to win," said Godwin.
"They played a little bit better than us, swung the bats a little bit better and pitched a little bit better but it's one game so we've got to be ready to flip the switch and be ready to go tomorrow."
Spencer Brickhouse homered over the right field wall and Bryant Packard's base hit up the middle added a pair of ECU runs to give the Pirates an early 3-0 lead in the bottom of the second inning.
Houston(27-16/11-5 AAC) got into the act in the top of the fourth when Wendell Champion doubled down the left field line to bring Tyler Bielamowicz home and reduce the Pirate lead to 3-1. The Cougars cut the ECU lead to one when Jared Triolo's roller to shortstop Turner Brown allowed Connor Hollis to score.
In the top of the sixth the Cougars were at it again with a Cooper Coldiron sac fly for a run before Champion homered on ECU reliever Ryan Ross to centerfield for two more runs to give Houston a 5-4 lead.
Bryant Packard blooped a single and Chandler Jenkins and Connor Litton walked to load the bases with two outs in the bottom of the ninth but Alec Burleson popped out to end the game.