Houston Remains Hot After a 74-58 Win Over East Carolina in Greenville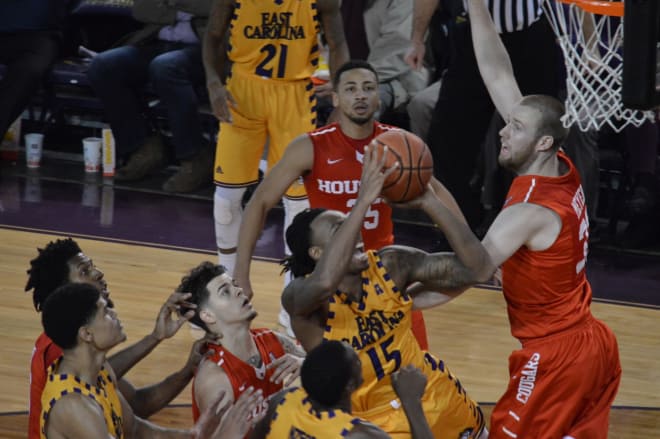 Rob Gray, Jr. tossed in 19 points to go along with 15 from freshman Armoni Brooks, 13 from Wes Vanbeck and twelve points from Damyean Dotson as Houston coasted to a 74-58 win over East Carolina Wednesday night in Minges Coliseum.
The Pirates lacked any real spark and never led in the game. ECU hit a paltry 13.6 percent on 3 of 22 shooting from the arc and just 34 percent overall. Many of those misses ended up in Houston fouls where the Pirates did connect on nearly 78 percent from the charity stripe.
Houston(13-4/4-1 AAC) opened the game red hot on quick ball movement that yielded wide open three-pointers. While they might have cooled off for a couple of small stretches, ECU was largely unable to answer at the other end.
The Cougars connected on 13 of 23 from three-point land and 28 of 60 from the floor overall for just under 47 percent shooting for the evening.
Kentrell Barkley led ECU(9-9/1-4 AAC) with 13 points, half of which came from the free throw line to go along with eight boards. Big 7-1 Andre Washington scored 12 points and pulled down 11 boards while Caleb White, who had just two points in the first half, came on late in the game to end up with 12.
"Give Houston credit, they were terrific tonight shooting the basketball. More of the same for us with our inability to put the ball in the basket. Boy did they (Houston) shoot it well from three. That was as good a start to a game as I've seen in a long time," ECU head coach Jeff Lebo said.
"We didn't need that to happen to us tonight. Brooks made everything, Vanbeck was terrific. Their guard play was outstanding, Lebo told PirateIllustrated.com, "That's the strength of their team and when they're shooting like that, they're tough to beat. Again we struggled. The difference in the game, 3 of 22 from three. When you don't shoot it well, there's nothing you can do to get to the basket. They're all packed in there and it's a frustrating thing."
ECU got off to another one of their patented slow starts to begin the game and Houston took full advantage to open up an early 11-1 lead. That turned into a 26-13 cushion with 11:19 to go in the period behind four Rob Gray buckets including two long jumpers from behind the arc.
"I just feel like we did poorly on the game plan. We didn't execute on defense, we didn't stay in the gaps and if we were in the gaps, we over helped sometimes and they penetrated," Kentrell Barkley said, "If Dre tried to block it, we've got to get that second and third attempt to try to get the ball. I don't think we played with a sense of urgency in the first half."
A pair of three-pointers from Armoni Brooks and another from Damyean Dotson didn't help matters for the Pirates as Houston was off to a fourteen-point 35-21 lead at the 7:31 mark. Then Brooks went on an additional nine-point scoring run and Rob Gray, Jr.'s three-pointer at the buzzer found Houston leading the Pirates 47-25 at intermission.
ECU did cut the Houston lead to 14 in the second half on a Caleb White bomb before the Cougars pulled away down the stretch by sixteen on free throws from Wes Vanbeck and Rob Gray and a Danrad Knowles dunk.
Pirate guard B.J. Tyson suffered what appeared to be a knee injury late in the contest after a dunk and has an MRI scheduled to determine the extent of the injury.