Houston Tops ECU 5-3 in AAC Tournament Play on Thursday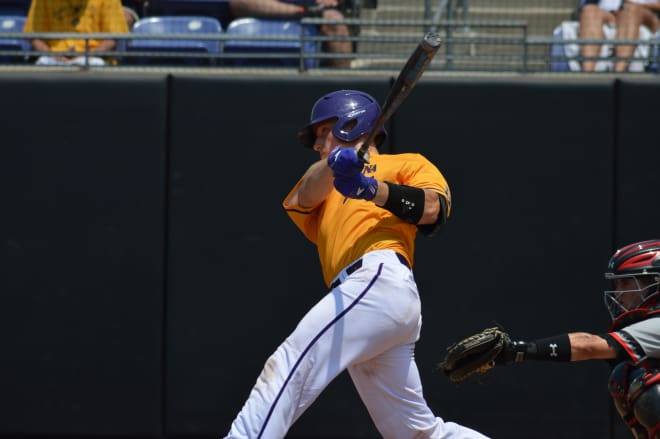 Houston never trailed in Thursday's AAC matchup with ECU and the Cougars came away with a 5-3 victory at Spectrum Field in Clearwater, Florida.
Joey Polido picked up the win for the Houston(36-22) to improve to 5-2 on the season while Jake Agnos fell to 4-4 with the loss for ECU(41-16).
Tyler Bielamowicz's bases loaded two-out single to left field scored a pair of Houston runs in the bottom of the second inning to give Houston an early 2-0 lead.
ECU got on the scoreboard in the third inning when Bryant Packard blooped a single into centerfield allowing Alec Burleson to score. But in the bottom of the third, Houston was at it again when Joe Davis' sent a seeing eye single past pitcher West Covington and second baseman Brady Lloyd to extend the Houston lead to 3-1.
Drew Henrickson's triple in the top of the fourth frame setting up a Brady Lloyd double to left that allowed Henrickson to score to cut the Houston lead to one.
Then with the bases loaded, Bryson Hurdsman struck out Bryant Packard for the second out of the inning before being lifted for Kyle Ott who got Dwanya Williams-Sutton to pop out to centerfield to end the threat.
Pirate starting pitcher West Covington then was lifted after going three and a third on the mound for ECU for Zach Barnes. Covington allowed three runs on seven hits with a pair of strikeouts in 52 pitches.
After Covington plunked Bielamowicz and walked Grayson Padgett to load the bags for Houston he was lifted for Zach Barnes who got Jared Triolo to hit into a double play to prevent any damage. Covington went three and a third, giving up one earned run and three runs overall on seven hits with two strikeouts.
After ECU head coach Cliff Godwin was tossed in the top of the fifth inning, Drew Henrickson's sacrifice fly to centerfield allowed Brickhouse to score from third base to tie the contest at 3-3.
Pirate reliever Trey Benton came on in the fifth. Jake Agnos entered in the bottom of the seventh inning on the mound for ECU and put a pair of Cougars in scoring position after a wild pitch. Then Lael Lockhard's base hit to right put Houston back up by a run at 4-3. Joe Davis' sac fly off of ECU reliever Evan Voliva brought Triolo home to give Houston a 5-3 lead.
Lael Lockart then moved to the mound from first base replacing Joey Pulido in the eighth. Pulido lasted just one inning giving up a pair of hits. Lockhard then walked Seth Caddell on four straight pitches to load the bases for ECU before inducing Dwanya Williams-Sutton into a ground out to shortstop on one pitch to end the threat.
Lockhart then put ECU out in order in the top of the ninth to pick up his third save of the season. Lockhard also had two hits in the contest for the Cougars.