Huskies Hold On To Beat ECU 3-2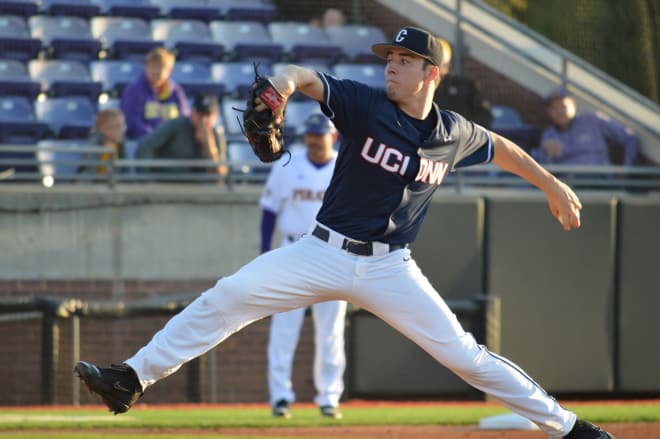 Connecticut scored a run in the sixth, two more in the eighth and then held off ECU in the ninth inning to pick up a 3-2 Friday night win in game one of a three-game conference opening series in Clark LeClair Stadium.
Tim Cate went 105 pitches in seven innings of work and struck out a career high 13 batters. Cate gave up just one run and picked up the win for UConn to move to 2-1 on the season. John Russell picked up his eighth save of the season for the Huskies while Chris Holba took the loss for ECU to fall to 3-1.
"Chris Holba, for it to be his first Friday night start and in league play, he was just unbelievable, giving up just one run. You couldn't have asked for anything more," ECU head coach Cliff Godwin said, "He gave us a chance to win. He pounded the strike zone. It was just unfortunate that we couldn't score anymore runs for him."
Godwin wasn't pleased with his ball club's inability to get timely hits when the chips were down. The Pirates stuck out 19 times in game one.
"We've got to get some two-out RBI's if you want to win against really tough pitching. We left some runners on base tonight," Godwin said, "If we have a tougher at-bat here and there then the game is at least still going on right now."
The ECU skipper gave an abundance of credit to the Connecticut starter who put together a quality performance on opening night in AAC regular season play.
"Tim Cate made us look not very good offensively. We didn't do a good job of executing our plan of not swinging at breaking balls in the dirt with less than two strikes, but tip your hat to him. He was better than our offense tonight. They executed a few more times than we did and that's why they won 3 to 2."
The two teams were scoreless until an Anthony Prato sixth inning single up the middle brought Chris Winkel home to give UConn a 1-0 lead.
ECU's Travis Watkins, who went 3 for 4 for the game and scored a pair of runs, doubled to left field in the bottom of the sixth frame. Watkins then advanced to third on a wild pitch from Tim Cate who was masterful for the first five innings with nine strikeouts. Eric Tyler reached on a fielder's choice that allowed Watkins to score from third base to tie the game at 1-1.
After a solid seven and a third inning, 94 pitch performance for ECU right hander Chris Holba in his first weekend start, he was finally chased out of the game after Chris Winkel's double to the wall put UConn in business in the top of the eighth.
A timely Keith Krueger's double down the left field line brought Winkel across to give the Huskies a 2-1 lead. Connecticut added to the lead on Willy Yahn's tenth RBI of the season on a single to right that gave UConn a two run cushion at 3-1.
Watkins singled off of Dan Rajkowski in the bottom of the eighth who replaced Cate after 105 pitches.
But after lightning was detected east of Greenville that delayed the contest for nearly an hour, Rajkowski walked Eric Tyler to put Pirates on first and second. Then John Russell came on for UConn and walked Bryant Packard. Brady Lloyd came in to pinch run for Packard with the bases loaded for the Pirates.
Russell served up a wild pitch that allowed Travis Watkins to score from third for ECU, before T.J. Riles struck out to end the eighth inning in a 3-2 contest.
Then after striking out the first two Pirates in the bottom of the ninth, the Glastonbury, Connecticut junior plunked Charlie Yorgen. Dusty Baker came in to pinch run for ECU and stole second base with two outs. Watkins walked to put Pirates in scoring position on first and second for Spencer Brickhouse, but Russell struck him out to end the end the threat in the bottom of the ninth.