Jeff Lebo Hoping For Quantum Leap for East Carolina Basketball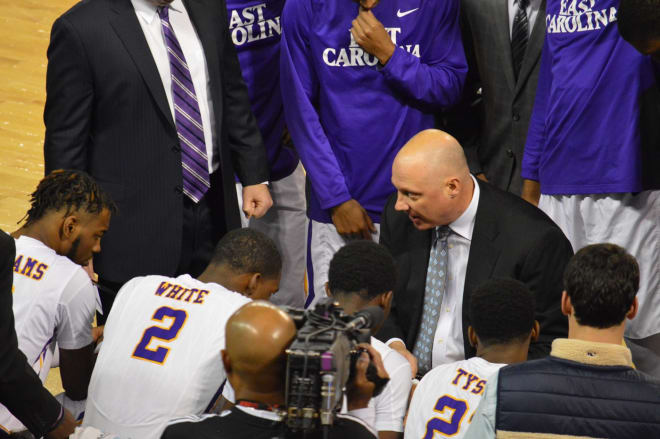 Jeff Lebo enters his seventh season at ECU with 99 wins overall. Lebo returns a number of established players like post man Michel Nzege, guard Caleb White, guard/forward Kentrell Barkley, guard B.J. Tyson and 6-8 forward Clarence Williams, all of whom have picked up a boat load of game experience. They should provide the core of this year's ECU basketball team.
The Pirates went 12-20 last season and 4-14 in American Athletic Conference play, but the record doesn't fully describe the fact that ECU was fairly competitive at times last season in the league. The biggest need was more depth in the paint with the loss of 6-10 Marshall Guilmette who had to forgo his senior season due to health issues. The Pirates also lost 6-9 Michael Zangari to graduation after last season who at 6-8 was a key performer in the post.
With point guard Prince Williams' graduation, ECU will have to find leadership quickly at the guard position. In order to reload, Lebo and ECU has signed a number of new players who represent a solid mix of post players and guards who can add both immediate help and some scoring punch for this season and beyond. This season, ECU comes in with five players at 6-8 or taller including Wake Forest transfer Andre Washington. He is the tallest player maybe ever to play at East Carolina. Lebo appears quietly optimistic about his teams fortunes this season.
"We've got some experience inside. Andre Washington who is 7-1 and three quarters. He is going to be a factor for us I think inside. It's going to take some time for Andre back into playing. He hasn't played for a year, but he's big and he's a target and he's going to be a factor for us in there. Just standing there he would be a factor," Lebo told PirateIllustrated.com on Thursday, "We also added Jabari Craig who is 6-10, 240 pounds who can run and jump and he is going to be a rebounder, shot blocker, screener inside for us defensively. I don't know how offensive. And you've got Deng Riak, he was hurt last year at 6-10. All are long, all can move a little bit. We've also got some experienced guys in Clarence Williams and Michel Nzege who are seniors, two guys who played a lot of minutes for us last year."
Lebo talked about how the game has changed in the paint, but says he has the ability to go big or small depending on the team he is facing this season.
"Back fifteen years ago, you'd have two bigs who play together. Now you see the game going smaller. It's more about spacing. You'll see size out there, but that size at 6-9 is facing to space the floor. Rarely anymore do you see two big guys playing post together. Mainly I think it's because of the spacing on the floor. I think we can play both ways. We can play big or we can go small. We did that with Caleb (White) at the four last year, so he's prepared to do that if we need to go small, but we can also go big and play Jabari and Andre together if we need to. That's something that if they're healthy, we haven't had the ability to do."
ECU has typically been outsized since moving to the American Athletic Conference and especially in terms of available depth. He is hoping that issue is has been addressed with the new players coming in along with those who return from last season.
"Two areas where we've got to get better, where we struggled in our jump to the new league was rebounding and defense. I think we've addressed that with recruiting with the size to be able to rebound the ball a little bit better. We're going to be a bit too in some other areas in the guard spots also."
The Pirates brought in a solid group of freshmen who ECU believes can begin to turn things in a positive direction this winter and he talked about some of those who have his attention at this juncture.
"I like all of our freshmen. I think they all have a chance to be good," Lebo said, "I like Jeremy Sheppard, a point guard that is skilled, has played on winning teams, is going to get better and can shoot and pass and can think the game. I really like Raquan Wilkins who is 6-5 who again is a winner on a state championship team. He is 6-4 and a half but has a 6-8 and a half wing span. Elijah Hughes is probably about as talented a freshman as we've had in a while here. The sky is the limit for him when he figures out how good he can be, so we feel like we've had a pretty good recruiting year to address our needs in the backcourt."
The Pirates play Charlotte, Virginia, Wilmington and the College of Charleston in out of conference match ups before Christmas and then a full slate of AAC games including UConn, Cincinnati, Temple, Memphis, Houston and Tulsa.
Catch Coach Lebo's complete interview and check out the bios of key new Pirate players below as we begin preseason coverage of East Carolina basketball here on PirateIllustrated.com. Stay tuned for interviews from Pirate players as we continue to move toward the beginning of the season on November 11th when ECU hosts Grambling at 8 pm.
*******************************************************************
Jeremy Sheppard is a 6-1, 160 pound guard who committed to ECU last summer after originally signing with UCF. He was released from his LOI after a coaching change occurred in Orlando A four year letterman at Marshall High School, Sheppard played for Coach Ty White and led the Justies to a 90-23 record in four years. He scored nearly 1,488 points and hit 260 treys and was named the 2013-14 division 3A Player of the Year. His sophomore year, they won the state 3A title and Sheppard averaged 19.6 ppg, making 61 threes. Named a second team all-stater as a senior, he averaged 17.3 ppg and tossed in 61 treys as a first team All-Conference and 3A All East-Region performer by the Richmond Times-Dispatch. Sheppard played for Team Loaded in AAU basketball in Virginia.
Elijah Hughes is a 6-6, 220 pound guard. Hughes played his senior year at the South Kent School (Conn.) averaging 16 points per game where he helped the Cardinals earn an invitation to the National Prep Championship after finishing with an 18-12 overall record. He Received All-NEPSAC (New England Preparatory School Athletic Council) AAA honorable mention accolades. As a junior at Kennedy Catholic (N.Y.) Highs School in 2014-15, Hughes was named first-team Class A all-state by the New York State Sportswriters Association averaging 15.7 points, 7.4 rebounds and 5.4 assists a game. He earned the CHSAA Class A MVP award and led the Gaels to a 26-2 record.South Kent got off to a 23-0 start and the Gaels appeared in the CHSAA Class A state championship game. Hughes played his first two years of high school basketball at Beacon High in New York averaging 12.9 points, 3.9 rebounds and 2.3 assists in 33 games.
Issac Fleming is a 6-3, 210 pound guard who transferred to ECU during the summer of 2016 as a junior after playing his first two years at the University of Hawaii … Must sit out the 2016-17 season in accordance with NCAA rules and will have two years of eligibility to play with the Pirates beginning in 2017-18 . Fleming veraged 9.5 points, 2.8 rebounds and 2.2 assists per game in 54 contests. He played at National Christian Academy in Fort Washington, Maryland. He was enrolled at William Penn High School in his native Delaware before that and was also a two time all-state performer in football as a cornerback where he won a state championship as a junior. Fleming spent the 2013 -14 season at Massanutten Military Academy, a post-graduate academy in Virginia, and averaged 21 points, six rebounds and seven assists per game for a squad that was ranked in the top 10 nationally. He was named MVP of the Josh Howard Classic after upsetting then-No. 2 Hargrave Military Academy and is another Pirate who played AAU basketball for Team Takeover EYBL and Team Loaded (Va.).
6-5, 185 pound Raquan Wilkins is a guard out of Atlanta, Georgia who signed during the 2016 spring signing period. Wilkins led Westlake to the 2016 Georgia 6A state championship with a 27-4 overall record. He was named honorable mention all-state and All-Atlanta/South Fulton Metro Region by the Atlanta Journal Constitution and helped the Georgia Stars AAU program capture the prestigious EYBL Peach Jam title. Wilkins was on the Westlake High Honor Roll as a senior.
Junior center Jabari Craig at 6-10, 235 will add much needed help in the paint. The Toronto native transferred to ECU prior to the 2016-17 season after spending the previous year at Pearl River Community College. Craig has two years of eligibility with the Pirate and originally signed with USC out of high school before enrolling at Hutchinson Community College for the 2014-15 campaign. Craig attended and played basketball at Pearl River Community College during the 2015-16 season, averaging 14.4 points per 40 minutes, while shooting 63.6 percent from the field for Coach Chris Oney. He Played in 23 games as a freshman (2014-15) at Hutchinson Community College, averaging 10.9 points and 11.6 rebounds per 40 minutes.
Craig attended prep school Fishburne (Va.) Military School and graduated from Tucker (Ga.) where he averaged 8.5 points, 6.9 rebounds and 3.1 blocks per game in 2014 for Coach James Harty. He was a member of Team Canada at the 2013 Nike Global Challenge and played for Northern Kings on the AAU circuit.
7-footer Andre Washington transferred over from Wake Forest during the summer of 2016 after graduating with a degree in communications. The 2016-17 campaign marks his final year of eligibility and is pursuing a degree in criminal justice.
At Wake Forest, Washington appeared in 67 games and made one start over his first three seasons before redshirting during the 2015-16 campaign. He scored 116 points (1.7 ppg), grabbed 81 rebounds (1.2 rpg) and tallied 57 blocks during his three season with the Demon Deacons and the team with 39 blocks during the 2013-14 season and ranked 10th in the ACC with 1.3 blocks per gam.
A 2012 graduate of Hargrave Military Academy in Chatham, Virginia, he played at Roanoke Catholic High School before transferring to Hargrave Military. Washington helped Hargrave to a 38-1 record and the No. 2 ranking in the country in 2011-12 and was a 2012 McDonald's All-America nominee. He played at Franklin County High School as a sophomore before transferring to Roanoke Catholic and re-classifying to the class of 2012 and was rated as a three-star recruit by Rivals and Scout. ESPN ranked him as the No. 14 player in the state of Virginia and the No. 46 center in the class of 2012. Washington played AAU ball for East Coast Fusion.
6-0, 165 pound guard Shawn Williams is out of Little Rock, Arkansas. Williams inked his National Letter-of-Intent with ECU during the 2015 fall signing period, but must complete one year of academic residency at the University before he will be cleared for game competition. He averaged 23.0 points, 3.3 rebounds, 3.6 assists and 1.7 steals per game as a senior at Maumelle High School, leading his team to a 25-5 record and a runner-up finish in the state 5A tournament. Williams scored 44 points in the 2016 state championship game and was named to the 2016 Arkansas High School Athletic Association 5A Boy's All-State Team.
He was selected to the Arkansas Democrat-Gazette All-Arkansas Boy's Prep First-Team and American Family Insurance All-USA Arkansas Boys Basketball Team and split time as a junior between Maumelle High and Southwestern Christian Academy as junior. Attended Prime (Texas) Prep as a sophomore, playing alongside 2015 NBA First Round Draft pick Emmanuel Mudiay, ranking second on the team in scoring with 14 points per game off the bench during the 2013-14 season. He began his high school career at Maumelle in 2012-13.