Joe Dooley Builds Solid Staff and is Upbeat About ECU Hoops Job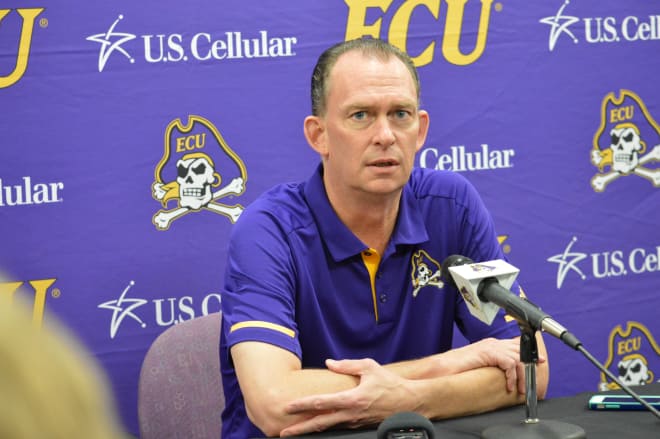 Five years ago, Joe Dooley took over the reigns at Florida Gulf Coast. He led the Eagles to five conference titles and five straight 20-win seasons. Dooley was an assistant coach on the Kansas Jayhawks 2007-08 national championship team under Bill Self where he was a lead assistant for ten seasons from 2003 to 2013.
Dooley has now returned to Greenville as the new head coach at ECU for the second time. His new pact is for five years at around $900,000 a season.
"I'm excited for the new staff. Raphael Chillious is here. Steve Roccaforte, Tyler Lewis, Derick, Kenny and Kyle return. I think one of the big things is we return an experienced staff that has done it at a high level. I do think, Raphael having been in the league and Rock having been in the ACC is the type of recruiting we need to do and what it takes to be successful at a high level," Dooley said on Tuesday, "We're excited about the new staff."
"We've had a good summer. We've gotten better in a lot of regards. Strength and conditioning is important. I think we've improved in that area drastically. Still a long way to go but I think we've made some strides and the guys are figuring out what is expected" said Dooley.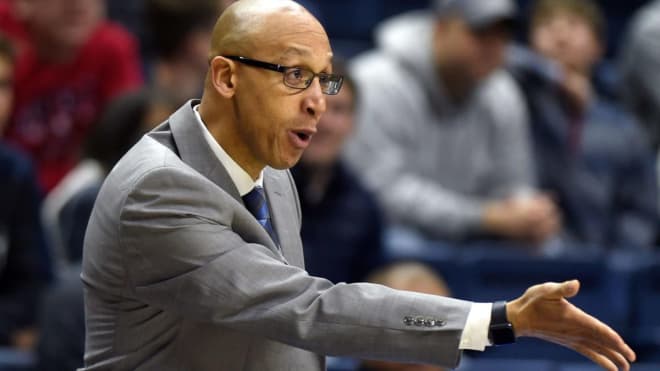 The addition of Raphael Chillious comes over from UConn where he was the assistant head coach under Lorenzo Romar is pivitol. Most recently Dooley also added veteran assistant Steve Roccaforte who spent the last four years as an assistant at Virginia Tech after three years at USF. He is very familiar with the competition in the AAC with prior stops at both Memphis and Tulane. Ken Potosnak also returns from the prior ECU staff with a wealth of experience in Greenville.
Roccaforte hasn't let much grass grow under his feet since landing in Greenville.
"I was out recruiting from Wednesday through Sunday," said Roccaforte who says he hasn't really unpacked in Greenville yet because he didn't bring that much on his first trip to Greenville.
Selling ECU recruiting is a little different than in the ACC and with that comes a few different challenges.
"First of all the one thing I haven't been here very long. I think this is my third time in Greenville ever but when I came here I was surprised how big it was to be honest with you. It was bigger than I thought. I think it's a really good place to live. I came in here and saw the facilities and they are much better than I anticipated and I think you're selling Joe," Roccaforte told PirateIllustrated.com, "Joe's background, where Joe has been and his success. We came to win."
"You've played against all of those teams, Cincinnati, Memphis, Central Florida. I've been at South Florida and Memphis so you have a familiarity with what they do on a yearly basis. I came in on a Saturday, was here all day on a Sunday, watched workouts on a Monday and Tuesday and went recruiting on a Wednesday."
"He wanted me to watch the workouts to get a feel for the guys and I meant this sincerely, when we went into Virginia Tech there were not a lot of ACC level basketball players in the program. There were a lot of good kids, good students who worked very very hard but vast improvement was going to have to be made if we were going to move up in the hardest league with the hardest teams with the best coaches. But where that place was compared to where we are, we're in much better off here. The turn is not as drastic," said Roccaforte.
"There are more players in this program than what we had at Virginia Tech. The league is more winnable than what it was looking at the ACC where we were. I don't mean that disrespectful, that's just a fact. As we lose people and if we add better people, that's how we get better."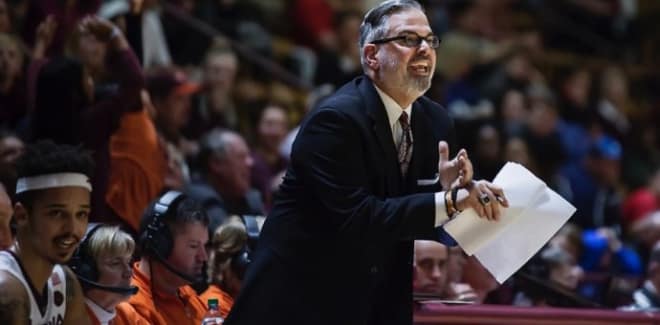 Joe Dooley's first voicemail to Raphael Chillious said he would not hire anyone until I talk to you. Chillious brings extended experience in the AAC that could pay big dividends at ECU. Greenville is a place that he says has great possibilities. While he has been in town a little longer than Roccaforte but Chillious has been hard at work in recruiting as well.
"I was settling in pretty good until July and then I was gone for three weeks recruiting, but I've really enjoyed Greenville. One of the great things for me is I've been in places where you can't get home in eight minutes or get to work in eight minutes. I find that the community is so thirsty for ECU to be really good at something and hopefully we'll get there to where everyone wants to be. I've found everyone to be very welcoming."
"You really realize that this is a place that if you cultivate things the right way it's really a sleeping monster. We're getting a lot great reception from kids out of the state who didn't know about East Carolina," Chillious told PI, "We knew them and the people around them and got them excited. That's the number one thing. You get people excited here about where we want to go."
"I've known Joe a long time through recruiting and he's connected all across the United States in recruiting and for him to call me and say I was the first guy he wanted to put on staff, that mean a whole lot to me."
ECU has five returnees with game experience from last season. 6-5 K.J. Davis returns. He has the ability to score points in spurts although he only averaged 3.1 points a game last season rotating in at guard. He is also a solid defender. Isaac Fleming at 6-4 returns at guard for his senior season. He should lead this team after averaging 12.5 points and nearly five assists.
6-8 sophomore Justin Whatley returns in the paint and is hoping to see solid improvement. Whatley picked up considerable experience as a freshman and should provide additional leadership after playing in 22 games last season. Shawn Williams returns at guard after being named the American Athletic Conference Rookie-of-the-Year last season. He averaged 12.5 points a game. Dimitrije Spasojevic at 6-8, 240 gained a boat load of experience at forward for ECU which could begin to pay big dividends this season.
Newcomers include 6-6 freshman forward Jayden Gardner out of Heritage High in Wake Forest, North Carolina, big 6-7 guard Seth LeDay who is a Virginia Tech transfer along with 6-5 freshman guard Tyler Foster from Baltimore, 6-2 guard Tae Hardy from Miller Grove High in Ellenwood, Georgia, 6-2 guard Deshaun Wade from Virginia Beach, 6-5 forward Samson Strictland from Wilson and 6-9 forward/center Rico Quinton from Newbern, Tennessee.
Dooley says you have to get old first as a team to be old. He says preparation builds confidence and that although this is a relatively quiet group of players, he is looking for them to be more vocal. Dooley knows that winning some of the early games will go a long way toward building confidence. He talked about the similarities in Greenville with many of the big time college programs in the country in terms of not being in a major city.
"You can turn that around. We're a little off the beaten path so you have to figure out the kind of guy you're going to recruit. Who wants to be in a college town. Blacksburg, Lawrence, Kansas, Clemson, they're not big towns either but they've done pretty well," said Dooley, ""The good news is we're young and the bad news is we're young. You've got to get old to be an old team."
The 52 year old Dooley is originally out of West Orange, New Jersey and played his college basketball at George Washington. He was an assistant at ECU under Eddie Payne before taking over the job in the 1990's. He still holds the best overall Division 1 win percentage in ECU basketball history at .553 and 57-52 when ECU payed in the Colonial Athletic Conference. Overall, Dooley holds a 114-58 combined head coaching record and a .663 winning percentage.
Catch PI AUDIO from Joe Dooley's July Press Conference here on PirateIllustrated.com along with audio from our PI interviews with new ECU assistant coaches Raphael Chillious and Steve Roccaforte.
RAPHAEL CHILLIOUS TALKS ECU HOOPS