Joe Dooley Set to Inject New Excitement Into ECU Basketball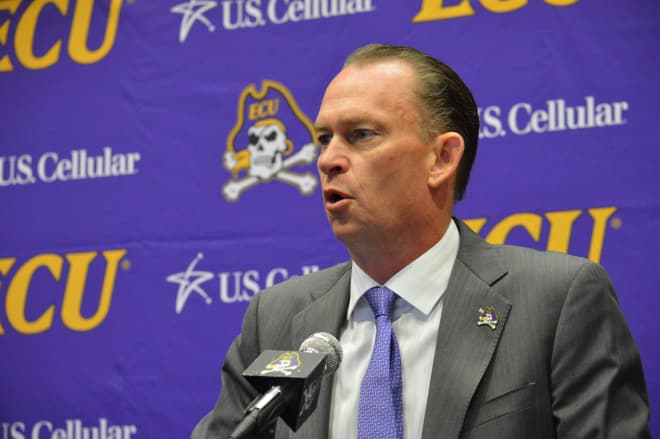 Five years ago, Joe Dooley took over the reigns at Florida Gulf Coast. In his time there he enjoyed great success. He led his squad to five conference titles and five straight 20-win seasons.
On Thursday, Dooley was introduced as the new head coach at ECU for the second time. His new contract is for five years and is reported to begin at around $900,000 a season.
In returning to Greenville, Dooley still holds the best overall Division 1 win percentage in ECU basketball history at .553 and 57-52. At that time the Pirates still played in the Colonial Athletic Conference. Overall, Dooley holds a 114-58 combined head coaching record and a .663 winning percentage.
"It's good to be home. I'd like to thank Chancellor Staton and the board of trustees, Lee Workman, Dave and Pam Hart for bringing us back home. Its been a long journey, it's been exciting. My Mom and Dad still live here obviously," Dooley said.
"My 14 year old son has not really spent much time here spent some time here when we evacuated from the hurricane back in September. He couldn't believe all the facilities and the resources and he was really excited. He's already packed his practice sneakers and is ready to get in the gym and start working so one day he'll be good enough to be a Pirate or we'll let him walk on one of these days."
Turning the basketball program around at ECU is possible but it will be bit of an uphill battle in the early going. He talked about the challenge ahead in the tough American Athletic Conference.
"I think the thing we need to do is we need to make basketball important here at East Carolina. At times I think we've had times when we've been good," Dooley said.
"We need to be consistently good. We need to find a way to do that and we will. I think one of the ways we do that is to be accountable. We're going to try to be as good as we can be in the classroom and on the court and in the community."
Part of the future is to not forget the past and Dooley said he wants to make every effort to have former players and coaches be a part of the future program at ECU.
"We want guys who want to be proud Pirates. We want guys who want to come back. We want guys like Garrett Blackwelder. I've had texts from Othello Meadows, I've had texts from Tony Parham. We want previous players and previous coaches to be a part of this," said Dooley, "We want the Charlie Harrison's the Dave Odom's, the Eddie Payne's and all of those people to come back and feel like they've been a part of this."
The 52 year old West Orange, New Jersey native played his college basketball at George Washington and was an assistant coach on the Kansas Jayhawks 2007-08 national championship team under Bill Self where he was a lead assistant for ten seasons from 2003 to 2013.
In leaving Florida, Dooley sent out a message to the Florida Gulf Coast Eagle faithful on Wednesday.
"The personal and professional decision I made was not an easy one. We have accomplished something very few teams in the country have over the past five years here in Dunk City and I have no doubt the successes you have witnessed this decade will continue for many more to come. However, this opportunity is in the best interest of my family."
"I want to thank you all for the opportunity to be your head coach and represent this terrific university. Thank you for filling Alico Arena each game night and making The Nest one of the best home-court atmospheres. FGCU will always hold a special place in our hearts. We'll be rooting for the Eagles every chance we can and wish them all the best. Thank you for a great five years."
PI was there to bring you Thursday's press conference and a PI audio interview as well. We will have more on the new face of ECU basketball, Joe Dooley in the coming days here on PirateIllustrated.com.
PI AUDIO: JOE DOOLEY INTRODUCTORY PRESS CONFERENCE