Jon Davis Shoots Charlotte Past East Carolina 76-64 in Halton Arena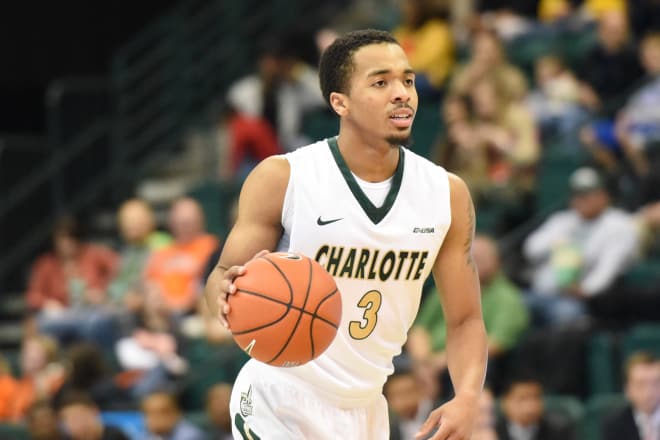 Charlotte(3-0) took a 76-64 win over East Carolina behind 24 points from Jon Davis. He led four 49'ers in double-figures on the evening. Anthony Vanhook had 13 and Brandon Ogbuize and Hudson Price tossed in 11 apiece in their third win of the season.
The Pirates, playing without four players, including Caleb White who was out with a one-game suspension, got twelve points each from B.J. Tyson, Andre Washington and Raquan Wilkins, eleven from Clarence Williams and ten from Kentrell Barkley in the loss. But 21 Charlotte points off of 21 ECU turnovers, 17 in the first half, proved to be ECU's undoing. Charlotte had just eight misques.
"The difference was really Jon Davis. He controlled the game, 24 points, five assists, no turnovers," said East Carolina's Jeff Lebo, "What eliminates rebounding is good shooting. Give them credit, they really shot the ball well in the second half. Their one on one play - we knew it was going to be a one on one game and they're really good in space. Davis was terrific and really made some key shots. We had one stretch there where we couldn't score the ball for five or six minutes and that really hurt us."
East Carolina(2-1) jumped out to an early 6-2 lead before Charlotte went on an 11-3 run led by a pair of J.C. Washington baskets to take a 13-9 lead seven minutes into the first half. The Pirates reclaimed an 18-15 lead on buckets from Clarence Williams, Andre Washington and B.J. Tyson. Twelve ECU turnovers in the first twelve minutes was counteracted by an early 9-3 rebound advantage for the Pirates.
A pair of Andrien White treys and four points from Anthony Vanhook helped Charlotte take a 25-24 lead at intermission. ECU kept it close in the first twenty minutes despite 17 first half turnovers by dominating the boards 26-11. B.J. Tyson led ECU with seven first half points while White and Vanhook's six points each led the 49'ers in scoring.
Charlotte wasted little time in extending their lead to 45-37 in the first five minutes of the second period. Baskets from Andre Washington and Kentrell Barkley cut the lead to three at 45-42 before the 49'ers went on another mini-run to take a ten-point 52-42 lead on a Quinton Jackson dunk at the twelve minute mark.
ECU crawled back into the contest erasing a ten-point deficit on baskets from Barkley, Tyson, Wilkins and Andre Washington who turned a flagrant foul on Anthony Vanhook into four free throws all told to give ECU a brief 54-53 lead with 8:50 to play. But it was short lived when Charlotte went on a 17-2 run to retake the lead 67-56 with 3:27 to play. Three Jon Davis buckets highlighted the run for the 49'ers.
The Pirates won the field goal percentage battle 46 percent to 44 percent and won the rebound battle 38-29, but 10-27 shooting from the arc for Charlotte to just 4 of 11 for ECU made life difficult for the Pirates who haven't won in Charlotte since 1983.