Jon Gilbert Brings an Abundance of Experience to ECU Athletics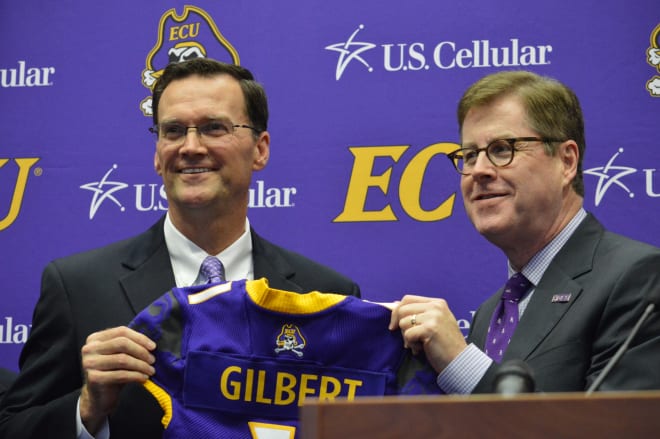 ECU chancellor Cecil Staton formally introduced an emotional Jon Gilbert as the university's new director of athletics Monday afternoon at Murphy Center.
After the formal press conference PI caught up with Chancellor Staton who described his relief level to have made a pair of solid hires in both Jon Gilbert along with Mike Houston who will be formally introduced on Tuesday as the school's new head football coach.
"There is certainly a sense of relief. I am very grateful that we've been able to attract the talent level of Jon Gilbert and Mike Houston to our programs here," Staton told PirateIllustrated.com Monday afternoon, "I think we hit two home runs. There are great guys. I think they're going to be a great fit here in Eastern North Carolina and among Pirate faithful, our fans. So it is a good day."
For many, the process has taken what has seemed long over due, but behind the scenes, it takes time to formulate a plan and make the proper hires for these two very important roles.
"I know for many people it's been a long time coming, but as I said earlier, we really needed to give Dave Hart a chance to do that deep dive. To make sure where we are," Staton told PI, "We know what we want to do pretty much, but we needed to make sure that we understood fully the challenges and we've done that and we're ready now. I'm just grateful that these two individuals have decided to cast their lot with us and bring their talents and skills to ECU and I think we're going to do well."
Gilbert comes to Greenville from Hattiesburg, Mississippi where he has been the athletic director at Southern Miss since January of 2017. Gilbert goes way back with special advisor for ECU athletics Dave Hart to his days at both Alabama and Tennessee. The former ECU athletic director helped hand pick Gilbert to run things at ECU.
"I am who I am, and I am pretty simple, Gilbert said, "I want to win, I want to do it the right way and I want to have fun."
It's a big job ahead and Gilbert discussed the decision making process of coming to Greenville.
"It really started last Tuesday. That was when the conversations started getting heavy," Gilbert stated to PirateIllustrated.com, " I talked to Dave a bunch. We had talked in very general terms. Last Tuesday was when Dave said we formally want to talk and that's when the process started."
The new ECU AD talked about why he chose to come to Greenville to take on its monumental challenges at the moment.
"Meeting with the Chancellor and Dave certainly, the Dave Hart that I know from his early days where he conveyed how important East Carolina was to his family and how hard it was for him to leave here, I knew the people were special," Gilbert said, "I have found that out to be true pretty quickly."
Gilbert also stated while he sees the importance of playing the neighbors to ECU's west, he puts as much emphasis on being successful in conference games and wants to make sure that is seen as equally important. ECU's longstanding relationship with Southern Miss from their days as independents and their similar history gives Gilbert a good idea of what it's like to work with schools that are not in P5 conferences, but he says ECU is a bit of a different animal.
"Southern Miss is a special place and I really enjoyed my time there. Certainly the president Rodney Bennett was very gracious to afford me that opportunity. I do think in a lot of ways the two institutions are similar, but I wouldn't go as far as saying they're one hundred percent alike," Gilbert told PirateIllustrated.com.
Gilbert described some of his first impressions upon arriving on the ECU campus.
"I have not been inside all of the facilities, but I have driven around the outside and I think they present themselves in a very impressive manner," said Gilbert, "I drove through campus and again - impressive. Very clean, just something to be proud of and so I was very impressed to see that."
The new ECU athletic director says in order to get things back on track, it comes down to regaining everyone's trust.
"I think how we get them back is I have got to earn the fan's trust and Coach Houston has to earn their trust and that takes a little time," Gilbert said, "I also think we have to communicate with them, let them know what the initiatives are. That will start the healing process and get them back."
Former ECU AD and special advisor for athletics Dave Hart talked about how different it is to have to hire both an athletic director and a new football coach at the same time. He hopes it turns out to be a home run with these two new recommendations to ECU.
"This was very unusual. Just when you think you've seen it all, but that was very challenging for very obvious reasons because the time frame was very short and it had to be Jon's hire," said Hart, "So we had to get the AD onboard first and I was there to assist any any way that was appropriate and helpful. But to move that fast was challenging and that's why when we went to Virginia early yesterday morning, we didn't go to kick the tires."
Hart could quickly see upon his arrival in Greenville a few months ago that ECU wasn't the same place that it was before or could be in the future.
"I explained to Jon in great length that we're a grass roots university and somewhere along the way, we lost our way," Hart said, "Everybody is important here. Jon is a perfect fit. He's very genuine, he's very down to earth and I think he will identify very well and connect with our Pirate families."
PI asked Hart about his relief level to have filled these two important positions with competent individuals such at Gilbert and Houston.
"It's significant. It's very gratifying to see Jon Gilbert in that position and see Mike Houston being announced tomorrow in a similar environment. As media you're really going to like these two guys. Our fanbase is really going to like them because they are approachable, they are down to earth. Mike is extremely impressive. His presence, his confidence, his work ethic, it's going to be a nice run."
Gil­bert was Ten­nessee's ex­ec­u­tive se­nior as­so­ciate ath­let­ics di­rec­tor from 2011-17 when Dave Hart was there as the school's ath­let­ics di­rec­tor. They also worked to­gether at Alabama where Gilbert spent nearly 17 years.
While at Alabama, Gilbert served in a number of different roles, including Associate Athletics Director from 2009 to 2011. Tennessee generated $82 million in gifts and pledges for the Crimson Tide Foundation, and Gilbert had oversight of the marketing and promotions department and all facets of the ticket office and seat licensing.
Gilbert is a graduate of Lenoir-Rhyne University , where he was a three-year football letterman. He then earned his master's degree in Sport Administration at Eastern Kentucky.
The new ECU athletic director is expected to hit the ground running when he formally introduces new ECU football coach Mike Houston Tuesday morning. Houston takes over for Scottie Montgomery who won just nine games in three years at the helm. Both Gilbert and Houston were approved by the ECU board of trustees on Monday.
ECU baseball coach Cliff Godwin made the effort to be on hand to give his impressions about the new hires.
"It's very exciting for me to finally get some positive PR with the new athletic director and football coach," said Godwin who told PI, "I'm jacked because I'm tired of being negative. I don't live in a negative world and I'm just excited for Pirate Nation to get behind Jon and behind our new football coach. Let's just take it day by day. It's going to be a process of getting better and it started today with Jon being named our new athletic director."
PirateIllustrated.com was there to bring you complete PI Audio of Monday's introductory press conference along with additional interviews with ECU baseball coach Cliff Godwin, special advisor to athletics Dave Hart, Chancellor Cecil Staton and new ECU athletic director Jon Gilbert.
PI AUDIO: JON GILBERT FORMALLY INTRODUCED AS THE NEW AD AT ECU
PI AUDIO: JON GILBERT TALKS ABOUT HIS EARLY IMPRESSIONS OF ECU & MORE
PI AUDIO: DAVE HART TALKS ABOUT GILBERT & HOUSTON SEARCHES & MORE
PI AUDIO: CHANCELLOR CECIL STATON DISCUSSES THE NEW HIRES