Jones On The Doorstep of History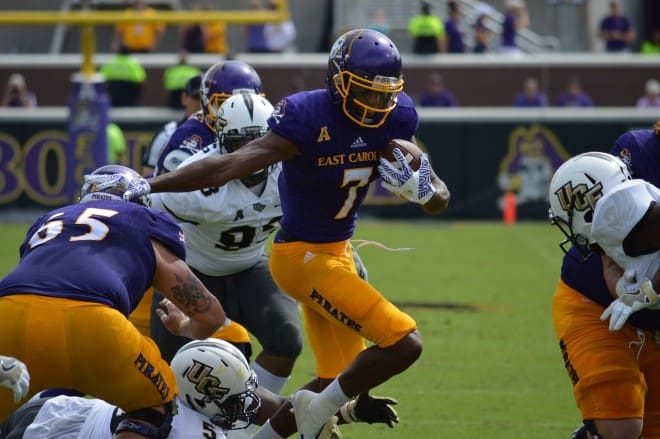 Zay Jones stands eight catches away from surpassing the NCAA career mark of 387 held by former Pirate and current Atlanta Falcon Justin Hardy. Last Saturday, Jones hauled in 12 receptions for 173 yards with one touchdown. He extended his streak to 45-straight contests with at least one catch in the first quarter (39 yards). That streak is the fourth longest in the nation.
This week, Jones enters his final home game leading the NCAA FBS in four categories: receptions (139), receiving yards (1,473), receptions per game (13.9) and receiving yards per game (147.3). He stands fifth on the NCAA FBS single-season receptions list and only needs 17 catches over the next two games to pass current record-holder Freddie Barnes (155/Bowling Green/2009).
Against Tulsa, Jones set an ECU and American Athletic Conference single-season reception record that eclipsed former teammate Justin Hardy's mark of 121 set in 2014.
Jones has caught multiple passes in 47 of 48 his career games and caught his sixth touchdown pass of the season which is a new personal single-season high. He has 21 career touchdown catches, which is tied for third most on ECU's all-time charts. His 21st career TD pass of eight yards came in the second quarter which moves him into at tie for third on ECU's all-time touchdown receptions list.
"It's going to be an emotional time playing here for my final time. I'm embracing it, taking it all in and cherishing each moment and cherishing my teammates," said Jones who hopes to break the record this Saturday.
"I think it would mean a lot. It would mean a lot to our fans and mean a lot to the guys who helped me get there and especially just mean a lot to me. I would like to do it at home and it would be ideal if I could do it at home. I think it would be great not just for me but for this program to bring more national attention to it. A lot of guys deserve it so I'm just doing my best to make it to the highest platform possible to provide for this city and this school."
He has 380 career receptions, which ranks second on the all-time NCAA/FBS charts behind former teammate Justin Hardy (387/2011-14) and 4,006 receiving yards, which ranks second on ECU's all-time yardage charts. 165 of his 380 career receptions have gone for 10 or more yards (45 for 20-plus)
Jones has now snagged at least one pass in 37 of 40 quarters this season (none vs. WCU/4Q, CIN/3Q and UCONN/4Q). On Saturday against SMU, he registered his 17th double-digit catch and 18th triple-digit yard games in his career. That's eight double-triple (catches-yards) contests in 2016
We caught up with Jones to talk about his final game in Greenville for Senior Day where he has a chance to break the NCAA all-time receptions record which is currently held by another former Pirate, and current Atlanta Falcon Justin Hardy .
Click into our Audio Interview with Zay Jones here on PirateIllustrated.com.