Keziah Everett Commits to ECU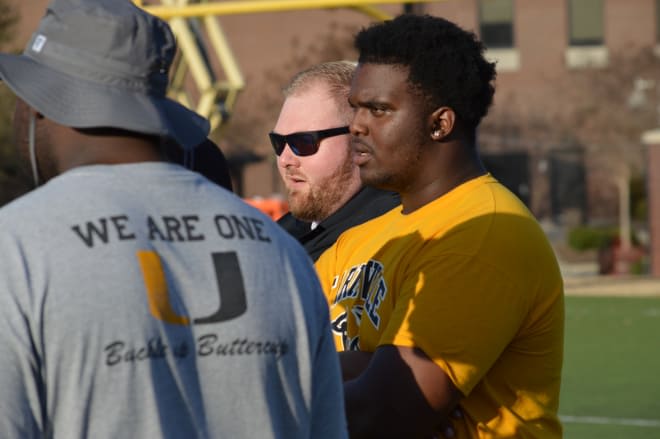 East Carolina has found the road to landing linemen this year slow going but they got a a boost on Monday when Keziah Everett made a verbal commitment to the Pirates.
The Farmville Central rising senior defensive lineman ranks 20th at his position with Rivals.com and 39th in the state of North Carolina overall in the class of 2019.
"I feel like they showed the most love and that's why I committed," Everett said, "I always felt like they were my first offer, so that played a special role in it."
Everette said many of the other schools tried to come in and make a final push when he announced that he was going to make his decision on Monday.
"All the other coaches tried to come and rush and show more love that they weren't showing. ECU just stayed the same and they showed me love."
Everett not only plays defensive line but also lines up as a power back in the offensive backfield when the Jaguars really need a yard or two on occasion.
ECU offensive coordinator Tony Petersen has been heading up his recruitment for the Pirates along with former Texas and NFL defensive lineman and new ECU defensive line coach Rod Wright.
The Rivals.com three-star chose to stay home and play for the Pirates over other offers from Duke, South Carolina, Virginia, North Carolina, Charlotte, Appalachian State and Campbell.
In the end it came down to ECU, Virginia, South Carolina, Duke and North Carolina with the 6-1, 330 pounder picking the Pirates.
Everett is ECU's tenth verbal commitment for the Pirate class of 2019.