Mahoney Named ECU OL Coach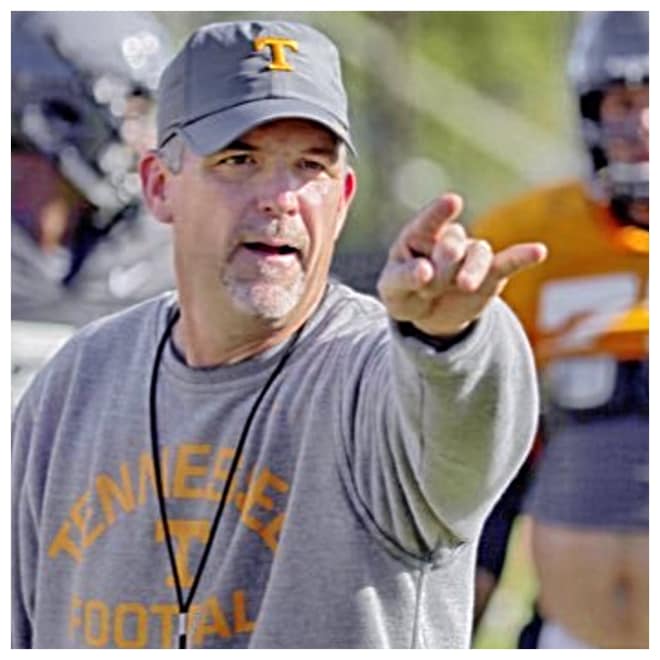 -ECU Press Release
GREENVILLE, N.C. - Don Mahoney, who owns 24 years of experience at the FBS level and played a key role in 10 overall bowl appearances, has been named offensive line coach at East Carolina University according to an announcement from head football coach Scottie Montgomery on Wednesday.
Prior to a one-year stint as Concord (W.Va.) University's assistant head coach, offensive coordinator and line mentor, Mahoney spent four seasons in the Southeastern Conference as Tennessee's offensive line coach from 2013 to 2016. He helped the Vols to three-straight bowl titles and milestone rushing campaigns, while developing notable honors recipients who advanced to NFL careers.
"Don's wealth of experience and expertise is synonymous with a foundation we need to have in place on the offensive side of the ball here," Montgomery said. "His background features a strong association of development and depth, two qualities which are crucial to the growth, balance and success of our unit."
Tennessee averaged over 200 rushing yards per contest during his last two seasons in Knoxville, which resulted in successive 9-4 records that were capped with victories over Northwestern in the Outback Bowl (2015) and Nebraska in the Music City Bowl (2016), respectively. Mahoney's unit helped the Vols to a No. 24 national rank in scoring offense (36.4 ppg) and stood 37th in rushing (205.4 ypg) in 2016.
A year earlier, his line paved the way for 2,908 rushing yards - UT's most since 1951 - and boasted All-SEC picks Kyler Kerbyson and Dylan Wiesman, along with Freshman All-America selection Chance Hall. The Vols were 20th in the country in rushing (223.7 ypg), 21st in third-down conversion percentage (46.0) and 29th in scoring offense (35.2 ppg).
Before finishing the 2014 campaign with a win over Iowa in the TaxSlayer Gator Bowl, all five of Mahoney's 2013 linemen progressed to NFL rosters. In addition to first-round selection Ja'Wuan James and fellow draft pick Zach Fulton, he coached Antonio Richardson into an All-America (CBSSports.com) and All-SEC performer.
Mahoney joined the UT staff after three years (2010-12) as offensive line coach at Cincinnati where five Bearcats earned All-Big East honors during his tenure, including Jack Kelce who was drafted by the Philadelphia Eagles in 2011 and later was named to the Pro Bowl.
While at Cincinnati, the Bearcats topped the Big East in rushing in 2011 and 2012. UC averaged 385 yards and 33.3 points per game in 2011 on the way to a league title and a win in the AutoZone Liberty Bowl over SEC foe Vanderbilt.
During his first year with the Bearcats in 2010, Mahoney's line helped the offensive unit to conference-leading clips in scoring offense (27.1 ppg), total offense (417.3 ypg), passing offense (260.7 ypg), first downs (21.9 ypg), third-down conversions (45.6 pct.) and touchdown passes (27).
He helped Central Michigan to a pair of Mid-American Conference championships and three bowl showings from 2007 to 2009. A total of six Chippewa linemen picked up All-MAC honors during Mahoney's tenure, which also included future No. 1 NFL Draft pick Eric Fisher. From a statistical standpoint, his line allowed only 1.21 sacks per game in 2009 - ranking 21st nationally.
Mahoney spent eight seasons coaching the offensive line at Tulane (1999-2006) and was part of the Green Wave's triumph in the inaugural Hawai'i Bowl in 2002. He began his career as a graduate assistant at Central Michigan in 1993 and was part of the Chippewas' MAC championship and Las Vegas Bowl appearance in 1994. Mahoney earned his first full-time position in 1995 as CMU's tight ends coach and travel coordinator before taking over the offensive line in 1998.
He was a 1990 All-Southern Conference selection and three-year starter at guard for Marshall and later worked on the staff as a student assistant when the Thundering Herd captured the 1992 Division I-AA National Championship.
Mahoney earned a bachelor's degree from West Virginia State in 1993. He and his wife Carissa are the parents of three children - Jake, Tulia and Domenic.