Maryland-Eastern Shore Proves To Be No Match For East Carolina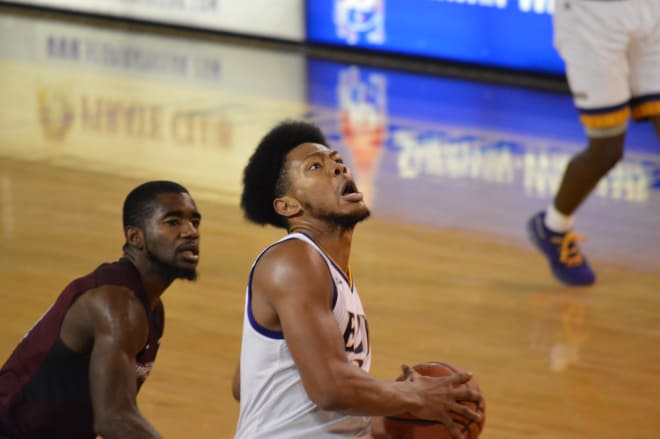 Jayden Gardner tossed in 22 points and pulled down eight rebounds to easily lead ECU past Maryland-Eastern Shore 70-47 Sunday afternoon in Minges Coliseum.
Gardner became the first Pirate to have three straight twenty plus point games since Caleb White did so back in 2015. He was joined in double-figures by Seth LeDay, K.J. Davis and Shawn Williams who all scored ten points each for the victorious Pirates who moved to 6-4 with the victory.
"Winning is better than losing. We love to win and it's good to get a team win. We had a lot people contributed," Gardner told PirateIllustrated.com afterward, "Some people got in for the first time so I was excited to see that and happy about it. It feels really good. We just have to learn how to keep that going in the second half and learn how to step on their necks as Coach Dooley would say and finish the teams off."
Seth LeDay continues to improve as the young season moves into December.
"I think we're getting better. We still have a lot of things to work on and we don't play again until December 18th," said LeDay, "We've got about sixteen days to just work and fix the mental mistakes that we've been making and move on from there."
For Joe Dooley, it's another win on the board but he sees the little things that his team has to improve on and is looking forward to having a couple of weeks to practice.
"For the most part I thought we got off to a good start, you know 42 points in a half. I thought had some offensive flow," said Dooley, "I thought once we got the lead after halftime we relaxed too much and took our foot off the gas which we can't do."
"Then obviously when we don't make shots against the zone - we played in too many spurts. We can't do that if you really want to get good, so we've got to work on those kinds of things."
Dooley welcomes the sixteen day break coming up to try to work on some things and just get better.
"I think for the team we are this year it's vital because we need to get better and we played so many games in a short period of time," Dooley said, "We've not been able to do a lot of things because we're not experienced enough to adjust to a lot of things. I think this time will give us some time to really get some repetitions and to do a bunch of things and worry about getting ourselves better which we do in practice but also not have to worry about an opponent for a little bit. Then we can really focus on us."
A.J. Cheeseman and Montraz Oliver both scored 14 points to lead the Hawks who shot just 32 percent from the field to 48.3 percent for ECU and dipped to 1-8 with the loss.
ECU opened up a 13-2 lead with five different Pirates getting into the act in the first seven minutes in the contest including a pair of early baskets from Seth LeDay. Tyler Jones finally broke the cold spell for Maryland-Eastern Shore with a basket midway into the first half.
The lead ballooned to as much as twenty-four points with less than four minutes to play in the half at 33-10 on three-point jumpers from Shawn Williams and Ty Foster, three baskets from Jayden Gardner and a Seth LeDay conversion in the paint.
Ryan Andino's 40 foot trey for his only basket of the half cut the ECU to 21 at the break. Pirate forward Jayden Gardner led all scorers with 13 first half points and six rebounds. ECU connected on 56 percent of their shots from the floor to just 35 percent (9-24) for Maryland-Eastern Shore who went just 1-9 from the arc in the first twenty minutes.
The Hawks cut the lead to thirteen at 50-37 with just over eleven minutes to play on three straight baskets. They then cut the lead to twelve on a pair of A.J. Cheeseman free throws with seven minutes left before ECU pulled away for good down the stretch.
The Pirates now are now off for exams until December 18 when they hit the road to take on Charlotte.