McGill Out for UCF - Coach Mo Recaps VT and Talks UCF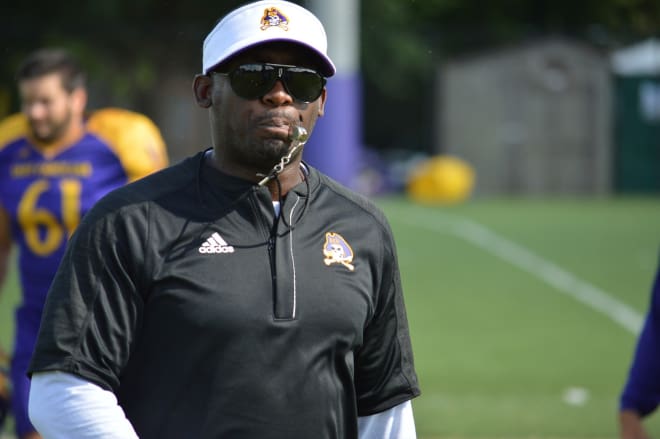 Scottie Montgomery and 2-2 East Carolina host 2-2 Central Florida in the AAC opener for both ball clubs this Saturday.
The Knights are fresh off a 53-14 victory at Florida International while the Pirates are on a two-game losing skid including a 54-17 thumping at Virginia Tech last Saturday.
Montgomery said the Hokies played at a lower pad level overall and were a very physical ball club.
This week the Pirates go at it without the services of nose tackle Demetri McGill who injured an ankle in Blacksburg. Montgomery says he will have an MRI today and he will know more then if it will be a short term issue or long term.
Outside linebacker Joe Allely, offensive linemen Jered Honeycutt and D'Ante Smith along with wide receiver Davon Grayson all remain out for this week's game with UCF.
In McGill's place will be Fred Presley who moves over from defensive end, while Mike Myers will play defensive end in his place.
According to Montgomery, Jake Verity could start at placekicker and that remains up for discussion as the week progresses. He noted that his kicks are coming out higher while still having the necessary depth needed to be successful on field goal and extra point attempts. He says no decision has been made as of yet.
Montgomery also singled out the effort of defensive back Austin Teague on special teams. "If everybody competed like he did.... he overcame any challenge that he had."
Overall on Saturday for the second straight week, the ECU special teams were anything but special. The Pirates had a blocked punt, blocked field goal and gave up a touchdown on a punt, so that will be a big focus this week as the Pirates prepare for first head UCF head coach Scott Frost's improving Knights of Central Florida.
PirateIllustrated.com was there to bring you coverage of the Scottie Montgomery Monday press conference from Ward Building on the campus of East Carolina University.
Game time is 12 noon on Saturday on CBS Sports Network television from Dowdy-Ficklen Stadium for East Carolina - Central Florida. Stay tuned all week for continuing coverage of UCF game week here on PirateIllustrated.com.