Mercer Sweeps East Carolina with an 8-2 Victory on Sunday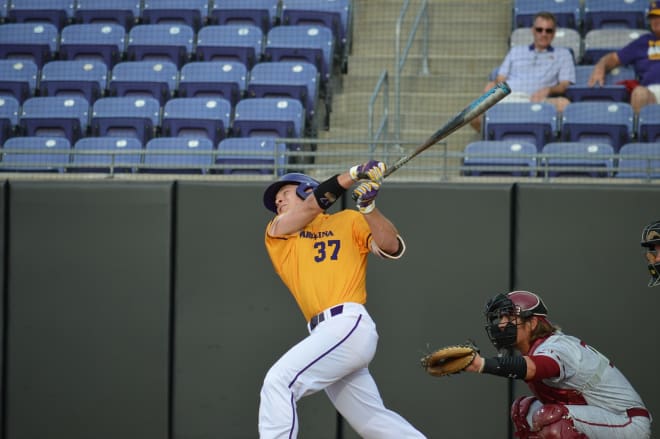 ECU was short on luck this weekend and Mercer broke out the broom on Sunday to complete a three-game sweep after a 8-2 victory over the Pirates in Greenville.
It was the first time the East Carolina has been swept at home since Virginia did so two years ago. The Cavaliers then went on to win the national title.
Chase Burkes fanned a career high seven batters and picked up his first win of the season for Mercer while Jacob Wolfe took the loss for ECU(13-6) to fall to 2-1 on the year.
JT Thomas pounded out four hits including his third homer of the weekend in the victory for Mercer.
The Bears marked their territory early with a five-run first inning to take a 5-0 lead before adding a run in both the second and seventh frames.
"You can't give up five runs in the first inning. It was a tough offensive day. We should have done better. When you give up five runs, it puts your offense in a bind," ECU coach Cliff Godwin said, "It puts your defense in a different kind of situation, the inning blows up and we give up five runs. We've got to do better."
Mercer(16-4) rattled ECU pitcher Jacob Wolfe early on to take a 5-0 lead in the top half of the first inning. The Bears capitalized on a sacrifice bunt that scored Ryan Hagan. Danny Edgeworth knocked a triple to right field that scored two runs. Then Hunter Benning cracked a homer over the left field wall that scored two more runs.
The Bears were at it again in the second frame when a J.T. Thomas single brought Alex Crotty home to make the score 6-0.
Mercer added to the weekend long ECU misery on an Edgeworth bunt that scored Thomas in the top of the seventh to make it 7-0. Then Thomas' third home run of the weekend and eighth RBI of the series made it 8-0 Mercer in the ninth stanza.
ECU finally got on the scoreboard twice in the bottom of the ninth when Jackson Ware slipped going for a liner to left field. That scored Bryce Harman before Turner Brown's one out ground out scored Brady Lloyd to make it 8-2.