Montgomery Asks Fans For a Good Turnout This Saturday Against BYU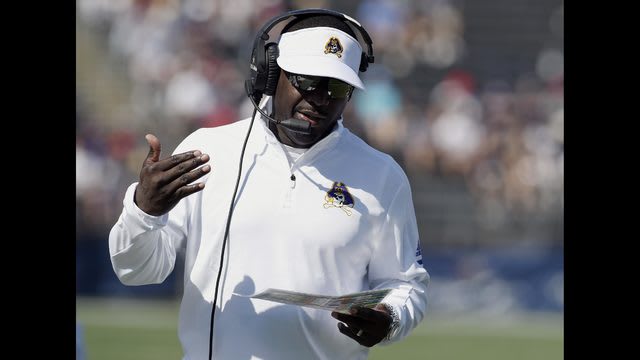 Scottie Montgomery implored the ECU fans to show up this Saturday when the Pirates host BYU for the first time in Dowdy-Ficklen Stadium for the sacrifice that the players put forth and for the seniors who will be playing in their last homecoming in Greenville.
"I'm asking everybody this homecoming weekend to come out and support the Pirates. Come out and support the university, come out and serve our colors purple and gold," Montgomery said Monday morning.
"Some of these guys are seniors. It's their last opportunity at homecoming and we really want to make it a fantastic experience for them, so I know that all of our true Pirates will be out and I want Dowdy-Ficklen Stadium at Bagwell Field to be jumping for this homecoming weekend."
Montgomery clearly wants to get things straightened out and turned in the right direction for this week's game against the Cougars.
"We have examined the tape and corrected the mistakes and realized that we have to be better in every phase of the game to beat one of the country's best teams," Montgomery said.
As Coach Logan used to say, "it's nothing that a win won't cure." ECU fans have been up in arms about the way things have been going for the past two seasons and Montgomery addressed that aspect of growing a football program in Greenville.
"I realize it's not going the way I want it to go and probably not the way a lot of people want it to go, but we are building. It's going to take us a little time," Scottie Montgomery told the small group of television and print media that gathered on Monday, "What I know is our guys, especially our old guys don't have very much time. They're trying to do everything that they can do to help this program and our young people are coming along really, really quickly."
Montgomery went over this week's injury list that includes defensive lineman Kiante Anderson who is out with a significant knee injury. He along with wide receiver Deondre Farrier with an ankle injury, safety Bobby Fulp with a quad contusion and cornerback Corey Seargent who is suffering through a hamstring injury are all likely out for this week.
On the positive side, defensive end Kendall Futrell along with running back Derrell Scott and center John Spellacy are all expected to return this week.
BYU enters with an identical 1-6 record as ECU's. The Cougars have suffered through the injury bug as well in Coach Kalani Sitake's second season at the helm.
They have faced a tough schedule that includes losses to Wisconsin, LSU and Mississippi State, Utah State and Utah so far.
Coach Montgomery sited the play of Davon Grayson and Taj Deans who got his first touchdown at wide receiver last week, Darius Pinnix at running back, Aaron Ramseur at linebacker and Tank Robinson in the secondary in his superlatives for this week.
Montgomery says BYU will provide a completely different look than anyone ECU has faced this season.
The Pirates expect Korrin Wiggins and Gaelin Elmore to return this week after sitting it out last week for a violation of team policy.
Game time is 7 pm for (1-6)ECU - (1-6)BYU from Dowdy-Ficklen Stadium. The game will be televised on CBS Sports Network with Dave Ryan and Corey Chavous calling the action and Melanie Collins along the sidelines.
Catch Coach Montgomery's Monday Press Conference in it's entirety here on PirateIllustrated.com.